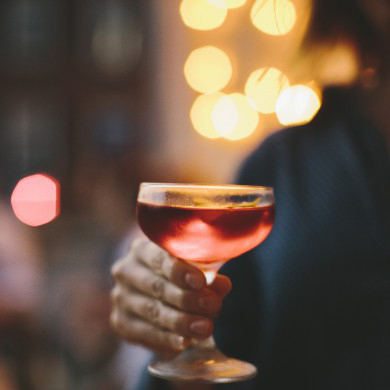 Photography by Lindsay Hite
Back in 2013, Josh and Stephanie Hershkovitz, the brother-and-sister co-owners of Hersh's Pizza & Drinks in Riverside, came up with the idea to host a series of Monday-night seminars that delved deep into the art of classic cocktails.
Dubbed Hersh's Anti-Temperance Society (HATS)—a nod to the Temperance Movement that began in the early 1800s—the groups focused on a different libation each week, and ended with a cocktail sampling inspired by the conversation.
"My brother and I are the kind of restaurant owners who have always been like 'Let's build a place where we would want to go,'" Stephanie says. "This goes along with that same thinking. It's the kind of event we could see ourselves going to."
After taking a break last year, the cocktail club will pick back up on Monday, January 9 at 6:30 p.m. with a seminar highlighting tropical drinks led by Hersh's bar manager Ali Dryer. Following an interactive discussion about the origins of tiki cocktails, Dryer will serve HATS attendees her take on a piña colada, made with fresh coconut cream, pineapple syrup, and infused-pineapple brandy.
Stephanie says that she's excited to bring back the program with a more streamlined approach this time around. In addition to cocktail classes with Dryer (who will lead talks about everything from manhattans to sazeracs), the series will also feature a diverse lineup of regional brewers, vintners, and distillers who will be stopping by Hersh's to discuss the ins-and-outs of their craft.
"We wanted to work more closely with people we like," Stephanie says with a laugh. "We make everything at the restaurant ourselves, so we have a lot of respect for other people who make great products from scratch."
Among the events scheduled for the season, which will continue throughout May, include a talk about rye and Irish whiskey with Philadelphia's New Liberty Distillery on January 23, a craft beer discussion with Frederick's Flying Dog Brewery on February 6, a session with Eastern Shore-based Lyon Distilling Company on February 20, and a special Mardi Gras-inspired class on February 27. The free gatherings take place in the bar, and feature a signature $5 drink inspired by each week's theme.
Stephanie is enthusiastic about to bringing back HATS during a time when the local cocktail scene is at the top of its game, mentioning city trendsetters like Clavel, Bookmakers, and B&O American Brasserie.
"Baltimore is a community that loves to support local," she says. "And it's fun for people to come into an environment where they don't feel intimidated by foreign concepts. At Hersh's, we're serious about the stuff we make, but we don't take ourselves too seriously."