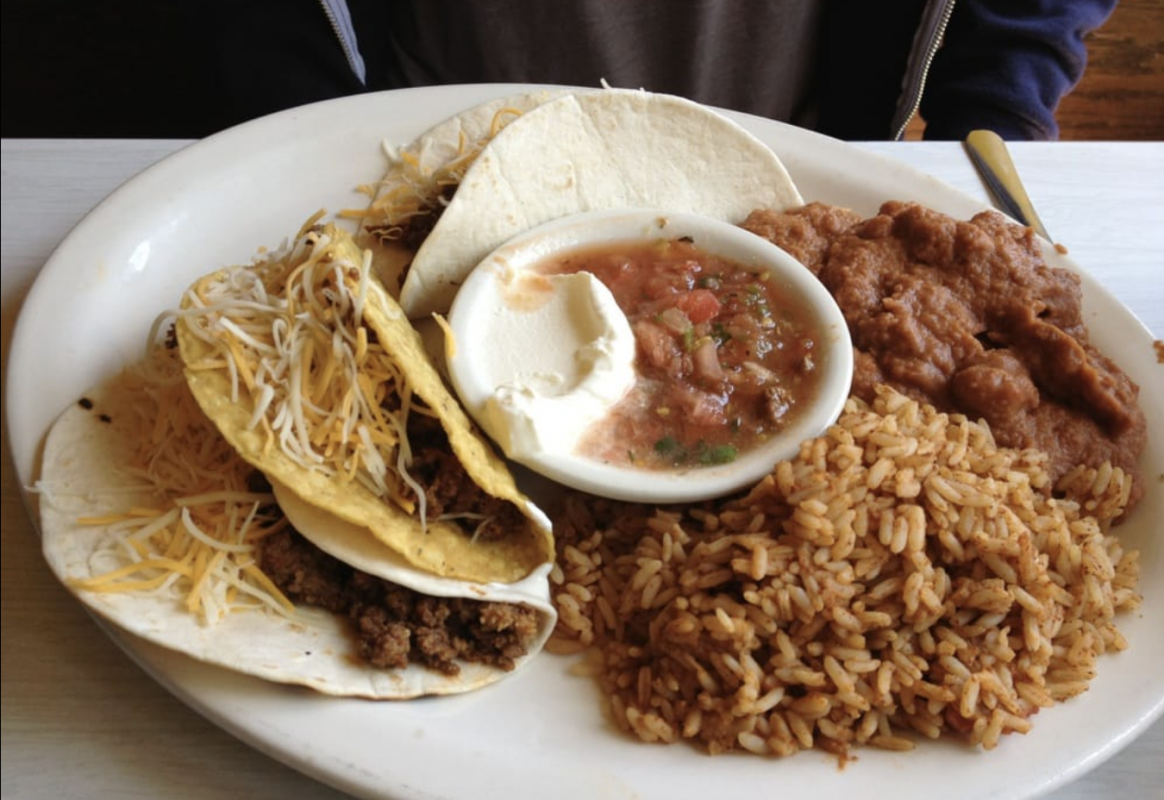 Courtesy of Yelp
In the early hours of the morning on August 15, 2016, Geoffrey Danek awoke to a knock on the door at his home in Hampden. 
"It was probably the loudest banging I had ever heard," he remembers. "I just had a feeling like, 'This is not good. Something is wrong.'"
Scrambling out of bed, he made his way to the door to find his neighbor. "He had this look on his face," Danek recalls. "And he said, 'Geoff, I don't know how to tell you this, but there was a fire at Holy Frijoles last night.'"
In what the Baltimore City Fire Department deemed an "undisclosed electrical fire," Danek's Mexican restaurant on The Avenue suffered significant smoke and water damage. Fortunately, no one was hurt (Holy Frijoles had already closed for the night by the time the blaze broke out), and the fire department was able to put out the flames in time to preserve the building's structure.
"I was in total shock—all of the wires in my brain were flying around," Danek says. "It was devastating."
Now, nearly one year later, Danek is preparing to reopen the restaurant in conjunction with its 21st anniversary. A grand reopening slated for August will reveal a renovated interior, a few additions to the menu, and plenty of the spot's signature pinball machines.
Throughout the past year, the community has come out in droves to help the eatery get back on its feet. Danek says that the support (everything from organized fundraisers to neighbors lending a hand with renovations) reminds him of the restaurant's beginnings in 1996.  
"When we first opened up, we didn't really have any money," he says. "So people were coming in swinging hammers and helping out in exchange for pizza and beer—all because they believed in it. Now we're going through that again. After all these years, seeing that same amount of love and support is amazing."
Though management is keeping a few interior details under wraps until the official debut, Danek says that the most notable changes include a new carry-out area up front with its own express taco menu, and an expanded kitchen boasting equipment like a chargrill and  flattop—which the restaurant never had before.
The larger kitchen will now take over the restaurant's original dining space at 908 W. 36th Street, and the expanded space next door—with its signature bar, pinball machines, and dining area—will pretty much remain the same.
"Saying goodbye to that old side was tough," he says. "I know people are going to be bummed because that's the place where the magic started, but it's still there. That's where the cooking magic is going to happen now."
Danek—who got his start cooking at spots like Thairish in Mt. Vernon and Giuseppe's in Charles Village—says that, while he has been toying with a few new dishes to add to the menu at Holy Frijoles, his main priority is staying true to the restaurant's style with classics ranging from nachos and tacos to an array of burritos and chimichangas.
"We are who we are," he says. "Years ago, when the neighborhood started getting fancier I was embarrassed that we were just this taco place. But then I realized, you have to just be true to yourself and do it well."
Above all, Danek is enthusiastic about bringing Holy Frijoles' relaxed atmosphere back to The Avenue. He was able to restore some of the artwork and tile from the site after the fire, and plans to incorporate those pieces into the new design. And, of course, Danek assures that the spot will also remain a hub for pinball, boasting more machines than ever before.
"This is a huge chance for us to really shine again," he says. "It's kind of like being in a band and recording an album. You work on it for so long that you become immune to how much it means to you, until people come in and enjoy it. When I see people coming in and having a great time—that will be it for me. That will be the point where I say, 'We're back to normal.'"