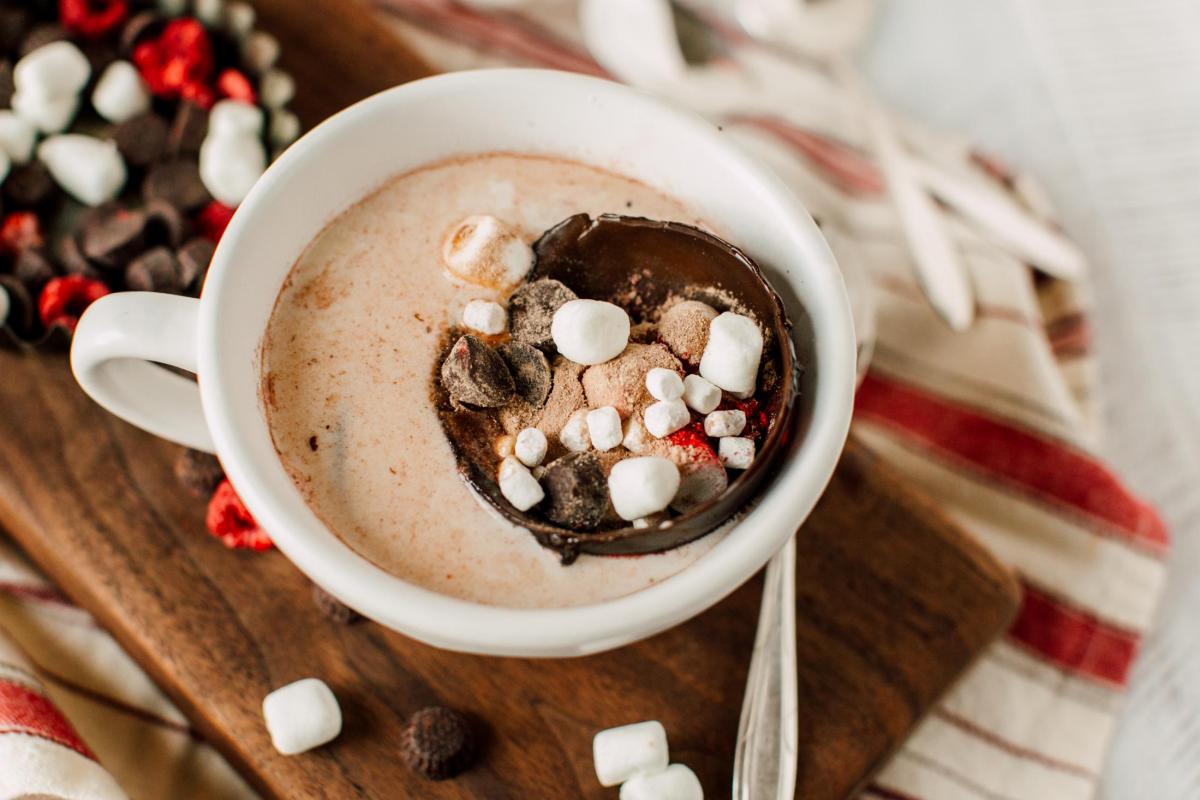 Shutterstock
"Where can I find these?" "Who makes them?" "What are they?" Something sweet is trending on social media all over the Baltimore area this winter. On NextDoor, Facebook, and Instagram, people are posting desperate pleas to get their hands on the latest beverage craze: hot cocoa bombs. 
What are these in-demand confections? Picture a chocolate sphere larger than a cake pop but smaller than a cupcake. Decorated with sprinkles, colorful chocolate drizzles, or even a snowman face, these round chocolate shells are placed in the bottom of a mug. Then, when hot water or milk is poured over them, they "explode," releasing their contents—cocoa powder, marshmallows, and sometimes various other flavorful ingredients—as the chocolate melts.
Candy maker Natasha Brown-Wainwright decided to try her hand at creating the trendy treats when she began seeing posts about them on Facebook before Christmas. Not only did she make some traditional hot chocolate bombs filled with hot cocoa powder and marshmallows, she also had the genius idea to make "boozy bombs" filled with Bailey's Irish Cream. They've proven to be a hit. 
"It's a huge thing right now," says Brown-Wainwright, owner of Natasha's Just Brittle in Hamilton. "It's fun to watch. Everything explodes; it's just like a bath bomb. Children like it, adults like it—just the excitement of it."
While we've seen white chocolate, dark chocolate, and even heart-shaped red velvet hot cocoa bombs, the classic flavor has been Brown-Wainwright's bestseller. She's planning to make holiday-themed bombs for Valentine's Day and Easter, available by pre-order to be picked up at her Harford Road shop. (One for $7 or three for $20; boozy bombs are one for $9 or three for $26.) For the best flavor, she recommends using hot milk or a combination of milk and water to make your cocoa.
With winter and the pandemic far from over, the popularity of hot cocoa bombs promises to hold steady. Other local bakeries and candy sellers have caught on to the trend, and are selling the bombs individually or in sets in various sizes and flavors. Some places package them with a mug, which makes for a cute gift.
Here are a few spots in the Baltimore area where we've seen hot cocoa bombs. Be sure to call first—they sell out fast! If you're the crafty type who wants to try making them yourself, Cake & Wedding Cottage in Nottingham sells silicone molds for $12.99 each.