Food & Drink
Waves of Grain
How craft beer has become the backbone of Maryland agriculture.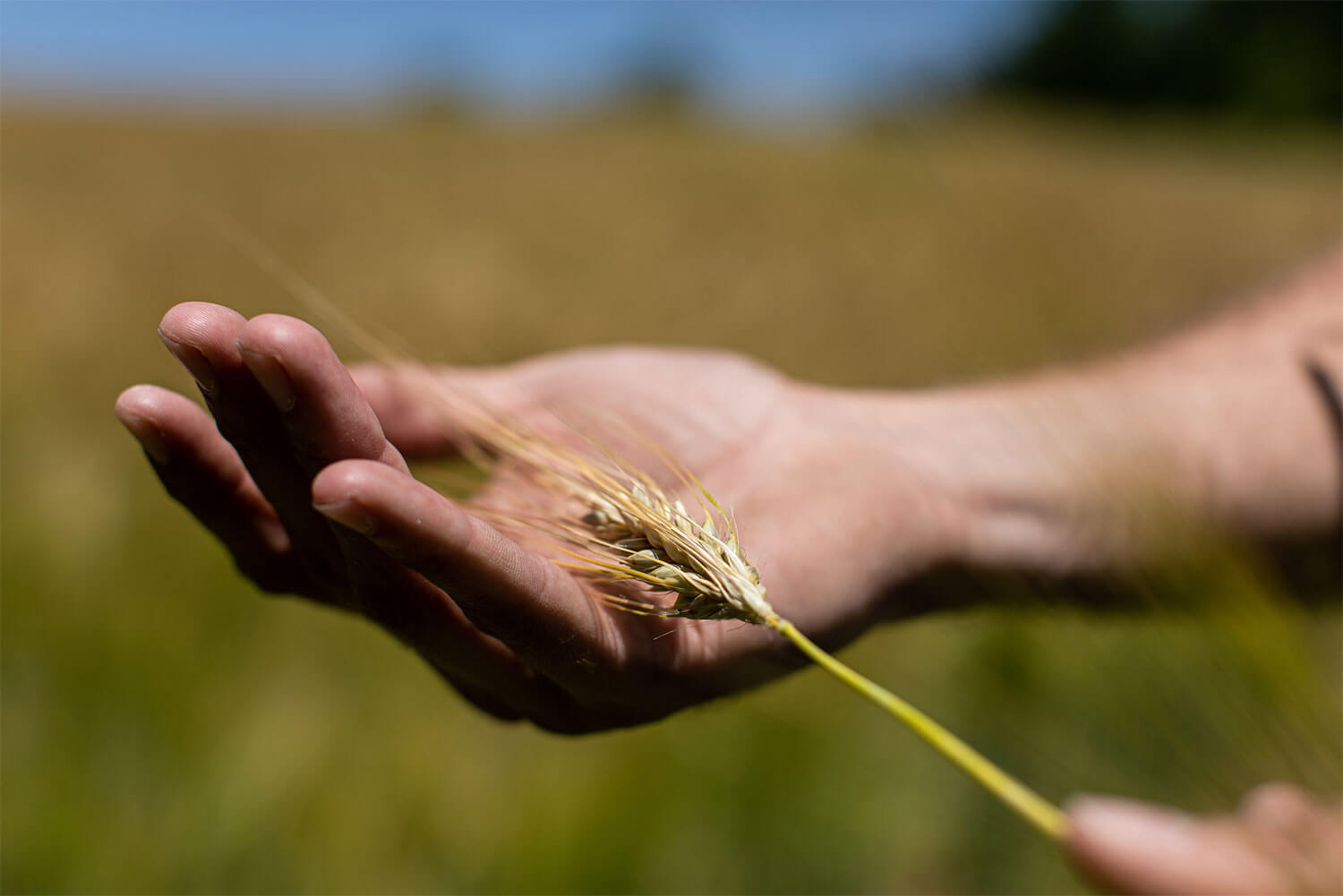 T Tom Barse pulls up a rope latch and swings open the gate to his half-acre hopyard. With sky-blue eyes and a sun-creased complexion, Barse looks like a lifelong farmer. But in truth, he has been tending to his land on Stillpoint Farm in Mt. Airy for the past 12 years, and managing Milkhouse Brewery for the past seven.
The final product at Milkhouse Brewery.
Previously, he was a lawyer, social studies teacher, and avid home brewer way before it was cool, "or even legal," he'll tell you with a laugh.
His work on the farm is still all about the beer. And, today, he has a little help. A dozen Leicester Longwool sheep in various shades of beige charge and bah their way through the hopyard gate. The flock makes its way up and down the rows of 18-foot trellises, where hop vines corkscrew and climb their way to the top.
"I wanted to plant hops and my wife wanted to raise sheep," he explains. "They're great weed-eaters. Once the hops are tall like this, they come through, eat the weeds, and keep the ground clear. The girls do a pretty darn good job."
While sheep like Beatrice and Summer get some good grub out of the situation, they are also stripping the lower leaves off the hop vines, allowing a breeze to blow through and keep diseases and spores away. It's one of many ways a traditional farm technique lends itself to the new-age craft beer industry. By making products such as barley, hops, and beer itself, Maryland farmers are finding new agricultural avenues in challenging times. For Barse, it's keeping his farm alive.
"It's tough right now," he says. "And this can certainly give farmers an alternative market. Don't forget—a little over 100 years ago, nearly all the beer around here came from local grain and hops. We already did this. We're just figuring out how to do it again."
Tom Barse in the hopyard.
When you think of typical Maryland crops, images of sweet corn and ripe tomatoes come to mind. But there was a time around the 1870s where a good portion of the hops used in Maryland beer were grown within the state. By the early 20th century, New York became a prime area for hop and barley production, but disease and, eventually, Prohibition put a stop to that.
Tom Barse in the hopyard.
Today, it's the Pacific Northwest that dominates hop production in the United States, and the East Coast is merely playing catch-up. About 20 years ago, a group of farmers formed the Northeast Hop Alliance, of which Barse is a member, and the industry began its slow revival.
"For a number of reasons, beer hasn't done as good of a job as wine at positioning itself as an agricultural product. We need to remind people it is," says Ben Savage, chief marketing officer of Flying Dog Brewery. "Mass producers of beer don't have a lot to do with agriculture and, on top of that, until recently, there haven't been a lot of systems and opportunities to get these agricultural products locally."
The Mid-Atlantic region has been a bit behind in taking advantage of this alternative agricultural market. But, as a rainier climate presents challenges and the rise of plant-based milk puts a hindrance on dairy production, farmers have had to think outside the box.
Brewing beer.
"We're still relatively early in the process in terms of impact for farmers who are growing grain, rye, hops, and other things," says Mark S. Powell, who has been with the Maryland Department of Agriculture for 16 years. "But it will grow as more brewers want to use local products. It's a great way to try to beat the economic climate."
Some rumblings started in Maryland in the early 2000s when Greg Clabaugh of fifth-generation dairy farm Amber Fields in Frederick County began doing research on what it would take to malt his barley for beer producers. The lightbulb went off when he visited his friend Phil Bowers, the owner of Brewer's Alley in Frederick, and noticed something back in the brewhouse.
"All the beer I drank when I was younger, I never thought about what went into it or how it was made," Clabaugh says. "I'm seeing barley coming out of his kettle and thinking, 'That's the stuff I grow here on the farm.'" When Bowers told him it was too complicated a process, Clabaugh had one thought: "Never tell a farmer you can't do something."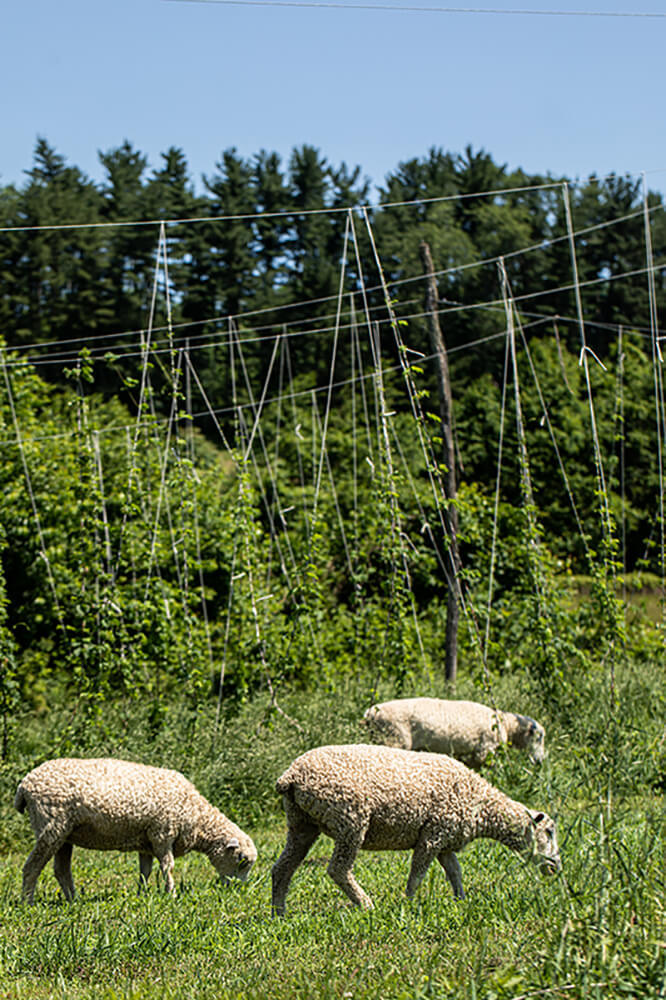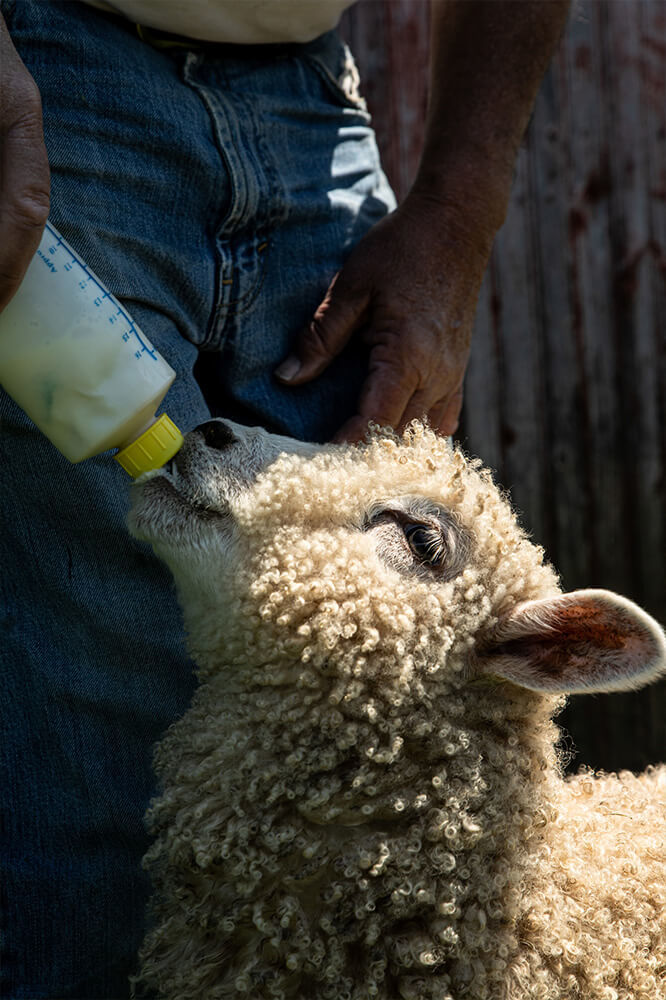 Leicester Longwool sheep weeding the hops; Merlin getting fed; The Barse residence at Stillpoint Farm; Milkhouse kegs.
"A little over 100 years ago, nearly all the beer around here came from local grain and hops."
So, he started reading books and partnered with Tom Flores, the current brewmaster at Monocacy Brewing. With his grandfather's old milk tank and his wife's clothes dryer, Clabaugh began malting barley in small-scale, five-gallon batches. (The process consists of steeping barley with water, allowing it to germinate, and then drying it out so the starches turn to sugar and result in malt.) Admittedly, those first few batches were rough and produced skunky beer, but after nearly a decade of trial and error, they got the hang of it. Amber Fields became the state's first malthouse and produced the first commercially brewed beer in more than a century to use exclusively Maryland-raised and malted barley. Now it produces 2,000 pounds a week.
"I like a nice, malty beer because it's like the meat of the beer," says Clabaugh, who sells his product to Monocacy and Smoketown Brewing, as well as various distilleries. "I think of it like crabs. People go crazy for Old Bay seasoning like they go crazy for hops. But you need the crabmeat. And without malt, you'd just have bitter water."
Property at Dark Cloud Malthouse.
F Farmers continued to set their sights higher. They wanted to brew and sell their beer on-site, but the existing laws wouldn't allow it. So, an intrepid group—including Clabaugh, Barse, and Flores—put their heads together and set up a meeting with local delegate Kelly Schulz (now Secretary of the Maryland Department of Commerce) to draft legislation. On May 22, 2012, Governor Martin O'Malley signed Senate Bill 579, establishing a Class 8 Farm Brewing license.
Property at Dark Cloud Malthouse.
"I had no idea at the time how difficult it was to get alcohol bills through, how powerful distributors and retailers are," says Barse, whose Milkhouse ended up being the first farm brewery in the state. "The bill passed unanimously, which was quite a miracle. We were really lucky."
In the seven years since, nearly 25 farm breweries have come on the scene, including well-known names like Manor Hill in Ellicott City, Inverness Brewing in Monkton, and Calvert Brewing in Upper Marlboro. With the increase in farms producing beer came the increase in demand for local ingredients. Now, other malthouses have opened in the state, such as Chesapeake Malting in Havre de Grace and Dark Cloud Malthouse in Western Howard County.
The malting facility, tanks,
"The farm breweries are the ones that value us the most, and they'll be our key clients moving forward," says Danny Buswell, who co-owns Dark Cloud with Jesse Kaiss and is also quick to mention support from big guns such as Guinness and Sagamore Spirit. "You can make a New England IPA anywhere because that has nothing to do with terroir. The hope is you'll get a sense of Maryland agriculture just by tasting these beers. To me, that's the most exciting thing."
Helping to zone in on that terroir (the environmental factors that distinguish and define a particular flavor) is a research project and partnership forged by Flying Dog Brewery and the University of Maryland in 2016. As a part of the university's 500-acre Agricultural Experiment Station in Keedysville, researchers and brewers are working together to figure out exactly which kinds of hops thrive in Maryland, in hopes of doing some of the preliminary work for future producers.
Clabaugh had one thought: "Never tell a farmer you can't do something."
"Our philosophy is that it's not reason enough to be local—it has to be of a certain quality," says Savage of Flying Dog, which gets a majority of its hops from the Pacific Northwest. "We really embarked on an educational program to figure out which varieties do well in this climate, given our precipitation, temperatures, and humidity. We want to find out how to make world-class hops."
Over the course of three planting seasons, veteran horticulturist Bryan Butler, the head of the UMD project, made the discovery that hops are very fickle.

Try Maryland-grown ingredients in these five local brews.
Try Maryland-grown ingredients in these five local brews.
Homestate Hefeweizen


Milkhouse Brewery

With ingredients right from the Mt. Airy farm, this German-style beer is made with Brewers Gold hops and pilsner and wheat malt, imparting a subtle banana flavor.
Field Notes


Flying Dog Brewery

Using hops grown at University of Maryland's Keedysville facility, this pale ale has been released four times, using Chinook, Glacier, and Nugget hops in the past.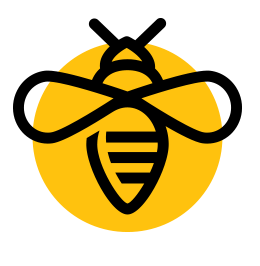 Crosslands Honey Ale


Guinness Brewery

As a part of the brewery's Crosslands series, it released Honey Ale last year, which was brewed with 240 pounds of honey from nearby Apex Bee Company and historic Guinness yeast.
Stonefruit Sour


Stonefruit Sour Checkerspot Brewing Co.

This South Baltimore brewery's kettle sour uses barley from Chesapeake Malting, wheat from Dark Cloud Malthouse, hops from Bullfrog Farm, and peaches from Baugher's Orchards & Farm.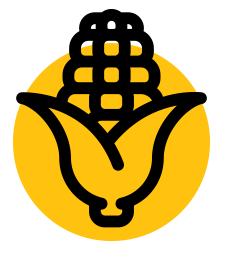 Pilsner


Manor Hill Brewing

The Ellicott City farm brewery's twist on a classic German pilsner uses corn grown on the farm to impart a flavor of grassiness and citrus with a clean finish.
Property at Dark Cloud Malthouse.
"For the past 70 to 80 years, hop production here has been gone for the most part, so there is a lot to learn," Butler says. "They are so temperamental and fragile in a lot of ways. Your yield and quality could be ruined by one tiny mistake—you cut it back the wrong time, miss a beetle infestation, or they succumb to disease pressure because of our humid climate."
Property at Dark Cloud Malthouse.
But his research has produced some interesting findings. Chinook hops, for example, work really well in the Maryland climate. But the Canadian Red Vine, though it produces a huge yield in the hopyard, imparts a flavor of garlic and onion in beer, so it wasn't suited for practical use in the brewery. On the other hand, the Southern Cross variety grows successfully and breweries around the state love it for its fruit punch-like flavor. "We'll do whatever University of Maryland deems successful," says Dan Carroll, owner of Pleasant Valley Hops in Frederick County. "It's been a huge eye-opener, helping really make sure we can differentiate ourselves from out west."
In the fall of 2018, Flying Dog announced the release of Field Notes, a pale ale brewed with Galena, Vojvodina, Nugget, Crystal, Glacier, and Chinook varieties from UMD's hopyard and available exclusively in its taproom. There have now been four releases total. "You start out with these hops, you worry with them every day, deal with adverse weather conditions, and don't know if they'll survive the season," Butler says. "Finally, you come out the other end to make something as good as that beer. Well, that's just awesome."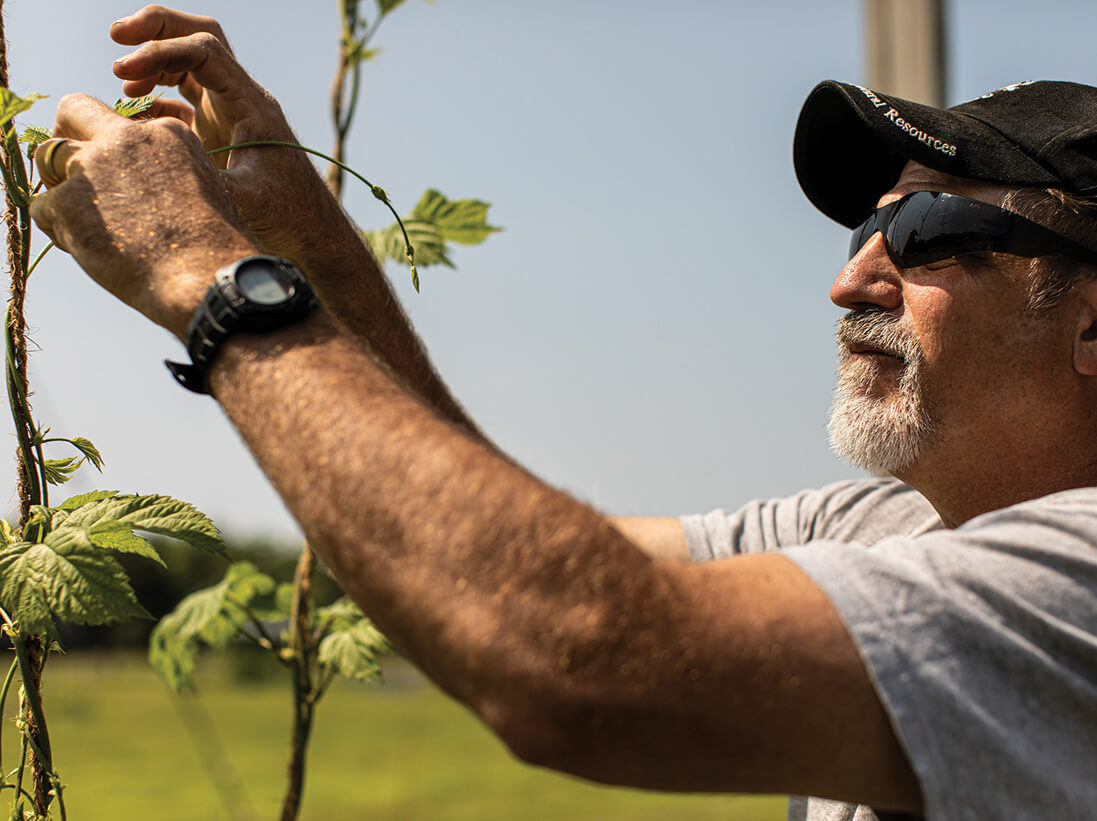 Bryan Butler
B Bobbing along in his hunter green Dodge pick-up, Barse shows off his 47-acre Stillpoint Farm, including his two half-acre hopyards, horse stables, sheep barns, family home, and tasting room. He shares stories of when he first put up the hop trellises as a "much younger man" and how his former beekeeping business went awry. Mostly, he keeps mentioning various people in the beer-farming community, how they brew together and give each other advice every growing season.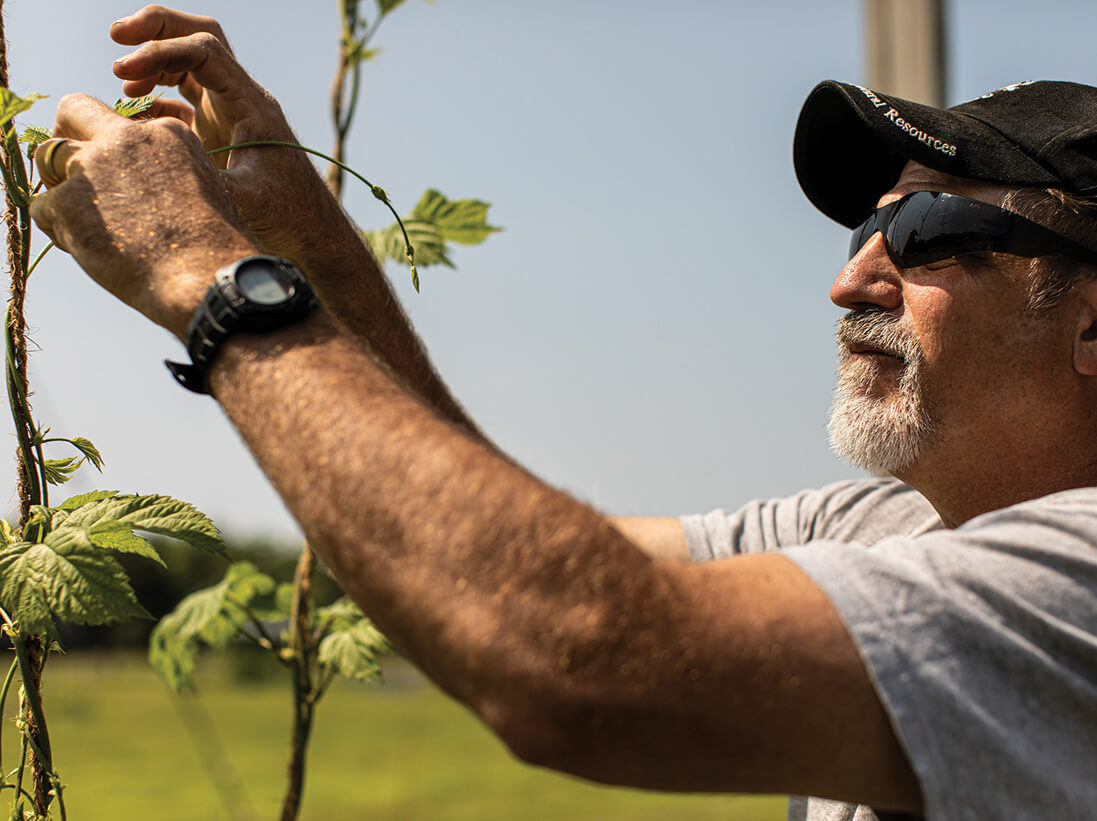 Bryan Butler
"In the old days, when it was corn-choppin' time, farmers got together, helped each other out, and had a big harvest supper," he says. "So, we're just doing what farmers have always done, even though a lot of us are new to farming and, instead of corn-choppin', we're hop-pickin'."
He pulls up to an open-air barn, where one side is full of massive hay bales and the other houses a giant piece of equipment that looks straight out of the Industrial Revolution. In truth, it's a 16-foot hop picker, which Barse made with his own two hands, that separates the hops from the leaves and gets them ready to be pelletized (an entirely separate operation) for brewery use.
If it sounds like a complicated and lengthy process, it is. And these malthouses and hopyards in Maryland are producing relatively small batches, so sustaining a brewery the size of a Union Craft, Heavy Seas, or Flying Dog is, at best, a distant reality.
"It's still a challenge for a brewery our size, since we make large volumes of beer, to source locally," Savage says. "I do see it growing, but it's hard to imagine it in large scale. It would be great to wake up in 20 years and see a substantial barley and hops industry right here."
Logistical challenges aside, beer agriculture has a ton of growth potential. For one thing, craft breweries continue to open—with 100 in Maryland and counting. Plus, the interest in locally grown ingredients doesn't seem to be waning. And many of the small malthouses, hop growers, and farm breweries are expanding. Clabaugh's son, Dalton, just graduated from Virginia Tech with a degree in crops and soil science. His plan is to come back to Amber Fields, concentrate on malting and brewing, keep 20 show cows for cheese production, and create commerce and a growing business that way.
"It was such a relief to hear him say that and commit to the whole thing," Clabaugh says. "This is my future. This is my retirement plan. When you find another industry where you can supply something you already grow, man, you gotta jump on it. I just think it's huge."
Buswell and Kaiss have expansion plans for Dark Cloud this fall, looking to increase its malt production nearly eight-fold, hire a full-time malthouse manager, and have a new system up and running by the end of the year.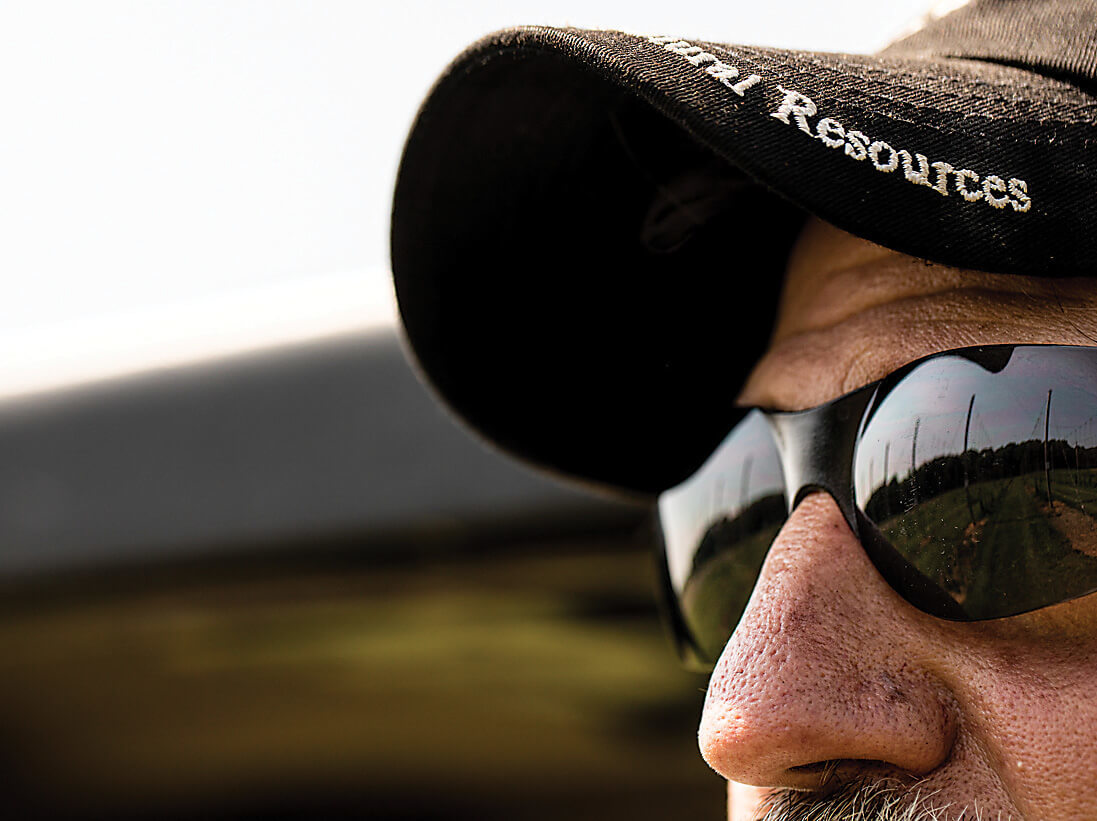 Bryan Butler at the University of Maryland research facility.
"The numbers speak for themselves as far as how many breweries we've had year over year and how many are in planning," Buswell says. "We both still work full-time jobs, and this has been a very expensive hobby. But we are treating it like a business with a promising future."
The situation is similar for Carroll, who runs Pleasant Valley Hops and has a day job as an electrician outside of D.C. He has sold his hops to Flying Dog, Olde Mother, Waredaca, Manor Hill, and Pub Dog—and is even about to open his own farm brewery called Prospect Point. "Between the hops and the farm brewery, we'll be able to make a sub-30-acre farm provide income for potentially the entire family," he says. "We can keep the farm and not give in to some developer who's trying to make a quick buck."
Beer has allowed for the preservation of land like his in Frederick, the family farm of Manor Hill in Ellicott City, and the nearly 50 acres of Stillpoint Farm that Milkhouse Brewery calls home.
From Milkhouse's patio in Mt. Airy, the panoramic view includes the brewery's turquoise vintage Chevy truck, seemingly endless rolling hills of Western Maryland, and hazy Catoctin Mountains on the horizon. Barse brings out several samples from his tasting room, where about 90 percent of his beer is made with Maryland ingredients. As he sips a Green Farmer Pale Ale—made with hops from Pleasant Valley and malt from Dark Cloud—he reflects on what the brewery means to him.
"You can't have a small-acreage farm and just do soybeans, corn, and wheat and make a living anymore," he says. "This brewery allows us to have our sheep, make our hay, and survive. If you've got a product like this, you can make enough money to save your farm." He adds with a hearty chuckle: "And, you can have a beer at the end of a long, hard day."
"The hope is you will get a sense of Maryland agriculture just by tasting these beers."