Snow Job
Meteorologist Tim Williams warms up to weathercasting.
As an only child whose mother was allergic to seafood, WJZ-TV meteorologist and weekend morning anchor Tim Williams ate mostly meat. "My mom didn't cook seafood very much, because she couldn't eat it," says Williams. "We were a meat-and-potatoes household—the one exception is that I had relatives who taught me how to eat crabs." These days, the Owings Mills-based journalist has expanded his culinary horizons, though he tends to favor Southern cuisine. "I love jambalayas and gumbos and things like that," he says. "I think it stems from being indecisive when I look at a menu. If I get jambalaya or paella that has shrimp and chicken and pork and beef, I don't have to decide."
Through the years, Williams has taken an equally eclectic approach to his professional life. Although he has worked at WJZ for 20 years now, he never set his sights on going into the broadcast business. Williams once considered a career in fashion (even getting accepted to New York's venerable Fashion Institute of Technology), but instead graduated from Towson University with a degree in communications. "I worked as a telemarketer for MCI, because they were across the street from Towson and recruiting," he says.
While Williams worked his way up the corporate ladder, the refrain from his customers was always the same. "Based on my voice, people would always ask, 'Have you ever done radio or television?'" By 1991, Williams went back to school to pursue journalism at the Broadcasting Institute of Maryland (while supporting himself and his high-school-sweetheart wife, Sandra, selling cars). His first big break came as a nightside reporter for Hagerstown's WHAG-TV. "At the time, they had hired this guy with Robert Redford good looks, and they put him on the air and took him off the air in the same week," says Williams, laughing at the memory. "He couldn't read a teleprompter, and he broke into a sweat on the air. He would be reading and, with a shaky hand, he'd stop for a drink of coffee. A week-and-a-half later, he was fired—and they made me the 11 o'clock anchor."
"Here, you get hurricanes, but also tornadoes, and blizzards—it's like boot camp for weather people."

From Hagerstown, Williams made his way to Jacksonville, FL, (where he was nominated for a regional Emmy for his coverage of the hunt for a giant monitor lizard). Then, in 1995, he found his way back to Baltimore as a general-assignment nightside reporter, occasionally filling in for veteran weathermen Bob Turk and Marty Bass. "I was one of the first black weathermen in Baltimore," says Williams proudly. "And when I got my meteorology degree in 2006, I was one of the first black meteorologists in the city."
As a native Marylander, Williams points out that forecasting in the Old Line State is not for novices. "If you're in the South, it's always hot," he says. "If you're in the northern part of the U.S., it's always cold; if you're in the west, it never changes, but in Maryland, you have mountains, and it can be 70 degrees here, but 40 degrees on the other side—and the ocean and bay complicate everything. Here, you get tropical storms, but also hurricanes, and tornadoes, and blizzards, and every doggone thing—it's like a boot camp for weather people!"
While Williams weathers the storms at work, at home with his wife, Sandra, and son, T.J., one of his favorite pasttimes is settling down to a hot, stick-to-the-ribs meal. "My favorite meal of the year is Thanksgiving," he says. "I can eat stuffing, turkey, gravy, and, yes, butternut squash soup, year-round."
---
Butternut Squash Soup with Granny Smith Apples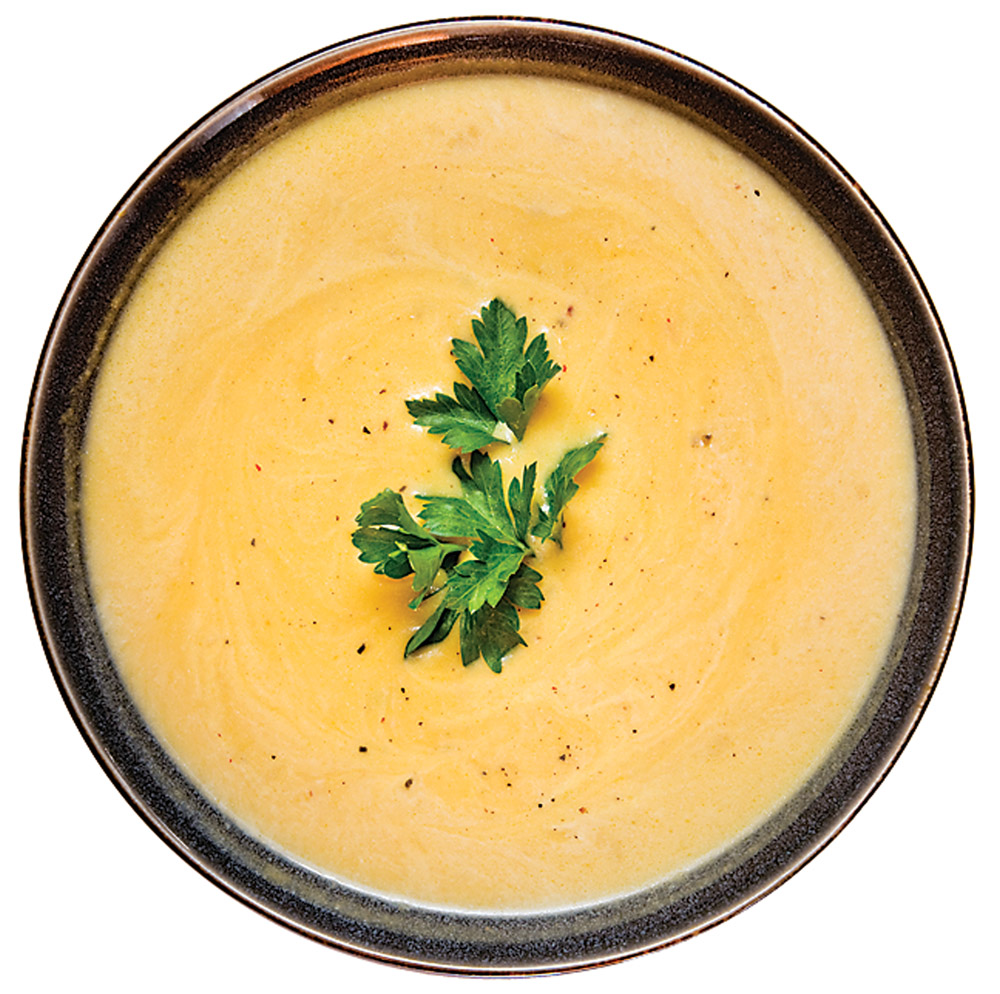 Ingredients
2 tablespoons butter
1 medium yellow onion, chopped
1 carrot, chopped
1 butternut squash; peeled, seeded, and chopped
1 Granny Smith apple; peeled, cored, and chopped
3 cups chicken broth
1 cup water
½ teaspoon cinnamon
½ teaspoon maple syrup
Salt and pepper to taste
Fresh parsley, chopped, for garnish
Directions
In a large pot, melt butter on medium heat. Add onions and carrot and sauté for five minutes. Add the squash, apple, broth, and water to pot. Bring to a boil.
Reduce heat and simmer for 30 minutes, until squash and carrots have softened. Using a blender, purée the soup, in batches. Add cinnamon, syrup, and salt and pepper. Garnish with parsley. Makes 4 to 6 servings.