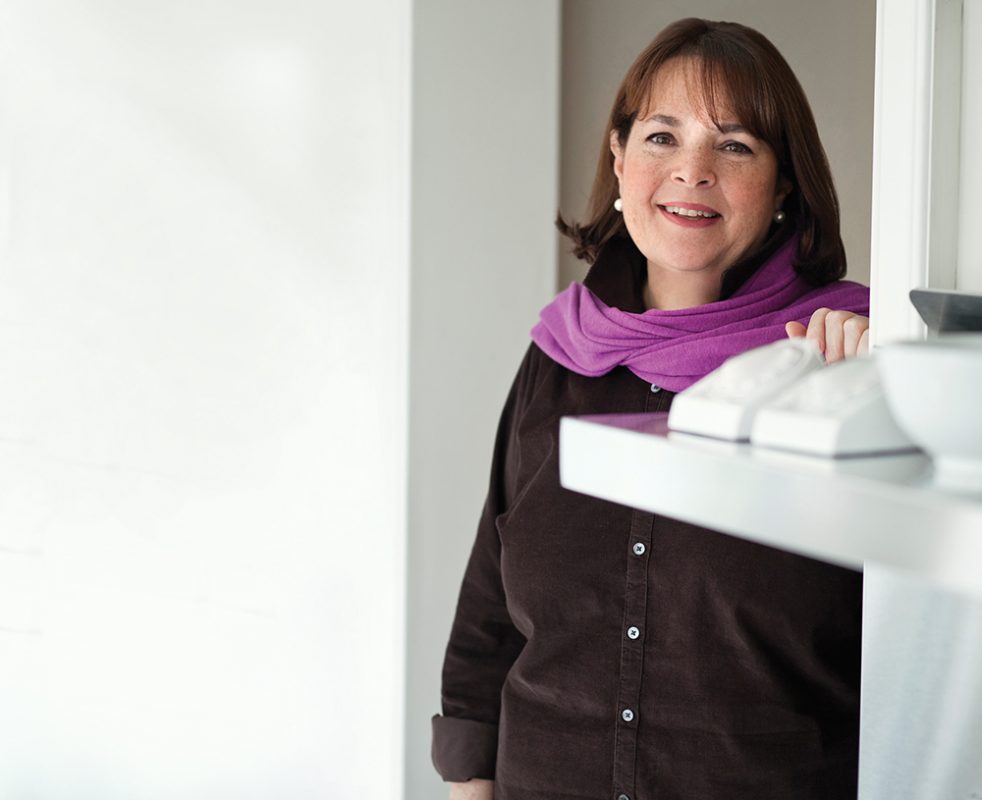 Courtesy of Quentin Bacon
serves 4 for lunch, 6 as a side dish
This may be my favorite salad ever. With the sweet caramelized carrots, peppery arugula, creamy goat cheese, and salty Marcona almonds, every bite is so interesting!
2 pounds carrots, preferably with leafy tops
Good olive oil
Kosher salt and freshly ground black pepper
1/4 cup pure Grade A maple syrup
2/3 cup dried cranberries
2⁄3 cup freshly squeezed orange juice (2 oranges)
3 tablespoons sherry wine vinegar
2 garlic cloves, grated on a Microplane
6 ounces baby arugula
6 ounces goat cheese, such as Montrachet, medium-diced
2⁄3 cup roasted, salted Marcona almond
Preheat the oven to 425 degrees. Trim and scrub the carrots. If the carrots are more than 1 inch in diameter, cut them in half lengthwise. Cut the carrots in large diagonal slices 1 inch wide × 2 inches long (they will shrink when they roast) and place in a medium bowl with ¼ cup of olive oil, 1 teaspoon salt, and ½ teaspoon pepper. Toss well and transfer to two sheet pans. (If you use just one, they'll steam instead of roasting.) Roast for 20 minutes, tossing once, until the carrots are tender. Transfer all the carrots to one of the sheet pans, add the maple syrup, toss, and roast for 10 to 15 minutes, until the edges are caramelized. Watch them carefully! Toss with a metal spatula and set aside for 10 minutes.
Meanwhile, combine the cranberries and orange juice in a small saucepan, bring to a simmer, then set aside for 10 minutes. In a small bowl, combine the vinegar, garlic, and 1⁄2 teaspoon salt. Whisk in 3 tablespoons of olive oil. Place the arugula in a large bowl and add the carrots, cranberries (with their liquid), goat cheese, almonds, and the vinaigrette. Toss with large spoons, sprinkle with salt, and serve at room temperature.
Make Ahead: Prep all the ingredients. Cook the cranberries and make the vinaigrette and refrigerate for up to a day. Roast the carrots and assemble the salad just before serving. maple-roasted carrot salad.
---
Vanilla Rum Panna Cotta With Salted Caramel
serves 8
Since I discovered Fran's salted caramels, I've loved the combination of salt and caramel. I particularly like caramel with undertones of vanilla to balance the sweetness. Cold, silky panna cotta is perfect with warm, salty caramel. Make this panna cotta in advance and just heat the caramel and pour it on top before serving.
2 teaspoons (1 packet) unflavored gelatin
3 cups heavy cream, divided
2 cups plain whole-milk yogurt
2 teaspoons pure vanilla extract
Seeds scraped from 1 vanilla bean
3/4 cup sugar
Dark rum, such as Mount Gay
1/2 cup good caramel sauce, such as Fran's
Fleur de sel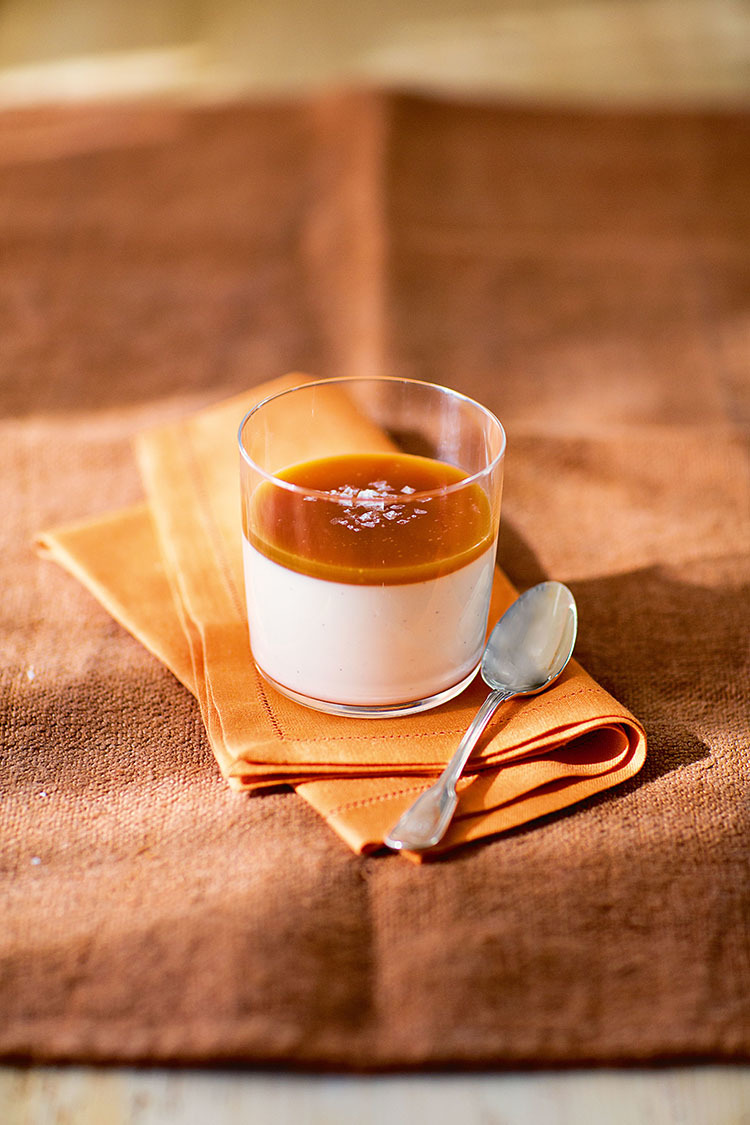 In a small bowl, sprinkle the gelatin on 3 tablespoons of cold water. Stir and set aside for 10 minutes to allow the gelatin to dissolve. Meanwhile, in a large bowl, whisk together 1 ½ cups of the cream, the yogurt, vanilla extract, and vanilla seeds. Heat the remaining 1 ½ cups of cream and the sugar in a small saucepan and bring to a simmer over medium heat. Off the heat, stir the softened gelatin into the hot cream until dissolved. Pour the hot cream–gelatin mixture into the cream-yogurt mixture and stir in 3 tablespoons of rum. Pour into 8 serving glasses and refrigerate uncovered until cold. When the panna cottas are thoroughly chilled, cover with plastic wrap and allow to chill overnight. Before serving, heat the caramel sauce with 2 teaspoons of rum in a small bowl in the microwave or a small saucepan set over low heat, just until warm. Spoon a thin layer of warm caramel on each cold panna cotta, sprinkle with fleur de sel, and serve. Note: I make vanilla extract by soaking vanilla beans in vodka. Note: I use 12-ounce old-fashioned glasses from CB2.
---
Skillet-Roasted Lemon Chicken
serves 3
I can't tell you how many times I've made this! I have the butcher butterfly the chicken so all I do is grind the thyme, fennel seeds, salt, and pepper, mix it with olive oil, and brush it on the chicken. When the lemon slices are roasted and caramelized, you can eat them with the chicken.
2 teaspoons fresh thyme leaves
1 teaspoon whole fennel seeds
Kosher salt and freshly ground black pepper
1⁄3 cup good olive oil
1 lemon, halved and sliced 1⁄4 inch thick (see note)
1 yellow onion, halved and sliced 1⁄4 inch thick
2 large garlic cloves, thinly sliced
1 (4-pound) chicken, backbone removed and butterflied
1⁄2 cup dry white wine
Juice of 1 lemon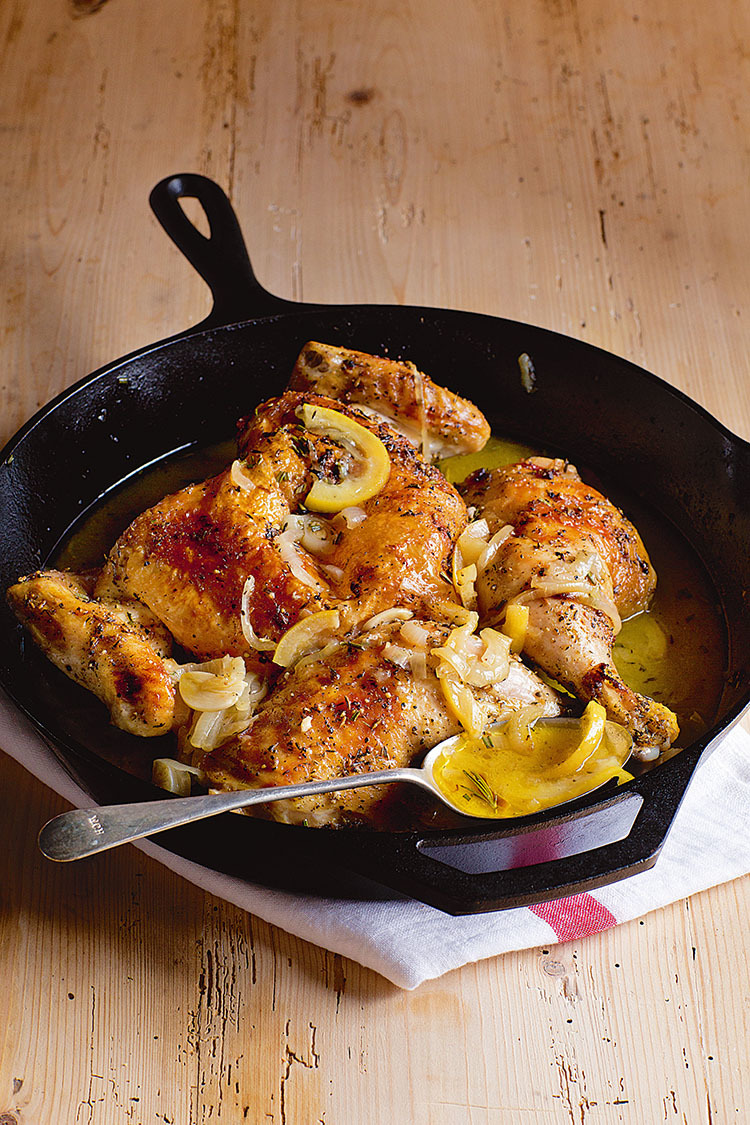 Preheat the oven to 450 degrees. Place the thyme, fennel seeds, 1 tablespoon salt, and 1 teaspoon pepper in a mini food processor and process until ground. Pour the olive oil into a small glass measuring cup, stir in the herb mixture, and set aside. Distribute the lemon slices in a 12-inch cast-iron skillet and distribute the onion and garlic on top. Place the chicken, skin side down, on top of the onion and brush with about half the oil and herb mixture. Turn the chicken skin side up, pat it dry with paper towels (very important!), and brush it all over with the rest of the oil and herb mixture. Roast the chicken for 30 minutes.
Pour the wine into the pan (not on the chicken!) and roast for another 10 to 15 minutes, until a meat thermometer inserted into the thickest part of the breast registers 155 to 160 degrees. Remove the chicken from the oven, sprinkle it with the lemon juice, cover the skillet tightly with aluminum foil, and allow to rest for 10 to 15 minutes. Cut the chicken into quarters or eighths, sprinkle with salt, and serve hot with the pan juices, cooked lemon, and onion. Notes: Remove the ends of the lemon, cut in half through the stem ends, and slice thinly crosswise. Sometimes I sprinkle the chicken with minced fresh rosemary before allowing it to rest.
Make Ahead: Assemble the chicken in the pan and refrigerate for a few hours before roasting.
Reprinted from Cooking for Jeffrey. Copyright © 2016 by Ina Garten. Photographs copyright © 2016 by Quentin Bacon. Published by Clarkson Potter/Publishers, an imprint of Penguin Random House, LLC.