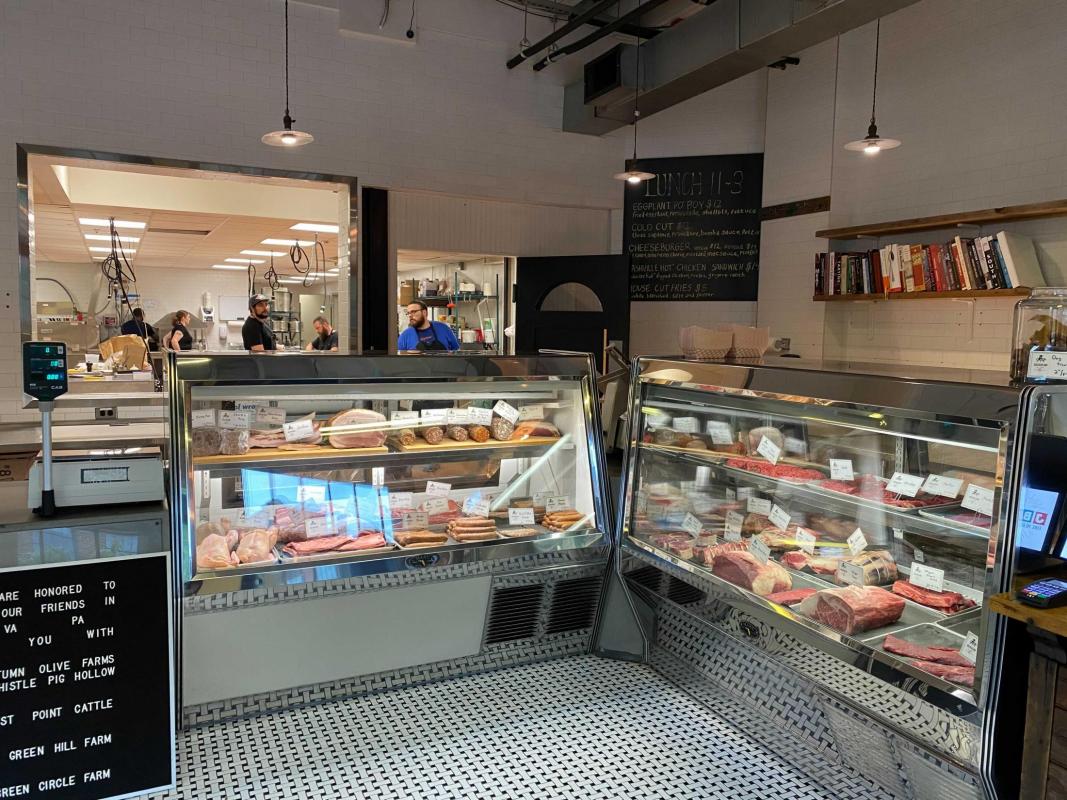 —Photography by Huanjia Zhang
Just before three o'clock on a showery Thursday afternoon, rancher Leigh Moul parks her white refrigerated minivan outside of the new John Brown General & Butchery shop (cleverly named JBGB's) in the former Parts & Labor space on North Howard Street in Remington. With it, two 20-some-month-old steel cows—newly slaughtered and cut into a dozen or so trunks—have been hauled from Dover, Pennsylvania.
Head butcher Jason Wilcox and his crew—all in black aprons—swiftly hang the rounds and chucks (the back and front ends of the cow) in the cold room while lugging the middles to the kitchen. By three o'clock, Wilcox has already started butchering the beef. He concentrates like a surgeon on the operating table, sculpting the fat with a butcher knife shaped like an eyebrow, breaking off the bones with a 25-inch saw.
"It's just like martial arts—all about muscle memory," says Wilcox, a veteran whole-animal butcher who has done this for a decade. After some precise cuts, the beef trunk has seamlessly been broken down into skirt steaks, ribs, and loins. Some parts will hit the counter up front the next day, while others will be transported to a walk-in cooler to age and wait for their debut in 30 to 40 days. 
In a time when local butcher counters have been vastly replaced by grocery store meat aisles and industrial processing plants, JBGB's grand opening in Remington last week—an expansion of its popular Cockeysville flagship—brings local flavors and excitement to neighborhood residents.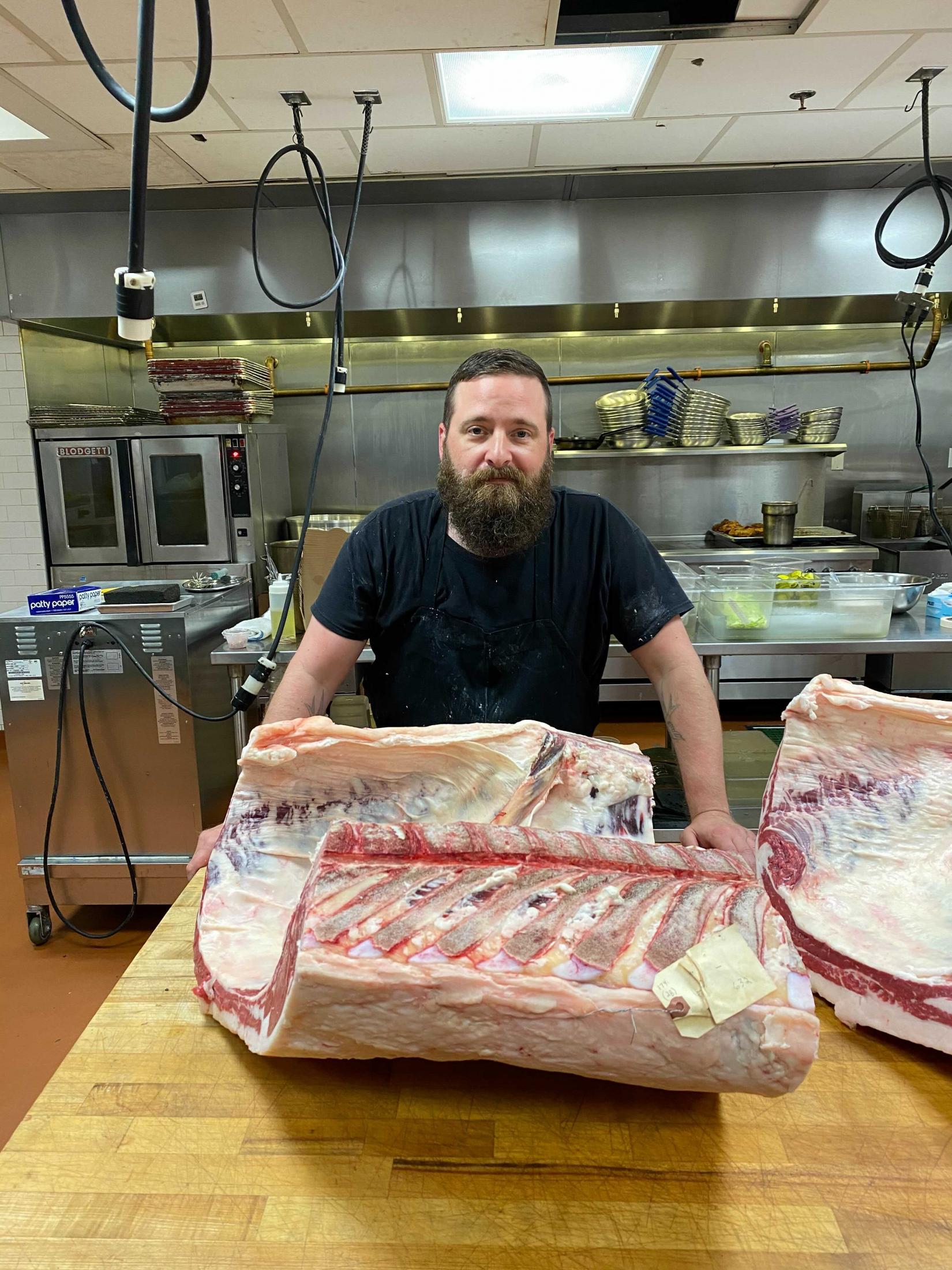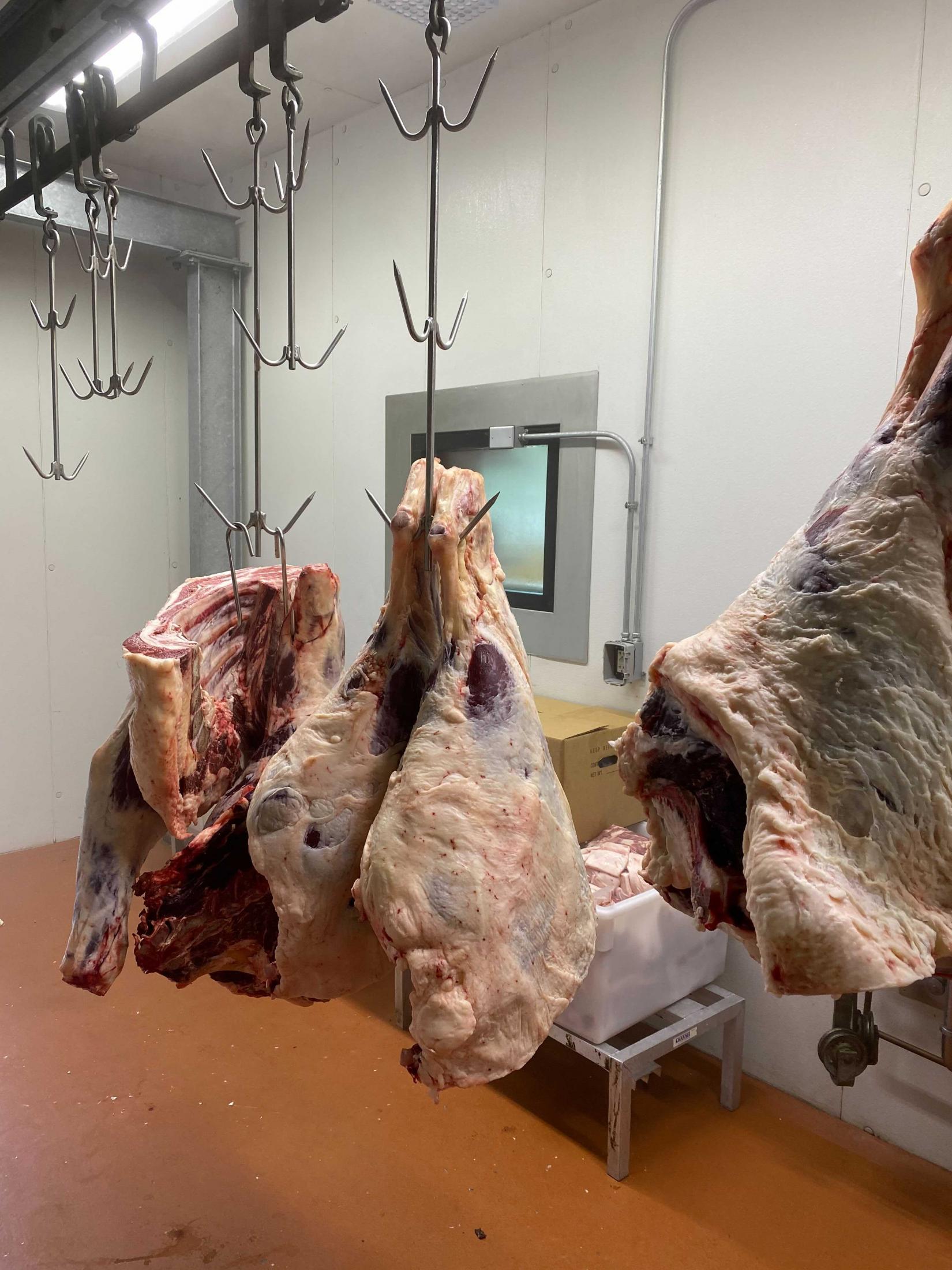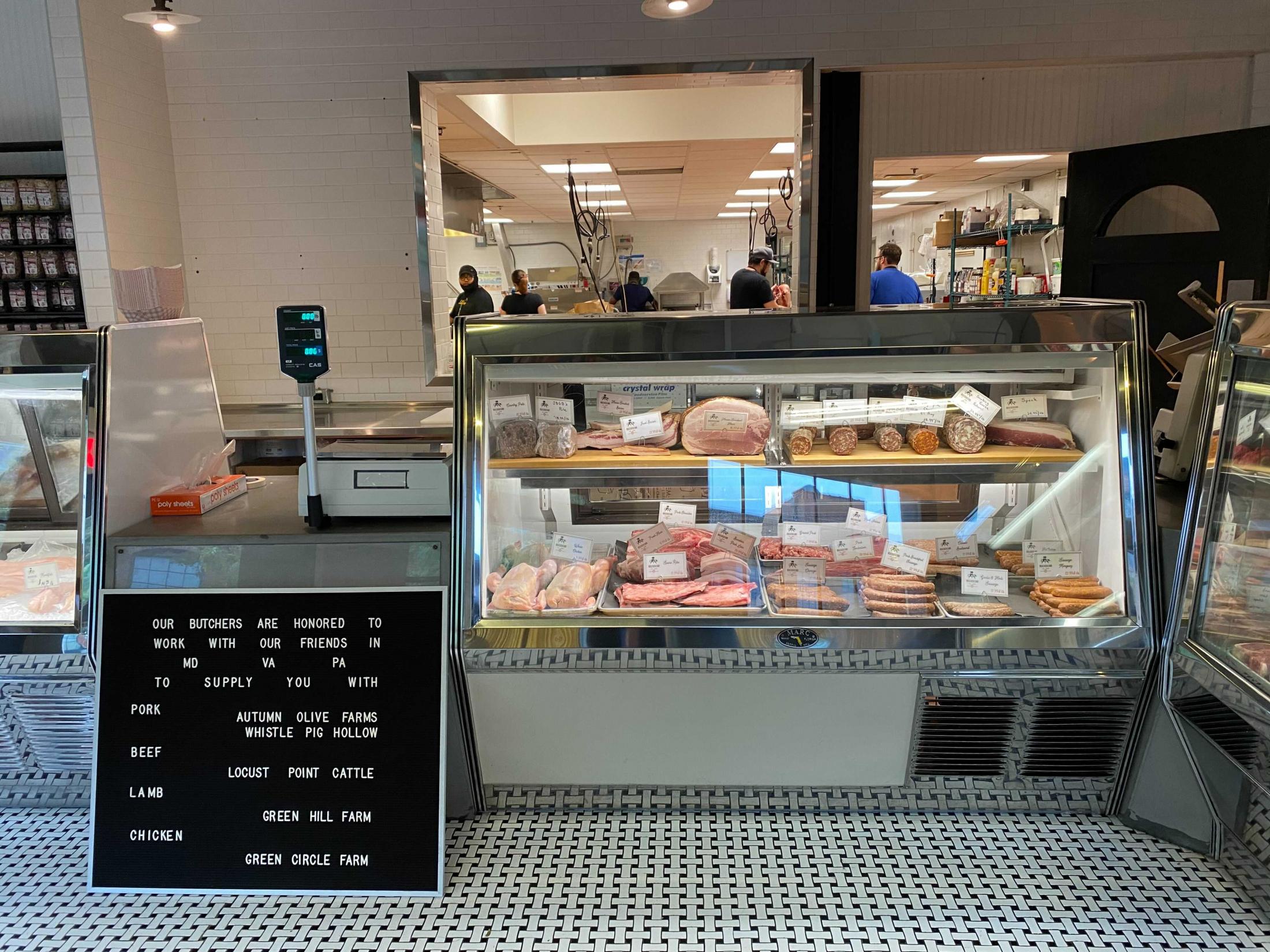 It all started last Thanksgiving, when JBGB's owner Robert Voss needed to find extra storage space for 300 turkeys. Knowing the closed Parts & Labor had several walk-in cold rooms, Voss contacted Seawall, the developer that owns the building, to rent out some of the cold space. Seawall, instead, offered the entire building to Voss for free throughout the holiday, in an effort to attract him to stay long-term. 
At first, Voss wasn't convinced that his butcher shop and general store—rooted in his hometown of Cockeysville—needed another location.
"I didn't know anything about Remington," says Voss, whose only experience in the neighborhood was attending punk shows at the Ottobar during his adolescence. "But the neighborhood has changed tremendously, and I grew to really like it over the months we were planning this project." 
What also attracted him was the industrial brick building itself, which was a former car-and-tire repair shop long before Parts & Labor moved in. "This building was built to be a butcher shop and a restaurant," Voss says.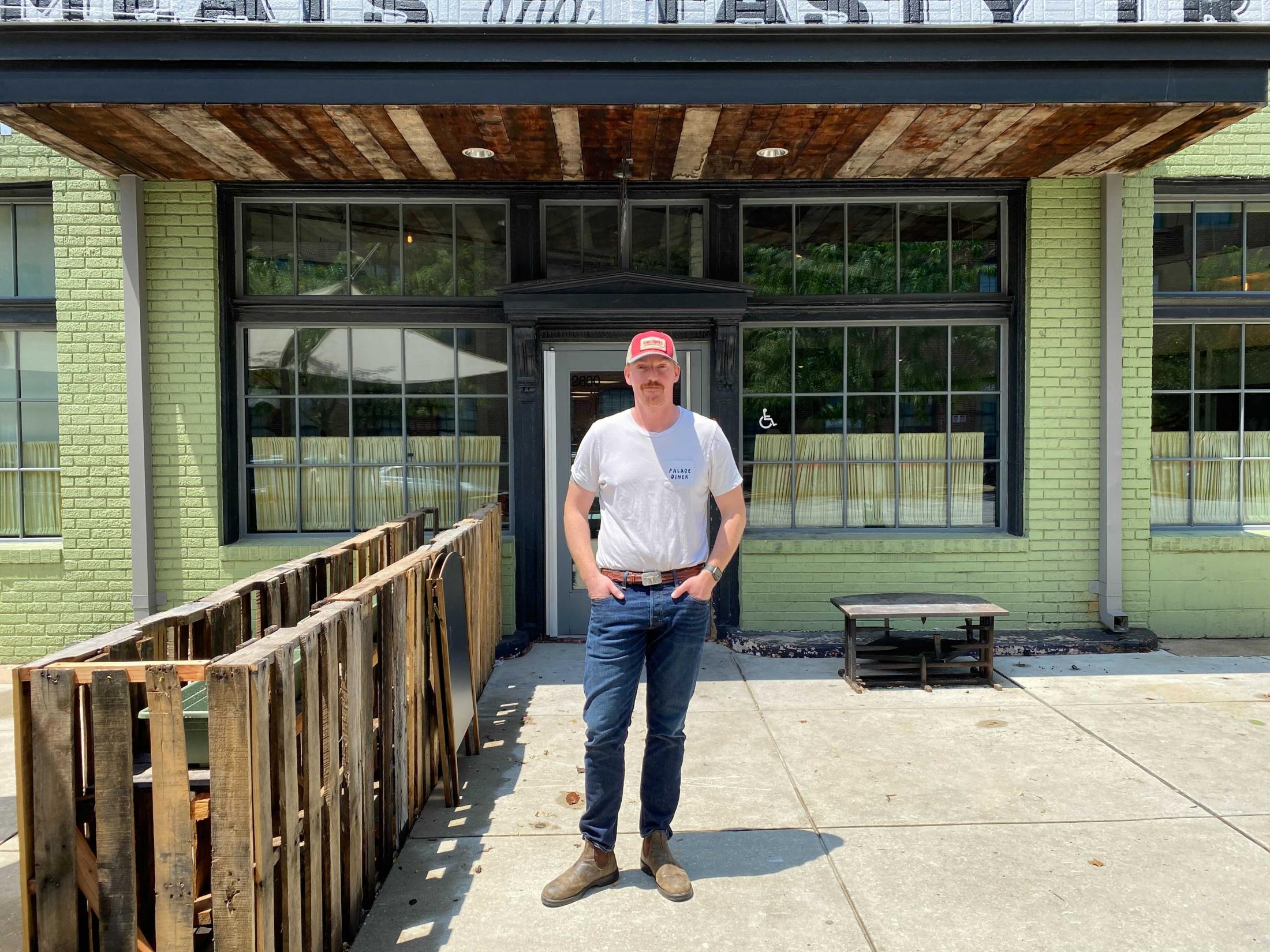 Although the butcher shop portion of the space has officially opened to the public, John Brown's sit-down restaurant is still in the preparation phase, with a grand opening slated for later this month. When he first signed on to the project in April, Voss decided he was going to make it a priority to differentiate the new JBGB's from Parts & Labor. 
To that end, he repainted the bar, ripped out many of the old wooden structures, made plans for a hand-painted mural on the back wall, and replaced the hearth kitchen with a wood-fire pizza oven. (Spoiler: pizza will take center stage on the menu, alongside smashburgers, beers on tap, four house cocktails, and four wine selections.) The entrance to the restaurant will also soon be shifted to the window that is currently facing the property's fireplace outside. 
"We really wanted this place to be big, inviting, and a little bit louder—just a more comfortable environment," Voss says. "To me, a dinner table should be this last bastion of shared space where we can leave our shit at the door and share a good meal."
For now, while they await the unveiling of the restaurant, diners continue to flood into the butcher shop—where the inviting glass counters showcase a wide range of meats including whole chickens, lamb chops, salamis, sausages, and Wagyu. The shop also carries seafood, cheeses, barbecue sauces, and charcoal.
"Everything that we carry on our shelves is something I would have in my pantry," Voss says. And during lunch time, the butcher shop also offers a selective menu, where people can grab items such as John Brown's classic cold cut and an eggplant po'boy.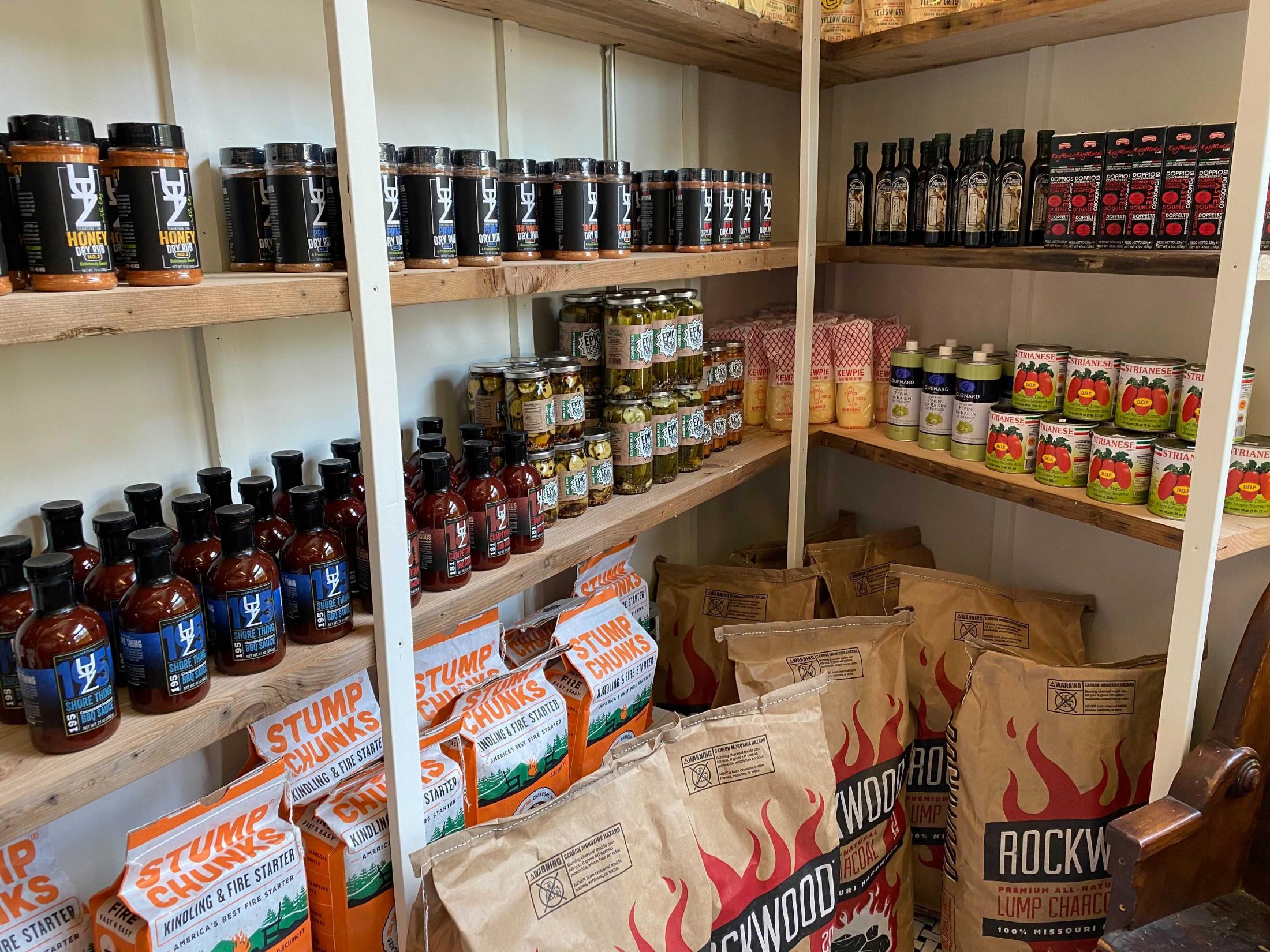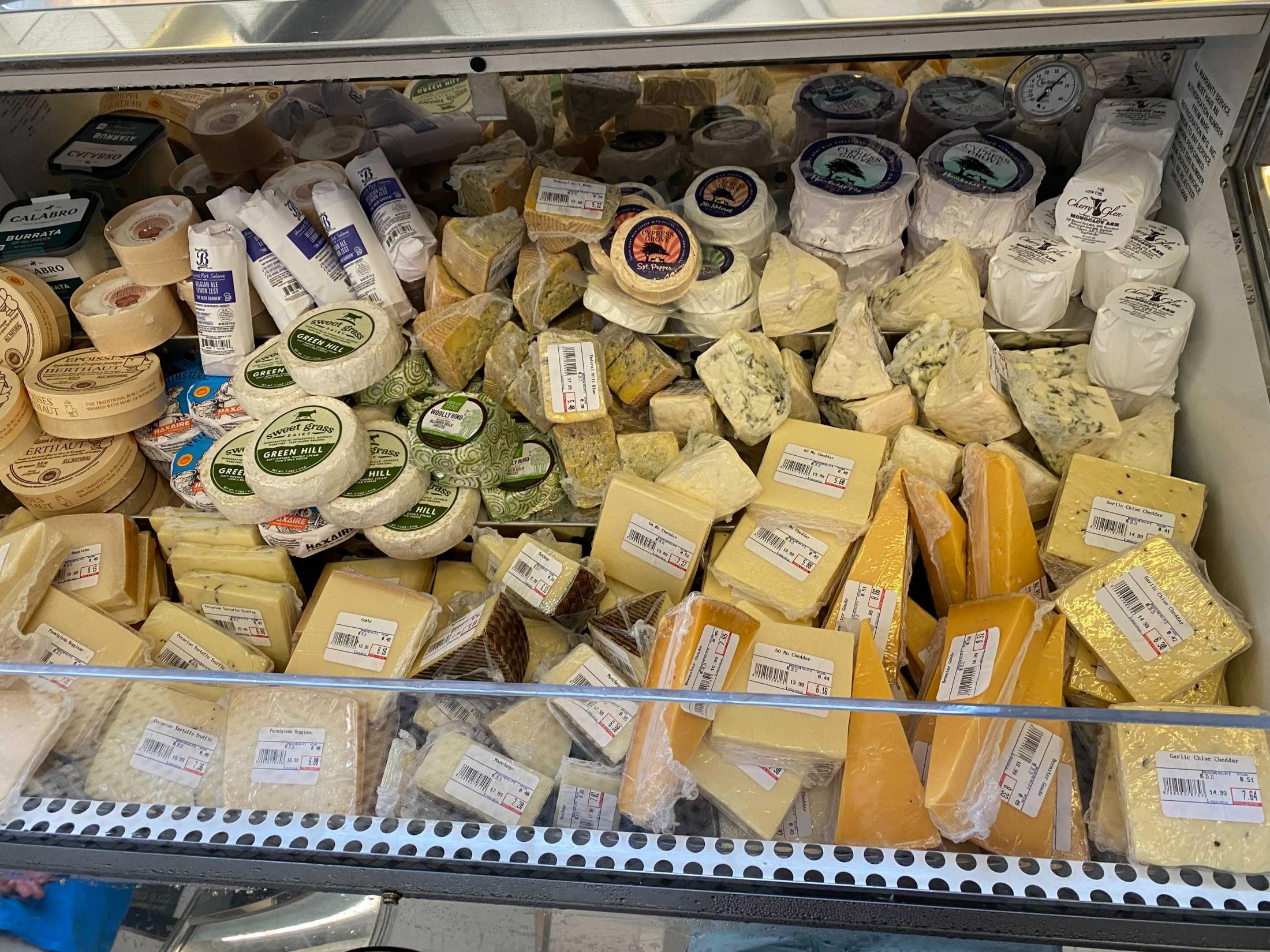 On this particular day, Marcel de Pontbriand, Emily Somach, and Phong Le—three Remington locals—are savoring their lunch outside. They shared a cheeseburger, house-cut fries, and a Nashville hot chicken sandwich.
"It smells the same!" Le said when first walking in, noticing the familiar smokey bacon smell that he missed from Parts & Labor. 
Aside from the addition of a new neighborhood restaurant, many locals are just happy to see the space reactivated as a communal gathering spot.
"It's a great place to hang out," says de Pontbriand, who moved to Remington 11 years ago. "I feel very lucky to have [JBGB's] in our neighborhood—food brings people together." 
When the restaurant portion opens its doors, Voss says the menu will be open-minded and diverse as an intentional reflection of Remington—a neighborhood where young professionals, families, and blue-collar workers co-exist. His ultimate goal is to make JBGB's a communal place where people can come for a fancy date night or a low-key meal.
"The ability to serve this diverse community both culturally and socio-economically is important," Voss says.  "At the end of the day, we're not going for a Michelin star here. We're going to create a community restaurant to fill some gaps that we feel people are missing."