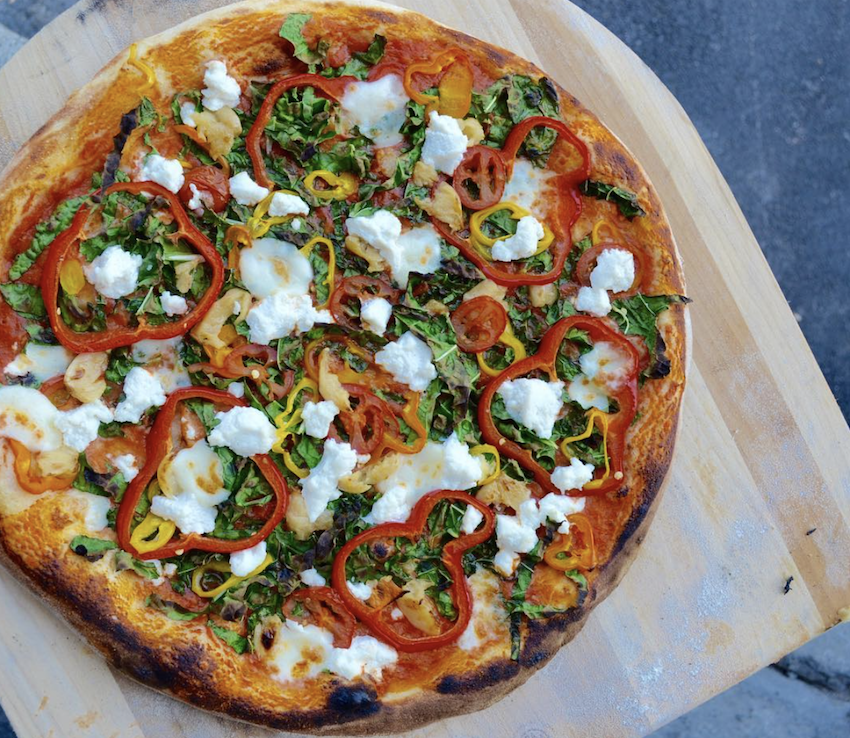 @molinapizza via Instagram
Although Christian De Paco is a native of Costa Rica and J. J. Reidy hails from Buffalo, New York, the business partners behind local development firm Urban Pastoral both have strong ties to Italy. 
Aside from their own respective travels throughout Boot Country (Reidy spent six months in Perugia and De Paco frequently visits his girlfriend's family outside of Florence), the duo lived in Milan for one month while attending a food-themed innovation program at the World Expo in 2015.
"Food is such a core facet of culture," Reidy says. "We've both been blessed to experience that in different ways around the world, but especially in Italy and other parts of Europe—it's just a way of life."
Drawing inspiration from their experiences abroad, De Paco and Reidy have opened Molina Pizze and Polpette inside R. House in Remington. Taking over the last vacant stall in the year-old communal marketplace, Molina specializes in wood-fired pies, charcuterie, and classic Italian meatballs.
While making pizza is new for the partners, this isn't their first project inside R. House. They teamed up with chef Melanie Molinaro to open vegan and vegetarian-focused Stall 11 inside the space when it first opened. Just like with Stall 11, De Paco and Reidy plan to use Molina's menu as a way to further the sustainable mantra that they have established with Urban Pastoral—which works to activate green spaces throughout the city.
"Our overarching company exists to foster connectivity through food," Reidy explains. "We're doing that all across the supply chain from growing in our hydroponic facilities, to offering approachable vegan and vegetarian food at Stall 11. And now with Molina, we can connect people with our roots and family traditions."
Molina's menu features pies that are baked in a 1,000-degree hearth oven (traditionally called a pavesi) and topped with locally sourced herbs and vegetables from places like One Straw Farm in Baltimore County. The stall also makes use of naturally fermented mozzarella from Caputo Brothers Creamery in Pennsylvania.
Among the signature slices include the "Terra," flavored with lemon-basil pesto and cauliflower, the "Parma" topped with arugula and prosciutto, and the "Raz," a classic margherita named after Reidy's grandfather who immigrated from Naples. The duo credits the pies' unique texture with a special flour blend and specific fermentation process.
"The dough comes out light and crispy" De Paco says. "It's the type of pizza that you can eat a lot of and not feel like you're in a food coma."
A native New Yorker, Reidy says that Molina fills a certain void in the local pizza scene.
"There are very few places in Baltimore where you can grab a good slice," he says. "In New York, that's a part of the culture. When you're walking home from work, you get a slice of pizza. It's like an appetizer."
The lighter approach makes the offerings more conducive to R. House's mission, which encourages diners to sample bites from each of its 10 stalls. The duo has enjoyed taking advantage of the communal environment, and has even partnered with R. Bar to create cocktail pairings (think a Negroni or an Aperol spritz) inspired by the Italian tradition of aperitivo.
"Cooking and sharing meals is an act of love," Reidy says. "It's people going on their first date, or launching their own company here at R. House. Those types of  interactions are so special to us."