There are a few thoughts that ran through Jason Hisley's mind when he was approached by producers about appearing on Holiday Wars—Food Network's festive baking competition that pits teams of cake artists against one another in four weeks of winter-themed showdowns.
At this point, he's competed on many of the network's televised bake-offs, including Cake Wars, Sweet Genius, and Cutthroat Kitchen, so he's been added to executives' national roster of pastry chefs to tap into when new opportunities arise.
For starters, he thought about whether everything would run smoothly at his nearly two-year-old Timonium bakery, Cake By Jason, while he was on the West Coast filming. On top of that, he remembered the pressure and commitment required to put your best foot forward in these types of contests.
"They are certainly stressful," he says. "You're not just cooking. There's people running around you, there's cameramen, producers are yelling at you. It was one of those things where I was like, 'Do I really want to do this so early in launching Cake by Jason?' But, of course, I had to."
Looking back now, he's grateful that he did. In the Holiday Wars finale that aired last night, Hisley's team, the "Bah Hum-Bakers," took home the $25,000 grand prize after host Jonathan Bennett challenged them to showcase a friendly rivalry between Santa's elves and reindeer. Their display, which depicted the animated characters sledding down a gigantic ice hill sculpted out of sheet cake, ultimately won over judges Shinmin Li and Jason Smith.
"There's really no description for it," says Hisley when asked his reaction to hearing his team's name in the finale. "On one hand, I've been kicked off of shows and it was kind of a relief because it was so physically and mentally exhausting. And then there are the times when you win, and the joy is just insane."
The final challenge was one of many that tasked Hisley's team with thinking hyper-creatively throughout the competition. (Others included dreaming up scenarios in which Santa's holds auditions for a new crop of elves and takes up a side hustle during the off season.)
"Food Network has really come a long way," Hisley says. "It's no longer just, 'Show us your best interpretation of Santa delivering presents.' It's, 'Santa's off now, what does he do for a side job?' That's crazy, because people don't think about those things all the time. It really allowed us, as artists, to get more creative and not just stick to one lane."
A selection of Hisley's holiday treats at Cake by Jason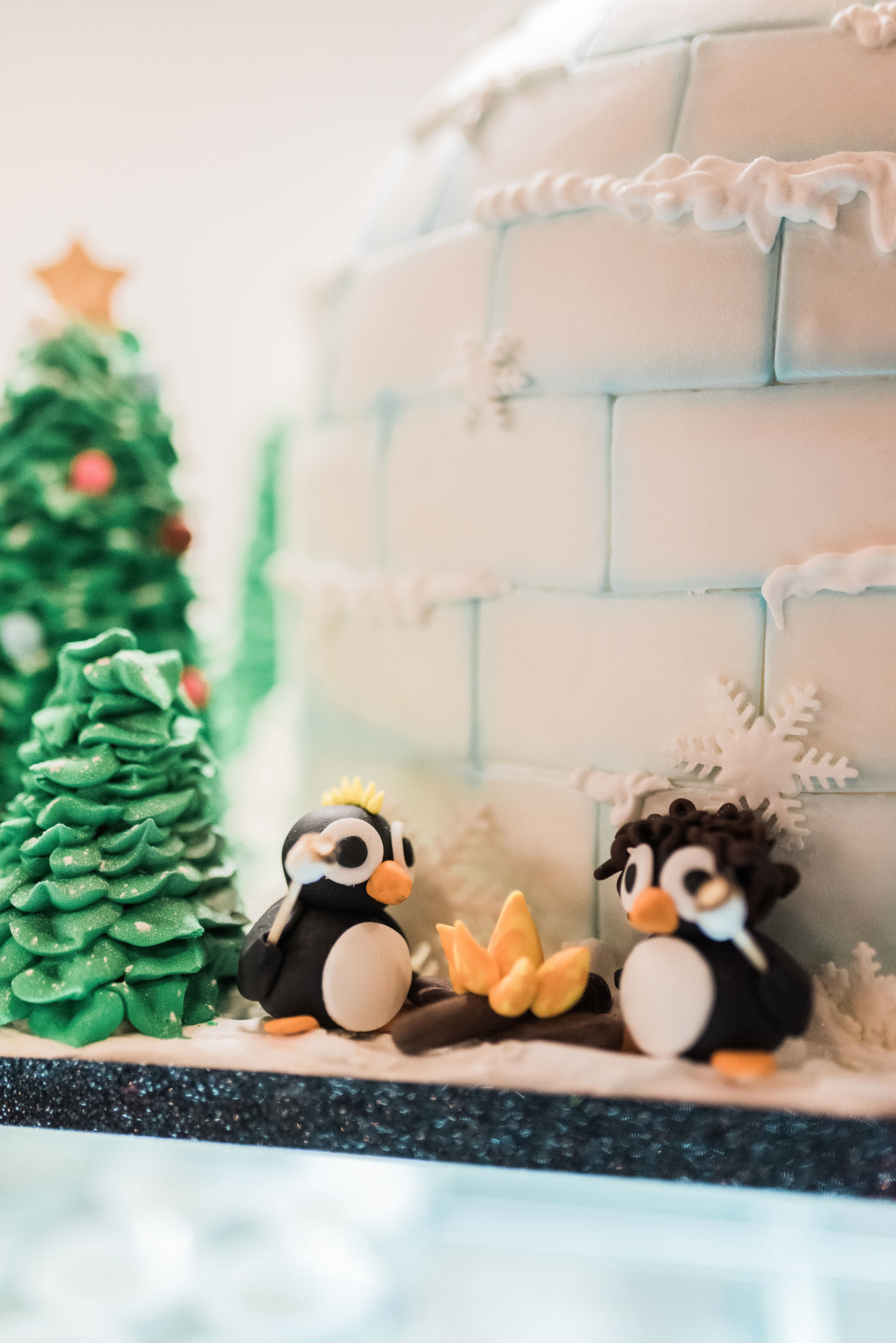 Photography by Breanna Kuhlmann Lifestyle Photography
Of course, working as a team of four to collaboratively execute these massive dessert dioramas in one cohesive style didn't come without its challenges. Though most reality television shows have been known to play up the drama for ratings, Hisley asserts that food competitions are just as nerve racking as they seem on TV. Specifically, he notes the struggles of baking in a foreign kitchen.
"There's little things that people don't think about," he says. "For example, this was filmed in California where the humidity and temperature are different and there are studio lights on you. I'm used to baking in a 55-degree room that we control the temperature of at all times. So it's kind of like throwing people into these entirely different worlds."
When working as a team, the key to success, says Hisley, is forgetting about the competition. He's proud of how his group, which was criticized in the first round for "playing it safe", continued to improve throughout the show.
"For us, it almost wasn't like we were competing with other teams, we were competing against ourselves," he says. "In the third round we had a little pep talk and I was like, 'I don't care what everyone else is doing. Let's not look at other kitchens—let's just focus on ourselves and whatever we produce, we'll be happy with.' I think that final moment when they called our name for the win was just overwhelming pride that it worked."
When it comes to his chunk of the prize money, Hisley plans to invest it into the future of the bakery. He and his business partner, Kelly Sokolis, are looking forward to bringing in some new equipment, while also focusing on continuing Cake by Jason's internship programs. (His very first intern, Nicole Moran, is now the bakery's lead cake designer.) Hisley, whose daily routine starts at 2 a.m., is also hoping to treat himself to a well-deserved beach vacation.
With Food Network putting many Baltimore chefs—including Dave Thomas of Ida B's Table, Johntay Bedingfield of La Food Marketa, Steve Chu of Ekiben, and Jay Rohlfing of Cunningham's—in the national spotlight this year, Hisley says it feels great to be able to represent his hometown.
"Baltimore has really become such a diverse hub for food and how people view food," he says. "It's such a unique city that's evolving and changing, to bring this win back is insane."
---
---