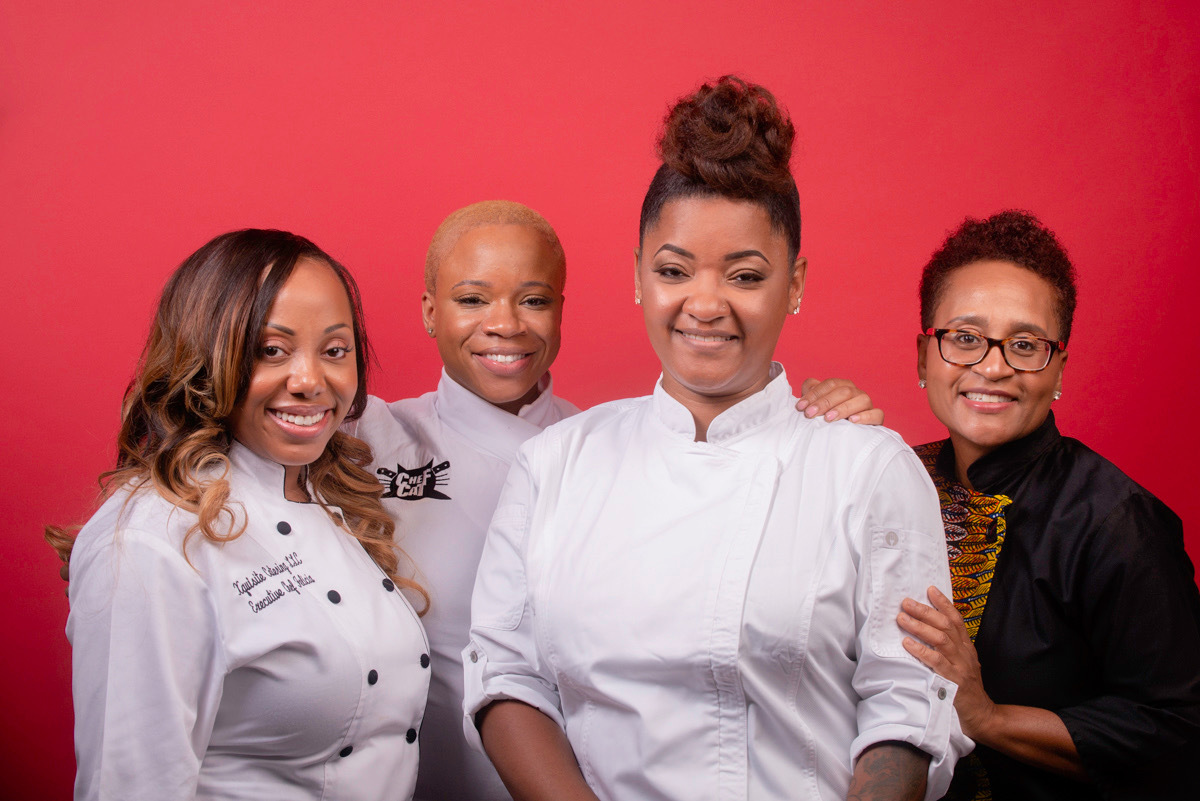 Photography by Daniel McGarrity
Chef Catina Smith spent a few years refining her skills in kitchens all over the city—working at spots like Guy Fieri's Kitchen and Bar inside Horseshoe Casino and Dovecote Cafe in Reservoir Hill, where she served as the executive chef. But, even with an impressive resume, when she saw an opening at Magdalena inside Midtown's posh Ivy Hotel, she was admittedly hesitant to apply.
"It took several times for me to even think that I could work there," she says. "I was like, 'Oh this is some fancy place. I don't belong in that kind of establishment.' And I'm sure a lot of black women think that we only belong in certain types of kitchens just because that's what we see. I still can't even name a black woman executive chef leading a fine-dining restaurant. So it makes you think, man, representation really does matter."
Now an integral part of Magdalena's culinary team, Smith has launched Just Call Me Chef, an entire movement geared toward empowering female, African-American chefs and providing opportunities for future generations to work in whatever kitchens they choose.
"I want to shatter that stereotype and show people that you don't have to be a white male to work at a fine-dining establishment," she says. "We're just as capable. People always say, 'Oh, a black woman cooked this.' But why do I have to be differentiated? I'm a chef just as much as anyone else. So that's why I was like oh, 'Just call me chef.'"
As one of the first fundraising initiatives, Smith has teamed up with local photographer Daniel McGarrity to create a wall calendar showcasing portraits of a dozen female chefs and some of their signature recipes—which she hopes will serve as a daily reminder of racial and gender equality.
Slated for release in November, the calendar will benefit local nonprofits Black Girls Cook, which teaches city teens about the importance of sustainable food and nutrition, and She Chef, an organization working to spotlight diversity in the culinary industry.
Many of the women featured in the calendar—which includes Keme Jones-Evans of Soul Kuisine Cafe, Jasmine Norton of The Urban Oyster, Amanda Mack of Crust by Mack, and LaShauna Jones of The Sporty Dog Creations—are gathering for a fundraiser at Showroom inside Motor House in Station North this Wednesday, October 10. From 5-7 p.m., the bar is donating $1 of every drink sold to Just Call Me Chef.
"I know what that feeling is like when you're passionate about something but you're not able to get a chance because you're a woman or you're black or whatever judgment they want to pass on you," says Jones of Sporty Dog. "That's why this movement is so amazing. We're all able to speak out about how women chefs are putting together meals and concepts that are just as big and bold as anybody else."
Building a network, says Smith, has been one of the most rewarding parts of the project. She has particularly enjoyed seeing how all of the women support one another—whether that means showing up to each other's pop-ups or helping out with catering gigs.
"It's always been important to me to bring people together," Smith says. "It's nice to know, if I can't do something, that I can turn it over to somebody in the group. We kind of make sure that we never say no to a job so that we can always keep the money in the family."
In the future, Smith has big plans to facilitate workshops, organize chef-to-chef mentorship, and establish scholarship funds for aspiring chefs to be able to cook in any kitchen, no matter what type of cuisine it focuses on.
"Everyone is teachable," she says. "We just have to break down that belief that we don't belong in certain spaces. I feel like my calling isn't necessarily to be an executive chef of some restaurant. I think my calling is this right here. Putting people together and helping them out."