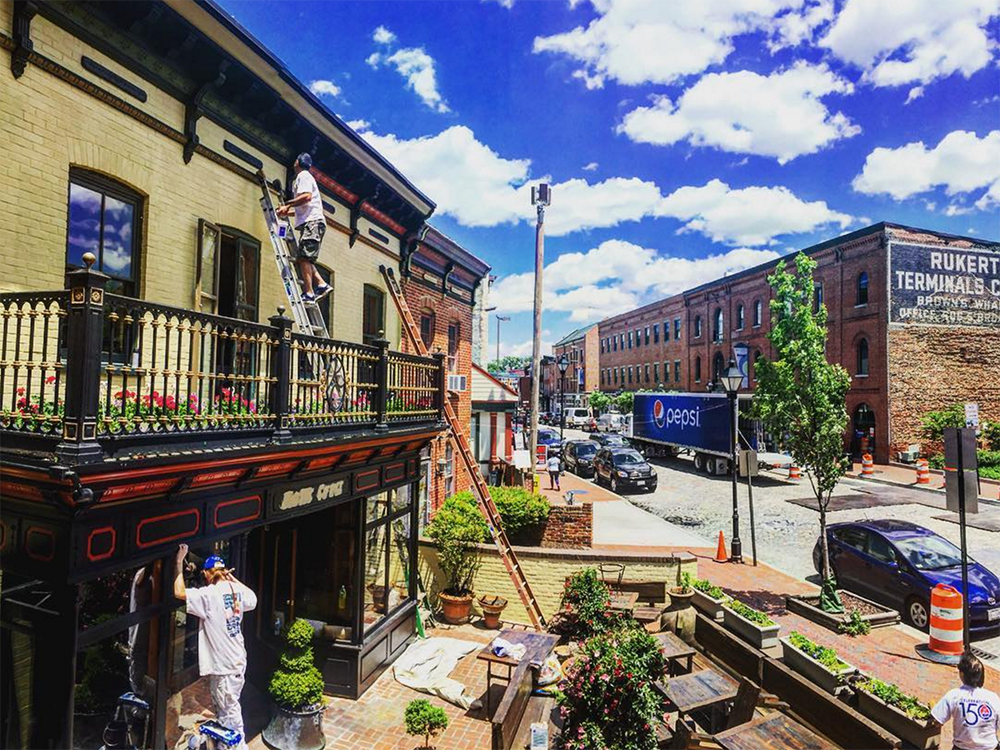 Courtesy of Anastasia Keramidas
Anastasia Keramidas started working the coat check rooms at her father's restaurants when she was 13 years old, and now, she's the driving force behind his latest concept.
With influence from Anastasia and her older brother, Alexander, Kali's Restaurant Group owner Vasilis Keramidas recently decided to transform Thames Street mainstay Kali's Court into Fells Point Tavern, a more relaxed hangout that will focus on live music, craft beer, and upscale bistro fare.
"Kali's had an incredible 15 years, but my father really wanted my brother and I to get more involved," says Anastasia, 24, co-owner and director of marketing for Kali's Group. "He noticed that we were hanging out at bars with a more casual feel, and we thought we could really expand our creativity using this as a platform."
Set in the former Kali's Court dining room adjacent to Mezze, which is also owned by the family, Fells Point Tavern will host live bands four nights a week and feature a drink program with craft cocktails and 20 taps of local beer.
The food menu will have a seasonal slant, with options such as a grilled swordfish sandwich on a brioche bun, fried calamari with apple fennel slaw, mahi-mahi tacos, arugula salad with citrus vinaigrette, pear gorgonzola flatbread, and various sliders.
The 75-seat space was recently renovated, and now boasts a more industrial interior with a revamped mezzanine level, tables made from vintage reclaimed trunks, bench-style window seating crafted by local designer Zack Metcalf, communal lounge areas, and mahogany and brass accents. Anastasia says that the new concept is also an ideal way to fully utilize the building's courtyard for special events.
"We want it to be very social," she says. "It's a sleek but comfortable atmosphere where people can grab a beer and watch the game or hang out in the courtyard outside with good food."
The news of the change comes at a significant period of transition for the neighborhood, which has recently seen the closure of staples like Leadbetter's Tavern, and an influx of more modern cocktail concepts.
"We were all kind of shocked when my father brought up the idea because Kali's had been steady for years," Anastasia says. "But I think he was realizing that fine dining is making its way out of Fells Point. That isn't to say that there aren't really great restaurants in the area, but he wanted to build on that bar concept a little more."
Kali's Restaurant Group, which formerly owned Meli, Anastasia, Tapas Adela, and The Admiral's Cup in the neighborhood, now focuses solely on Mezze and Fells Point Tavern. The new space is currently in soft-opening mode, and plans to host an official grand opening celebration in the coming weeks.
Above all, Anastasia hopes to attract locals with Fells Point Tavern's communal vibe.
"Unity is something Baltimore needs more of in general," she says. "I was raised in Fells Point, it was my backyard my whole life, and we're excited to have a place where different people can come and connect in one spot."