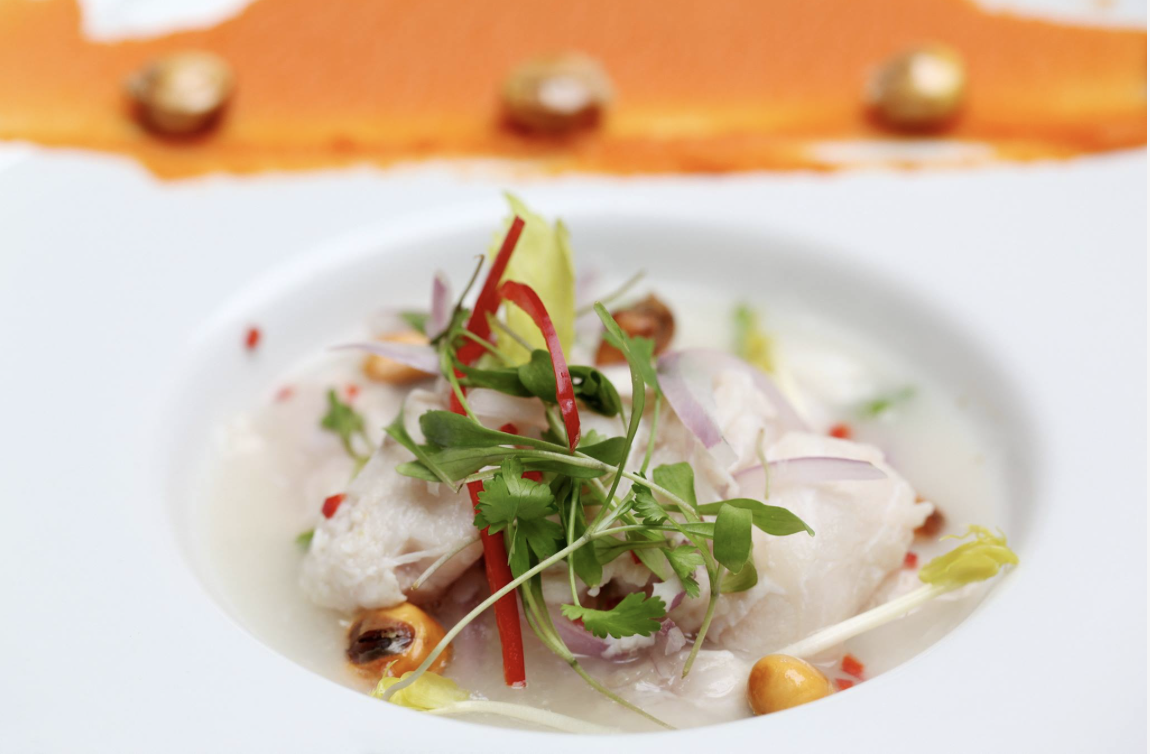 Courtesy of Puerto 511
We think it's safe to say that raw fish is having a moment. Of course, Charm City has its share of sushi spots, and poké bowls (the trendy Hawaiian delicacy that tops rice with cubes of uncooked fish) are also finding their footing. But ceviche—the marinated seafood staple with roots in South America—has proven itself to be particularly popular, especially as summer temperatures begin to peak.
"It's very refreshing," says Jose Victorio Alarcon, owner and executive chef of Peruvian destination Puerto 511 downtown. "In Peru, it's traditional to call up your friends on a hot day and go out for ceviche and a cold beer."
The dish, which is usually made with raw fish cured in citrus juices and spiced with chili peppers, is associated with Peru, but also can be seen in Central American countries, as well as throughout Mexico.
Even the team behind Clavel in Remington has transformed an adjoining garage into an authentic cevicheria inspired by co-owner and executive chef Carlos Raba's native Sinaloa, Mexico.
"It's always been our plan to mimic my upbringing," Raba says. "Whenever I go somewhere I enjoy, I'm always thinking, 'How can I bring this place to Baltimore? How can I bring my family from Mexico here to experience the same things they have at home?'"
Although many recipes and techniques vary by region, local chefs agree that the perfect ceviche starts with one key ingredient.
"You always have to use quality fish no matter what," says Enrique Limardo, executive chef at Canton's Alma Cocina Latina, who names favorites including halibut, royal seabass, and red snapper. "In the end, you can mix in whatever flavors you want, but if the fish isn't fresh, it's not going to be good."
Alarcon agrees, mentioning that the Peruvian version calls for a principal combination of a fresh white fish (like grouper or flounder), lime, salt, onion, and aji pepper. The difference, he says, lies in the marinating method.
"In a lot of Mexican or Central American ceviches, they marinate the fish for a few hours and sometimes let it sit overnight to serve the next day," he explains. "But Peruvian ceviche only needs five minutes to marinate. It's supposed to feel very fresh."
The traditional Peruvian marinade—a citrusy juice dubbed Tiger's Milk, or leche de tigre after its white color—also sets it apart from other styles. Alarcon notes Puerto 511's ceviche clasico (fish and leche de tigre mixed with cilantro, red onion, glazed sweet potato, and Andean corn) as a customer favorite.
"At the restaurant, my wife goes around to the tables to teach people about the leche de tigre," he says. "And she encourages them to drink the juice right from the plate because that's how we do it in Peru."
While Limardo also uses the Peruvian technique for his ceviche at Alma Cocina Latina, he puts his own spin on the dish by fusing the restaurant's signature Venezuelan flavors (think tropical fruits like pineapple and mango) into the leche de tigre. Says Limardo: "No matter what dish we make, we always have to add a little bit of Venezuelan inspiration."
At Points South Latin Kitchen in Fells Point, executive chef Rey Eugenio's ceviches are influenced by a number of different cultures. Not only does he draw from his upbringing in the Philippines, but he also solicits input from his staff about traditions from their home countries throughout South America.
"You always want to be innovative, whether it means taking components from other countries or combining two different styles together," Eugenio says. "In the Philippines, we have a dish that isn't called ceviche, but it's certainly similar to the traditional citrus-based ceviche. We even do a beef-style ceviche where raw beef is dressed in a citrus vinaigrette."
Although there are seemingly endless ways to create a flavorful ceviche, Raba says that, above all, the dish is about simplicity.
"There are a lot of ways to play with it," he says. "But too many elements will make you lose the essence of the ceviche."
Alarcon, too, prefers to stick to the basics: "You feel the acidity from the lime, sweetness from the glazed sweet potato, spice from the pepper, and crunch from the corn," he says. "In one plate, there are so many sensations."