Field Trip
Local foragers go into the woods.
By Jane Marion | Photography by Justin Tsucalas - June 2015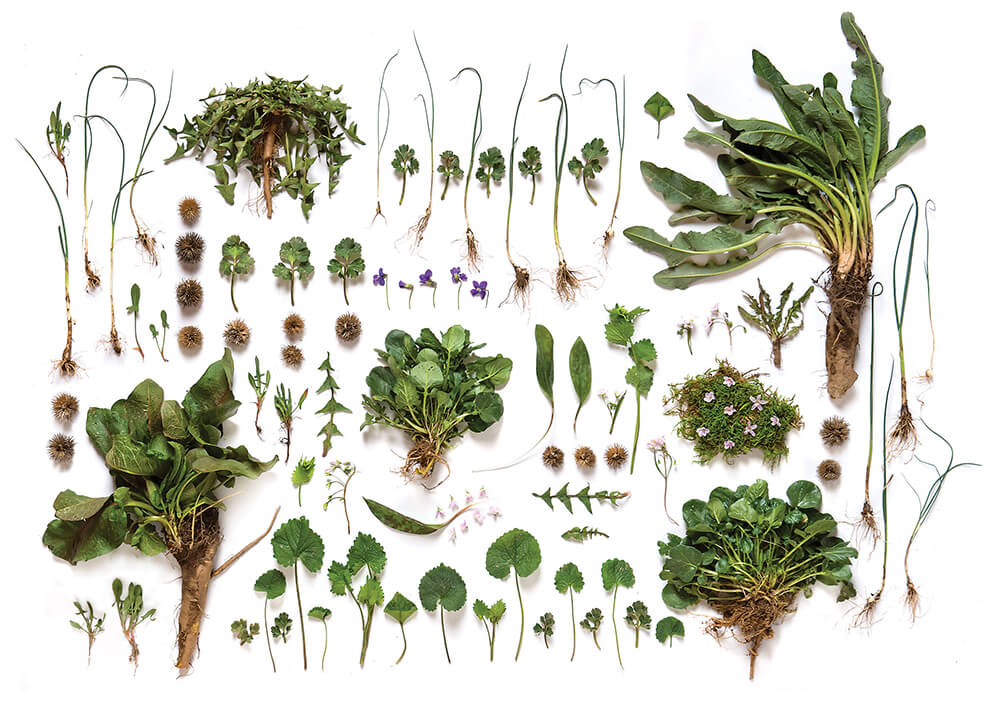 Emma Jagoz surveys the crops at Moon Valley Farm, her sprawling property that's based just behind her Cockeysville home. Jagoz's neatly manicured rows of crops create a lush landscape. "I've got broccoli raab, cilantro, kale, and daikon radishes," she points out as she looks over the two-and-a-half acre plot. But in addition to the crops Jagoz has purposely planted for CSA customers and local restaurant clients, Mother Nature has added her own surprise bounty to the fertile field. "A few years ago I realized, I had food growing among my food," says Jagoz. "For instance, there's a salad anywhere you go. Whether there's traditional lettuce growing around you or not, you can always make a salad." These days Jagoz is enjoying her own salad days at Moon Valley Farm.
Where the Wild
Things Are
Given that Maryland has four seasons, it's a great place to forage throughout the year. What you find may vary, depending on the weather. Be sure to prepare your harvest properly. Here's what to find when:
SPRING
Ramps
Bittercress
Violets
Stinging nettles
Chickweed
Morel mushrooms
Garlic mustard
Wild lettuce
Wild onion

SUMMER
Purslane
Red clover
Chanterelle mushrooms
Black trumpet mushrooms
Mulberries
Wineberries
Wood sorrel
Wild onion

FALL
Black walnuts
Garlic mustard
Bittercress
Maitake mushrooms
Chickweed
Hickory nuts
Wild grapes
Wood sorrel
Wild lettuce

WINTER
Rose hips
Several years back, when one of her chef friends mentioned that she enjoyed eating wood sorrel as a child, Jagoz realized that she had a plethora of the plant growing on her farm. "It looked very much like clover," explains Jagoz, "but when you looked closely, they're different. It turns out, I didn't have clover everywhere—it was actually wood sorrel."
Tasting the tender green leaves of the common lawn weed was a revelation. "It was so bright and lemony—even more so than lemon thyme, which you grow on purpose—but it was my major weed. You can even find it growing in the cracks of sidewalks."
As the saying goes, one man's trash is another one's treasure. (Or, in this case, one woman's weeds are another one's revenue source.) After sampling the sorrel, Jagoz decided to try to sell her weeds, as well. "It made total sense for me to forage," says Jagoz, who now sells her sorrel for eight dollars a pound, in addition to other wild edibles such as persimmons, wineberries, and garlic mustard. "I'm growing food as my business, and there's food growing as weeds among my valued crops, so why not sell that, too?"
Jagoz, who majored in American studies at the University of Maryland, got into farming—and foraging—as a way to help raise the consciousness of the community at large. "I think communities really need to empower themselves through food in order to have any sort of power," she says. "Foraging goes hand in hand with that social justice idea that there's free food all around us, and it can really help people live more cheaply and create less of an impact on the environment."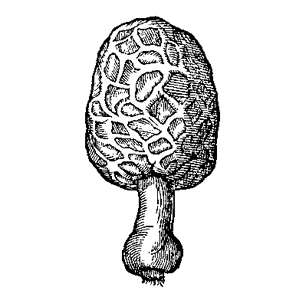 Though foraging has been around since the ancient hunters and gatherers, some local farmers are going back to basics. Why now? Some say that the renewed interest in foraging is an extension of the farm-to-table trend—call it forest-to-table. "Foraging has become part of the local food movement," says Bottega co-owner and chef Sandy Smith, who buys foraged foods for his Tuscan-inspired restaurant. "It's just another facet of it, and it has become popular with restaurants around here."
These days, foraging is not just some quirky niche practiced, notably, by "Wildman" Steve Brill and fringe nature lovers. Foragers today are an eclectic group of practitioners, including suburban denizens, chefs, vegans, and people who simply like the idea of keeping their grocery bills in check.
James Beard Award-winning chef Spike Gjerde of Woodberry Kitchen was one of the first chefs in Baltimore to raise awareness that locally sourced products are not only good for the environment, but they taste great and are good for our health, too. "Our newfound focus on local and regional food points to the fields and waterways and also the forest," says Gjerde, who forages for fun with one of his chefs, Patrick "Opie" Crooks, and their Washington, D.C.-based friend and foraging expert chef Jeremiah Langhorne. "The focus on local and regional has reinforced the appreciation for the things that are around us."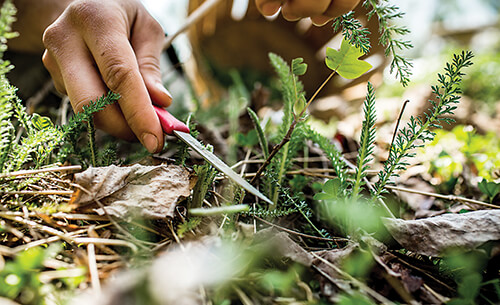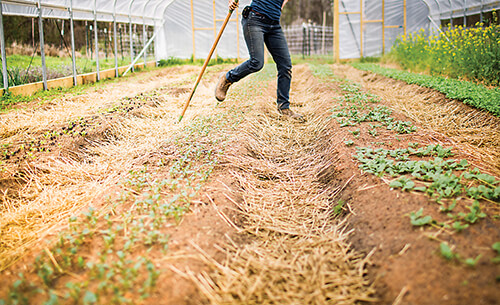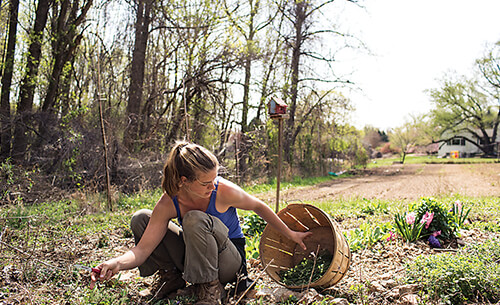 Foraging farmers and others are getting in on the act to meet the demands of the culinary community. As wild ingredients become more ubiquitous on area menus—from Bottega (where spicebush berries are used as a key ingredient in a duck rub) to The Food Market (where morels are used in chicken dishes and chanterelles find their way into duck and rockfish preparations) to Woodberry Kitchen (where chanterelles are puréed into gravy)—Jagoz and others are making nature's pantry part of their business model. "We're going back to our roots," says Chris Amendola, executive chef at The Manor Tavern and knowledgeable mushroom forager. "There was this whole generation that forgot about them when convenience food became the big thing."
Michael Weese trudges around the woods on one of his many weekly walks. Weese, who walks with eyes cast downward, never knows what he might find on the forest floor. Spying something in the distance, he runs deeper into the thicket and emerges looking victorious. "These are puffball mushrooms," he says, " lycoperdon pyriforme, because they're growing from the wood. You can eat these when they are really young and white inside, but these are starting to go to spore, so the mass inside is starting to change."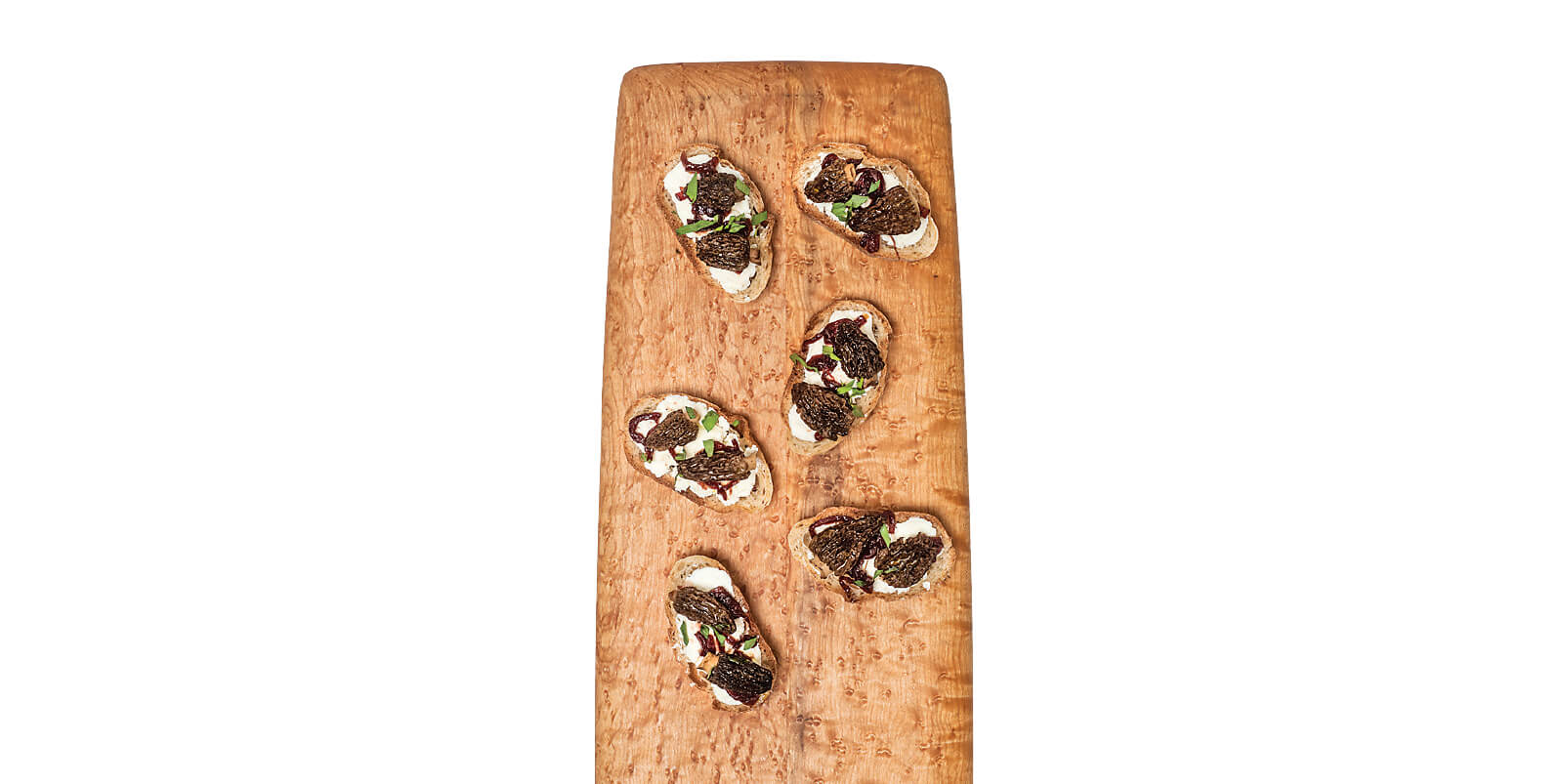 4 ounces fresh morels • 2 tablespoons butter • 2 cloves garlic, finely chopped • 2 branches thyme, whole • 3 ounces Madeira wine • 2 ounces chèvre • ½ cup shallot confit (see recipe, opposite page) • 1 baguette, toasted and sliced • 1 tablespoon tarragon, torn • 1 baguette, sliced and toasted
Morel Mushroom and Chèvre Crostini With Shallot Confit and Fresh Tarragon
Gently clean morels in a bowl of water with a fine-tooth brush. In heavy-bottom sauté pan, add butter and garlic. Sauté until garlic is fragrant. Add morels and stir. Add thyme branches. Sauté 5 minutes. Once liquid has mostly evaporated, add Madeira. Continue to cook for at least 10 minutes or until the Madeira is reduced. Assemble crostini by smearing chèvre on top of toast. Add shallot confit. Place morels and torn tarragon on top. Serves 2. —All recipes from Chef Brothers Personal Services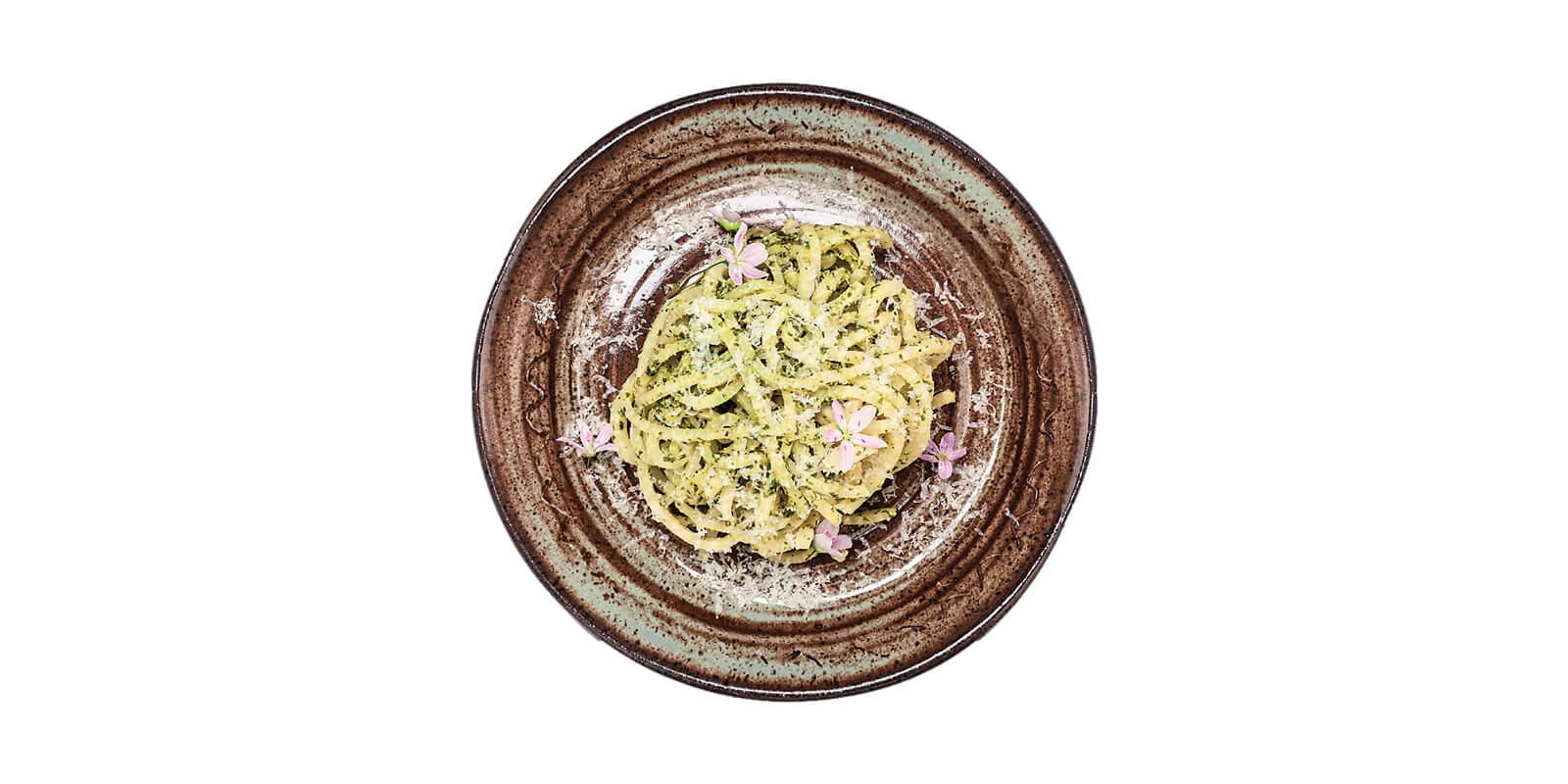 ¾ cup fresh-picked garlic mustard leaves • 1 cup fresh basil • 1 cup fresh stinging nettles • ½ cup toasted walnuts or pine nuts • 1 lemon, juiced • 1 tablespoon lemon zest • ½ cup Parmesan, grated • 1 small clove of garlic • 2-3 teaspoons salt and pepper to taste • ½ cup extra-virgin olive oil
wild nettles and garlic mustard pesto
Wash all garlic mustard and basil in a salad spinner. Being careful to wear surgical or rubber gloves, take the nettles and blanch in boiling water for 5 minutes. Submerge in an ice bath for several minutes before draining in a colander. Toast walnuts or pine nuts in a frying pan over low heat for several minutes, being careful not to burn. Add greens, nuts, lemon juice and zest, cheese, garlic, salt, pepper, and olive oil to a food processor. Blend until greens become a roughly chopped paste. Serve with pasta or veggie "noodles." (Celeriac noodles with pesto, pictured.) Makes 2 cups.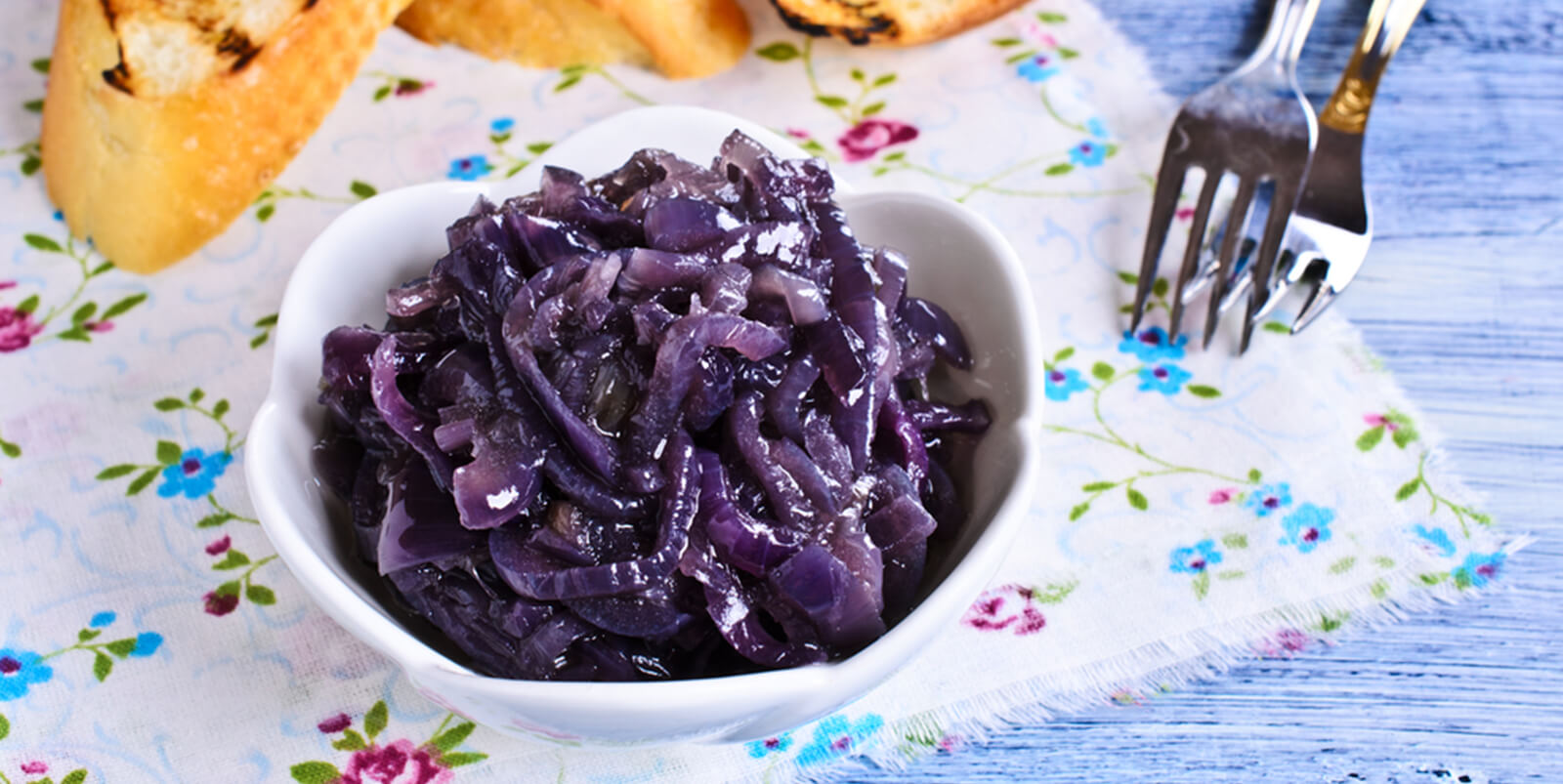 1 pound shallots, thinly sliced • ½ cup extra-virgin olive oil • salt and pepper
shallot confit
In a medium saucepan, cook shallots in olive oil over moderate heat, stirring occasionally, until very soft, about 30 minutes. Reduce heat to low. Continue to cook about 15 minutes, stirring often, until golden. Season confit with salt and pepper to taste.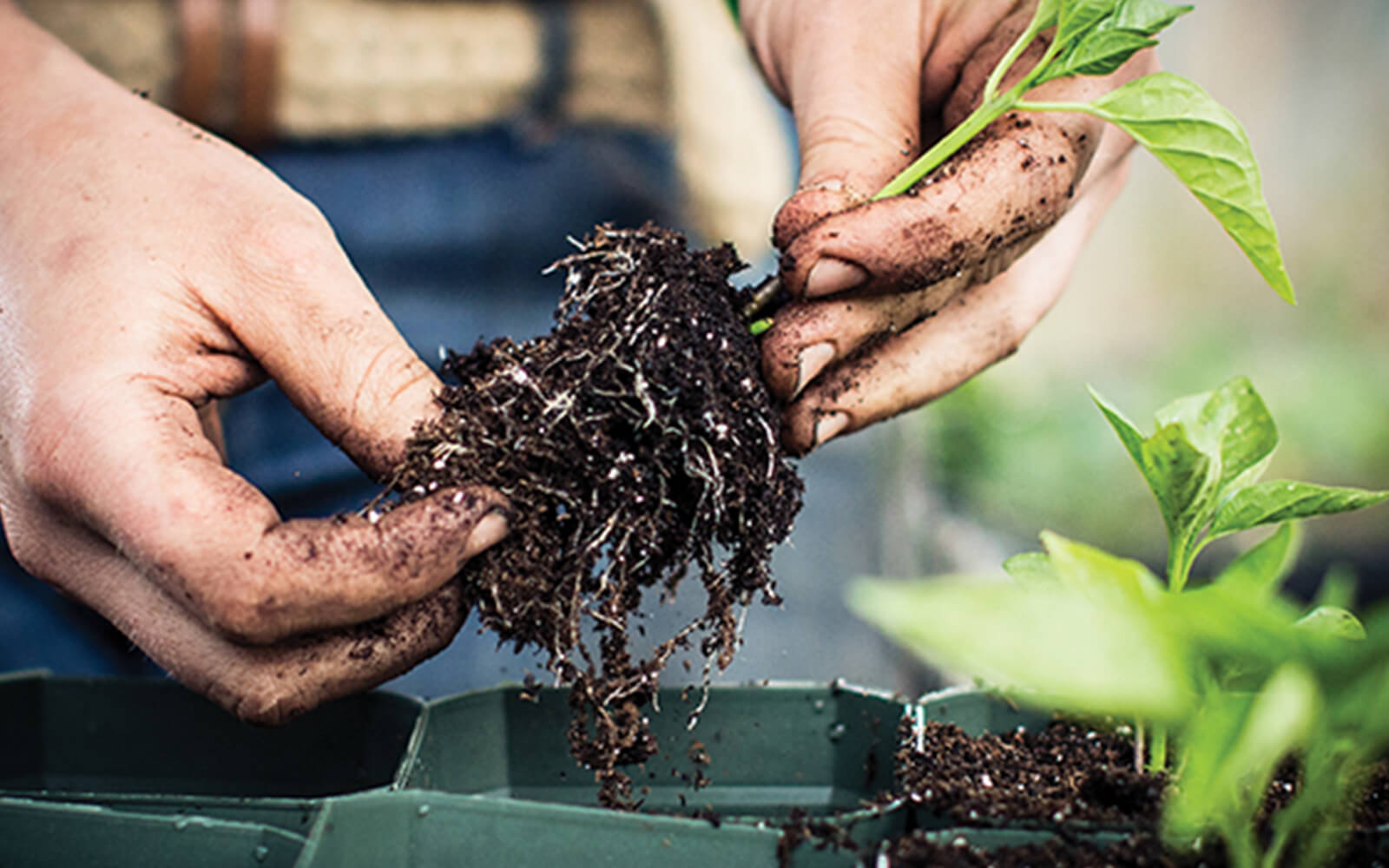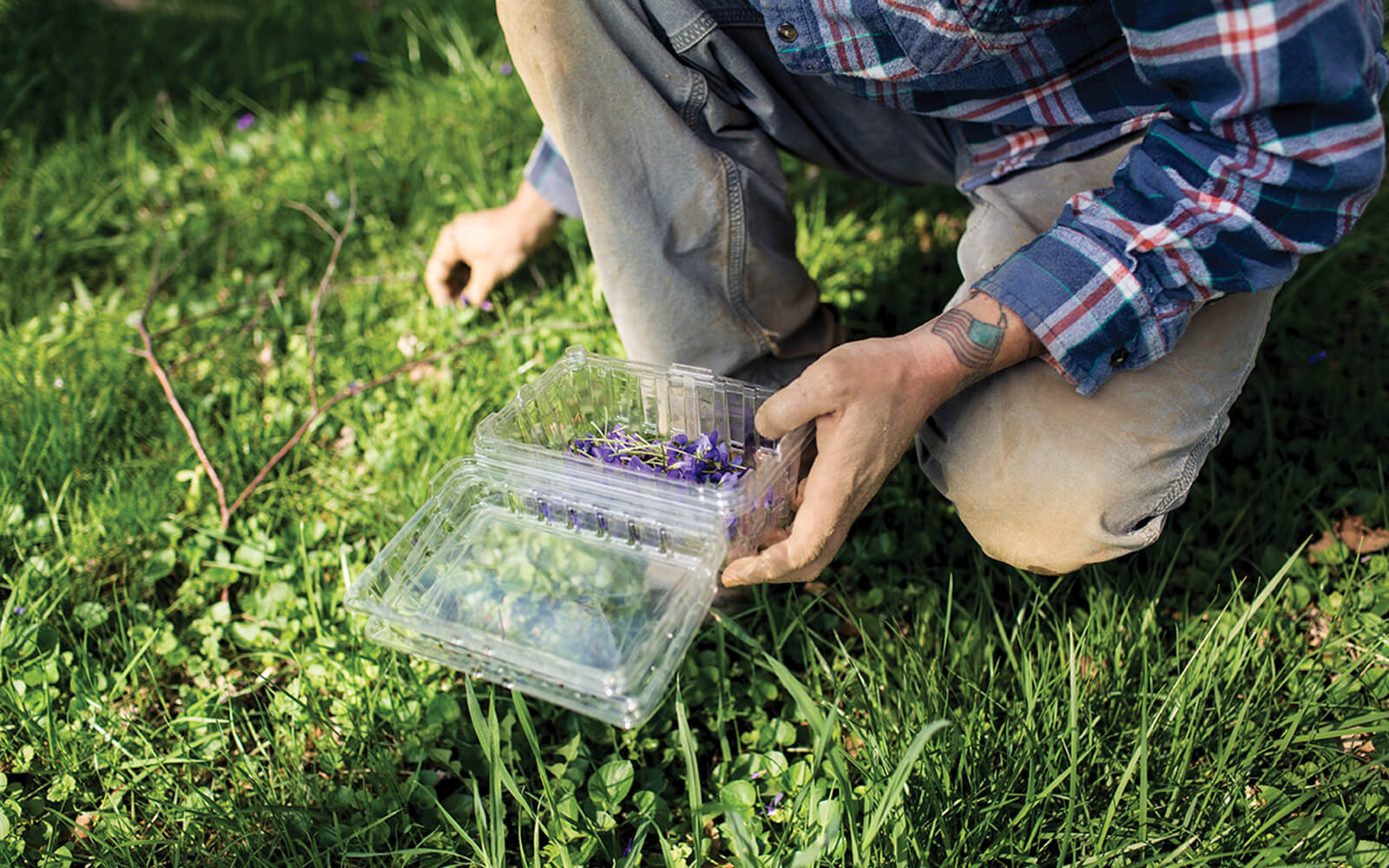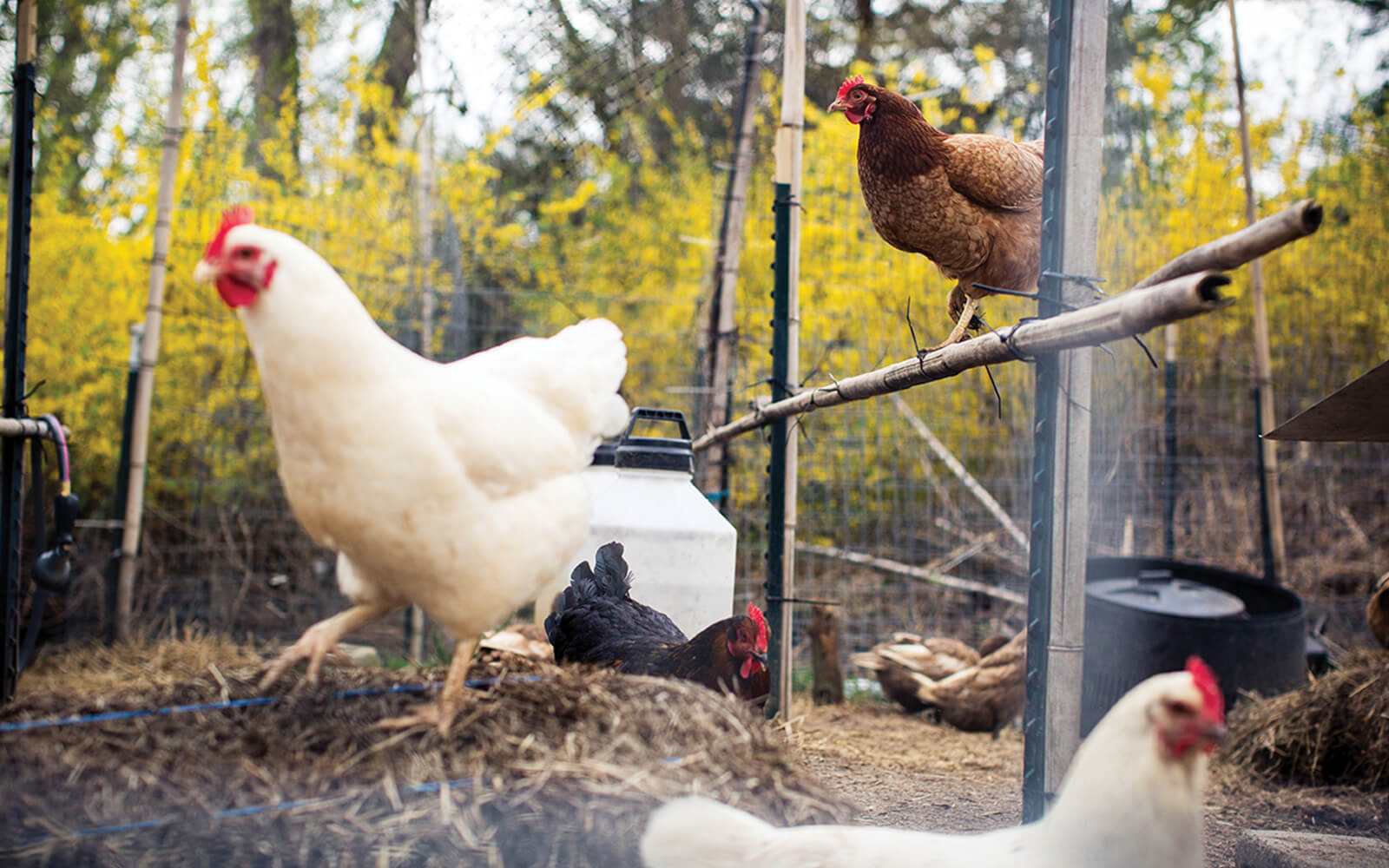 Weese, aka "The Mushroom Guy," is a professional forager who hawks his hauls—morels in May, chanterelles in July and August, maitakes in October—to area restaurants, including Bottega and Woodberry Kitchen. Even in the off-season when he's walking in the woods, he studies the landscape, using a mushroom navigator app on his smartphone to help track his treasure. "When I find mushrooms, I go on the map, drop a pin, and label the name of the specimen," says Weese who can make up to $4,000 a month on maitakes in season. "When the next year rolls around, I have an overview of the places where I've found a mushroom. That way when maitake season rolls around, I don't have to wrack my brain when I wake up in the morning and think, 'Where am I going to go today?'"
A few years back, Weese's girlfriend, who was working at Aldo's at the time, introduced Weese to co-owner Sergio Vitale who, in turn, introduced him to Gjerde. "Once I realized Woodberry was taking my stuff, I was like, 'What are the other top spots in the city?'" says Weese, who recently returned from a truffle-hunting trip in Oregon and Washington State. "I started calling around," he says, "and although I couldn't get chefs on the phone, when I showed up with a box full of prime ingredients and put them under their noses, they'd always jump on them." Says Bottega's Smith, "It's a lot more sustainable for us to use someone like Michael rather than the farmers' markets. We can get better pricing, a little more bulk, and the quality is great."
While most foragers don't like to reveal their special spots, they will say that from Patapsco Valley State Park to Gunpowder Falls State Park to Liberty Reservoir, Maryland is an excellent place for finding wild edibles. "It's a no-no to say where you go," says Woodberry's Crooks, an avid forager. "But I will say that you can find stuff anywhere."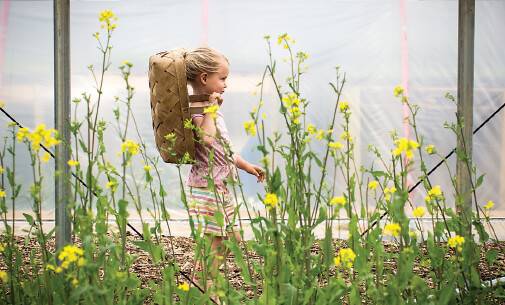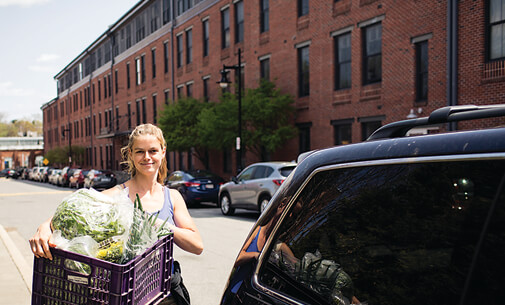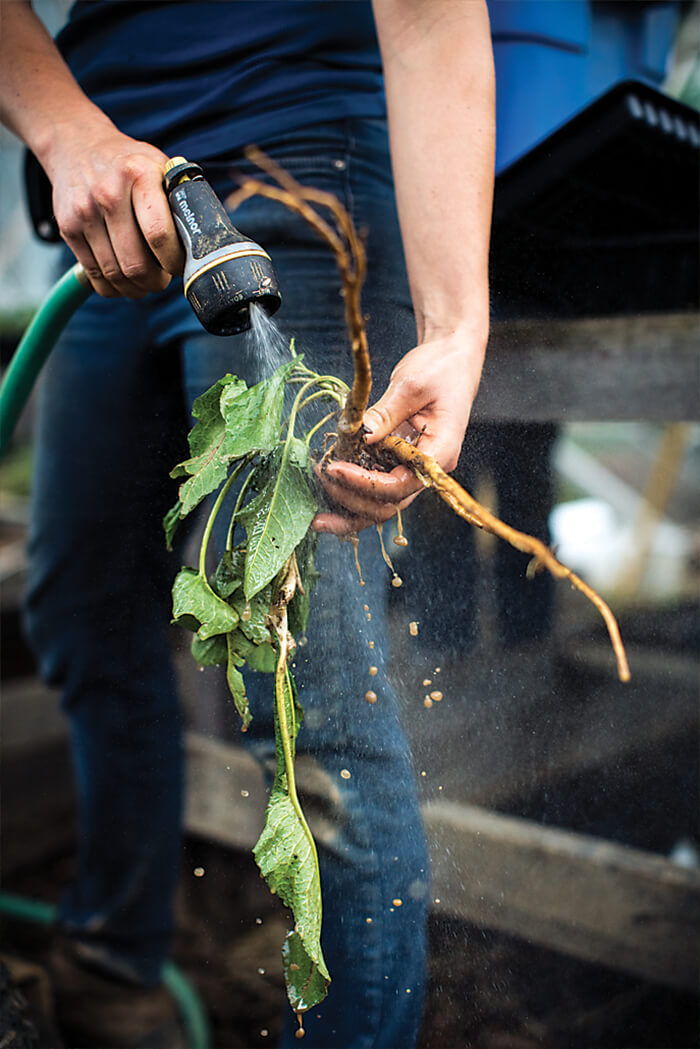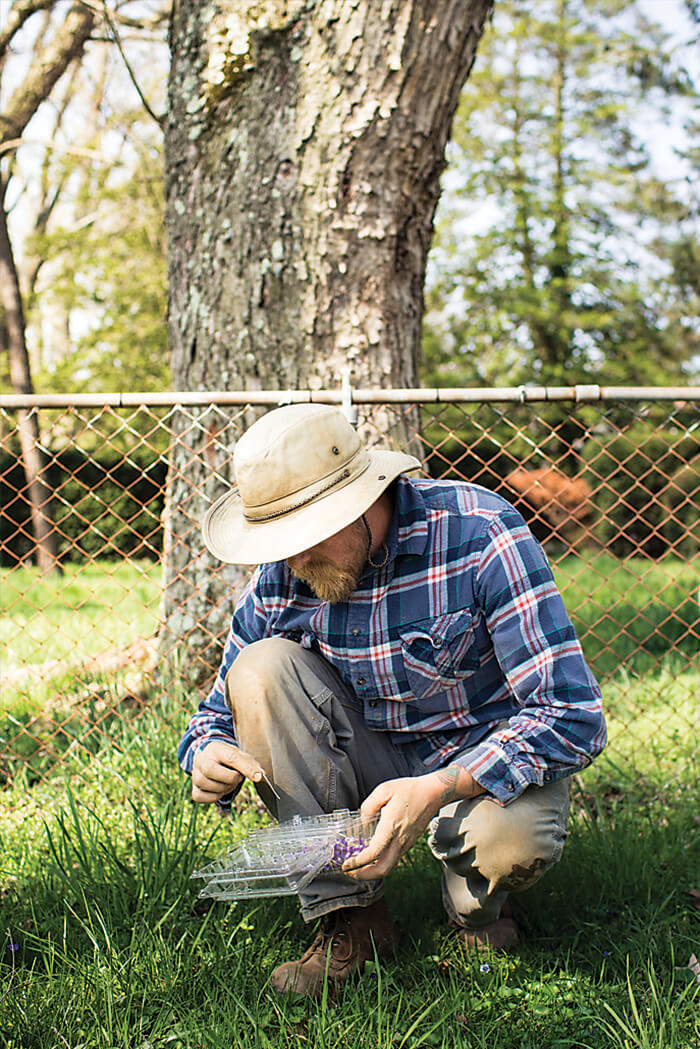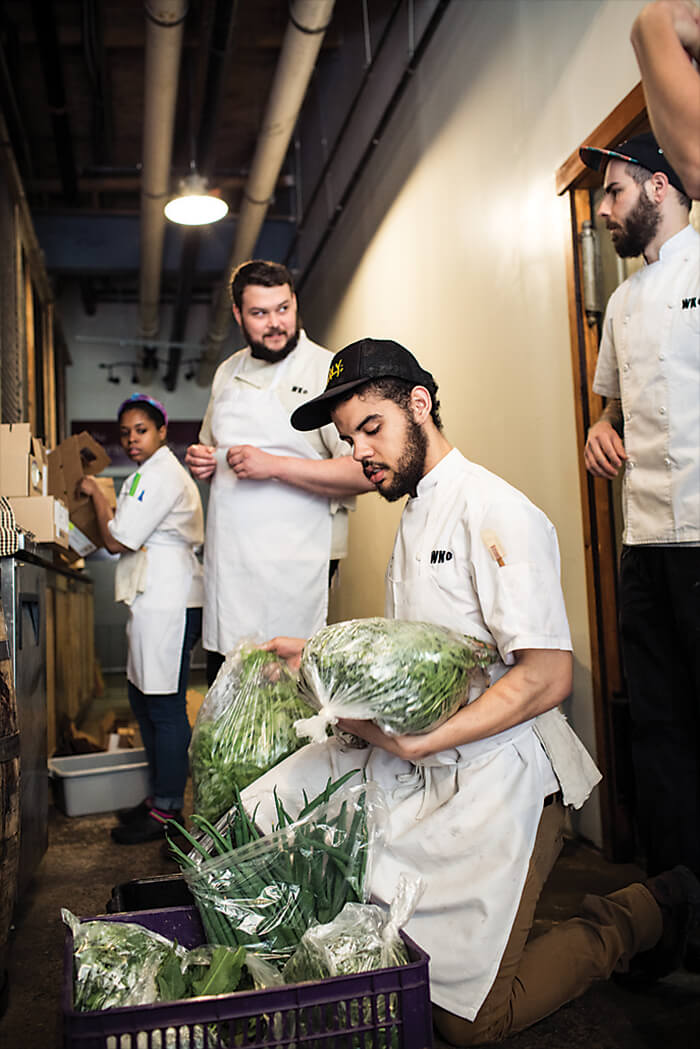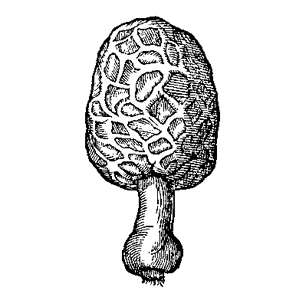 Many ordinary people have taken to the woods, too. "People are now buying their food from farms and the farmers' markets and getting their foods locally sourced," says Kevin Brothers, a personal chef for the Catonsville-based Chef Brothers Personal Services, "and that whole movement flows into, 'Where else can I find food? Let's just go out into the woods and see what I can find.'"
Occasionally, Brothers uses his foraged foods for his catering business. But more often, he and his wife, Keri, forage for themselves. "I got into it within the last five years, because I realized there was a wealth of edibles out there that could be foraged," says Brothers, who concocts everything from maitake "steaks" and mushroom jerky to ramp kimchi with his forest finds. "These food are much more nutrient dense than anything else you could buy. If you're eating something at its peak in the wild, it's going to be more packed with the good stuff than even if it's fresh picked and you're receiving it within a day or so." Gjerde is equally enthusiastic about foraged fare. "In the spring, I love the wild greens," he says. "The bitter notes are more bitter, the sour notes are more sour—the texture is wild and unruly."
Foraging do's
and don'ts
Don't eat anything before identifying it.
---
Do carry a field guide to help with identification.
---
Do carry a mesh bag for mushroom foraging so that spores are released and specimens can repopulate.
---
Do a spore print to identify a mushroom properly. Put it on a paper, and cover to keep spores from blowing away. After several hours, compare spore colors on paper to your field guide.
---
Don't wash foraged mushrooms, unless they are extremely dirty. If so, clean with a fine brush.
---
Do pick greens while still on the smaller side. The older they are, the more bitter they become.
---
Don't forage along the road to avoid contaminants and pollution.
---
Don't take more than your share to prevent depletion of resources. The rule of thumb is never more than 10 percent.
---
Do know that according to the Maryland Department of Natural Resources, the gathering of certain renewable resources is allowed in state parks, but only for personal use.
When he's not at work, Amendola, a former chef at Fleet Street Kitchen and Bookmakers Cocktail Club, can be found combing the woods in Carroll County, his National Audubon Society field guide in hand. "I've made chanterelle vinegar and even black trumpet whiskey when I was at Bookmakers," says Amendola. "It was phenomenal."
Amendola is also the local troubleshooter when area chefs run into concerns about health safety. "One time Chad [Gauss, owner of The Food Market] called me, and he was freaking out. He said, 'I ate this raw mushroom,'" says Amendola, smiling at the memory. "I said, 'What kind of mushroom?' And he said, 'It's a chicken mushroom,' and I said, 'You can't be feeling this sick from a chicken mushroom.' He thought he needed to go to the hospital. You do have to be careful out there," he adds. "Some mushrooms are poisonous when they're raw, but fine when they're cooked. Don't eat anything before identifying it." Gjerde emphasizes that mushroom foraging, in particular, is far from child's play: "You need to have a lot of experience," he says. "You need to be 100 percent certain of what something is and where it came from if you're going to do this."
For several years now, Columbia resident Jessie Newburn has foraged for fun. "For all the conversation about sourcing locally, it's like, 'Hello. It's right in our own backyards,'" says Newburn, in between bites of bittercress plucked from her Howard County backyard. "In the Baltimore-Washington area, there are millions of pounds of food not being eaten every year." Newburn also enjoys foraging at the edges of corporate developments. Parking her car at the ACC Columbia Medical campus, she takes a hori-hori knife out of her trunk to cut some samples. "These are all edibles here," she says pointing to the area just beyond the edge of the groomed lot. "They mow and weed whack just up to here, but everything beyond it is edible. I'm not trying to get my Eagle Scout, how-to-survive-in-the-apocalypse medal," she says. "I'm into ease."
In rushed modern times, foraging also provides a place to stop and smell the (edible) violet flowers. Eric Kelly started foraging several years ago while hiking the Appalachian Trail. "I wanted to understand my surroundings and practice self-reliance," says Kelly. After coming off his six-month trail walk, Kelly wanted to share what he'd learned. In 2012, he founded the Foragers of Baltimore meet-up group, which is partnered with Charm City Farms, and currently has more than 500 members. Foragers of Baltimore members enjoy frequent get-togethers, including plant walks and even cooking demonstrations in which Kelly teaches members to cook with everything from local mushrooms to berries and greens (and offers samplings of sassafras ice cream and chickweed quiche). "I started Baltimore Foragers when I came off the trail because I didn't know what I wanted to do," says the former glass mechanic. "But I knew that I liked plants, and I knew that I wanted to cultivate community bonds, and that there was this abundance surrounding us that people didn't know about."
That being said, Emma Jagoz's farming partner, Jason James, cautions that despite the seeming abundance of "free food," there's a risk in overharvesting. "Some plants—like ramps—are highly sought after and being picked over by people," says James. "We're already asking so much of our natural resources. I worry that it can be taken too far." Acknowledges Jagoz, "The growing interest in foraged and wild foods has potential negative consequences."
Newburn notes that foraging has also pushed the envelope on how we define the word "edible." "'Edible' often means, 'Is it perfect? Is it sweet?'" she says, "but there's so much more that's edible." Adds Jagoz, "When we traditionally think of food, we think of these 10 different vegetables that are in the market, and cows and pigs, and chickens, and that's it—and we don't think beyond. But food is a much broader thing than that. We have to embrace the idea that food is not only what's cultivated here, but it's also the weeds in between."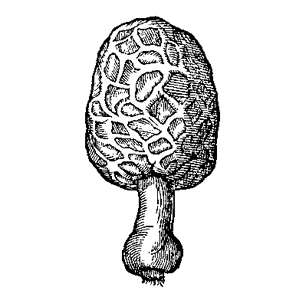 Find the Best in Baltimore