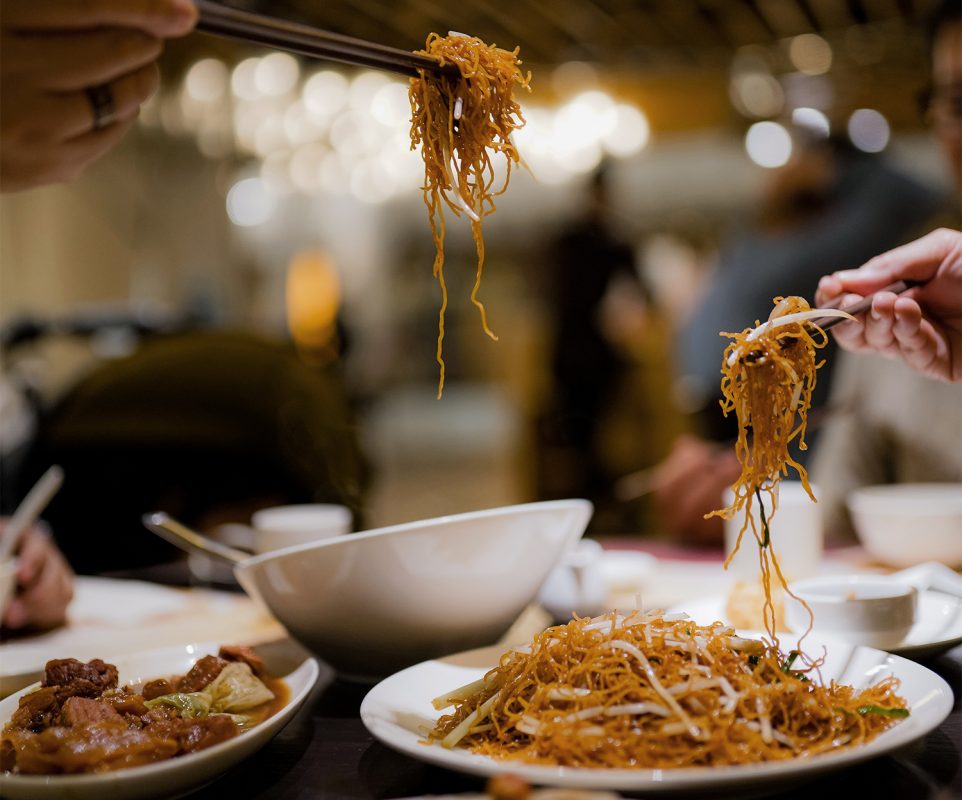 Photography by Debbie Tea via Unsplashed
Hard to say how it all started, but it's a known fact that a typical Jewish Christmas is most often celebrated over Chinese food. (Could it be that when immigrants came through Ellis Island to the Lower East Side of New York, dumpling houses were not far from the shtetl?) It's known that many families not celebrating the holiday have a Yuletide tradition of going for Chinese food and a movie. Other cultures have even adopted the custom, too. "It's one of our busiest days of the year," says Joey Chiu's manager Mimi Yu. It just doesn't feel like Christmas without a plate of moo goo gai pan. Here are a few of Baltimore's Chinese food restaurants that are open on Christmas Day:
Galaxy Asian Cuisine: Reserve a table beneath the twinkling chandeliers at this Catonsville restaurant, whose menu lists real-deal delicacies such as deep-fried crispy spare ribs, poached spicy fish, and Cantonese-style chicken feet. If you don't typically stray from your usual order, the menu also boasts the classics like sweet-and-sour chicken and overstuffed eggrolls. 6219 Baltimore National Pike, Catonsville. 443-251-5511
Grace Garden: Snag a seat in the dining room of this Odenton gem for some of the most authentic dishes around. Sure, there's the classic Szechuan pork and beef with broccoli, but you'll also find family-style portions of the signature pocket tofu, fish noodles, and tender tea-smoked duck with perfectly crisp skin. The sugary fried doughnut holes are also a must to end the meal on a sweet note. 1690 Annapolis Rd., Odenton. 410-672-3581
Joey Chiu's Greenspring Inn: This charming restaurant, complete with chandeliers and Greenspring Valley vistas, offers everything from seafood salads to sushi boats. With a wide array of duck, pork, steak, lamb, and fish dishes, regulars frequently flock to Joey Chiu's for special occasions. 10801 Falls Road, Lutherville. 11:30 a.m. to 10 p.m. 410-823-1125
Jumbo Seafood: This Pikesville spot has been around for years, making a name for itself in the Northwestern suburbs as a go-to spot for diners with cravings for classic Chinese dishes and sushi rolls. As its name signifies, the portions are hefty, so don't expect to leave without leftovers. Favorites include scallops with ginger and scallion sauce, chicken and string beans, hot and sour soup, and house-made lo-mein. 48 E. Sudbrook Lane, Pikesville. 11:30 a.m. to 10 p.m. 410-602-1441
Mr. Chan Asian Bistro: Dim lighting and comfy seating make this restaurant an ideal place to spend the holiday, and the huge menu guarantees something for everyone if you're dining with family and friends. Known for its vegan and vegetarian entrees, Mr. Chan's features dishes like orange tofu, Yuba with vegetables, and Pad Thai. Meat dishesare plentiful as well, and the sushi bar flaunts colorful rolls that taste as good as they look.1000 Reisterstown Road, Pikesville. 10:30 a.m. to 10 p.m. 410-484-1100
The Orient: This York Road staple, which reopened after a two-year hiatus in 2018, offers hearty bowls of steamy soups, crunchy egg rolls, and a pages-long list of shareable entrees. You can't go wrong with the orange chicken, crispy beef, Mongolian pork, or lo mein noodles with mixed vegetables. 416 York Road.
Red Pepper Sichuan Bistro: Head to this Towson newbie to enjoy Sichuan dishes that fuse salty, sour, sweet, bitter, and even floral flavors. Written in both Chinese and English, the menu lists offerings like spicy hot pots, steamed chicken with chili sauce, stir-fry Shanghai cabbage, pork belly with sticky rice, and sweet-and-sour fish fillets. Snag a table in the renovated dining room—equipped with its own grand piano—or order online for carryout.
Sonny Lee's Hunan Taste: In addition to the delicious dishes, the comforting atmosphere of this beautifully decorated restaurant has made it a community stalwart for more than a decade. The service is always top-notch, and if you're lucky enough to catch a glimpse of Sonny himself, you'll find him making his rounds greeting guests or carving Peking duck at your table. Menu favorites include handcrafted sushi rolls, orange beef, sizzling jumbo shrimp, and crispy Hunan soft shell crab. 750 Main St. Suite 104A, Reisterstown. 11 a.m. to 9:30 p.m. 410-833-7288
Szechuan House: A lavish dining room and friendly wait staff make this Lutherville gem a community favorite. Family-style platters ($19.25-25.95) are featured, making it a great place to mix and match entrees and taste a little bit of everything. A large portion of the menu is categorized as "Countryside Taste," with listed offerings like stewed pork, sautéed shrimp, Peking duck, and Chinese flounder.1427 York Road, Lutherville, 10:30 a.m.- 10:30 p.m. 410-825-8181
Zhongshan Restaurant: Although Chinese comfort foods are featured on this restaurant's sizable—and affordable— menu, the dim-sum section truly shines. Featured dim-sum include house-made pork sao mai dumplings, delicate shrimp rice crepes, and steamed ribs with black bean sauce. 323 Park Ave., 11 a.m. to 10 p.m. 410-223-1881