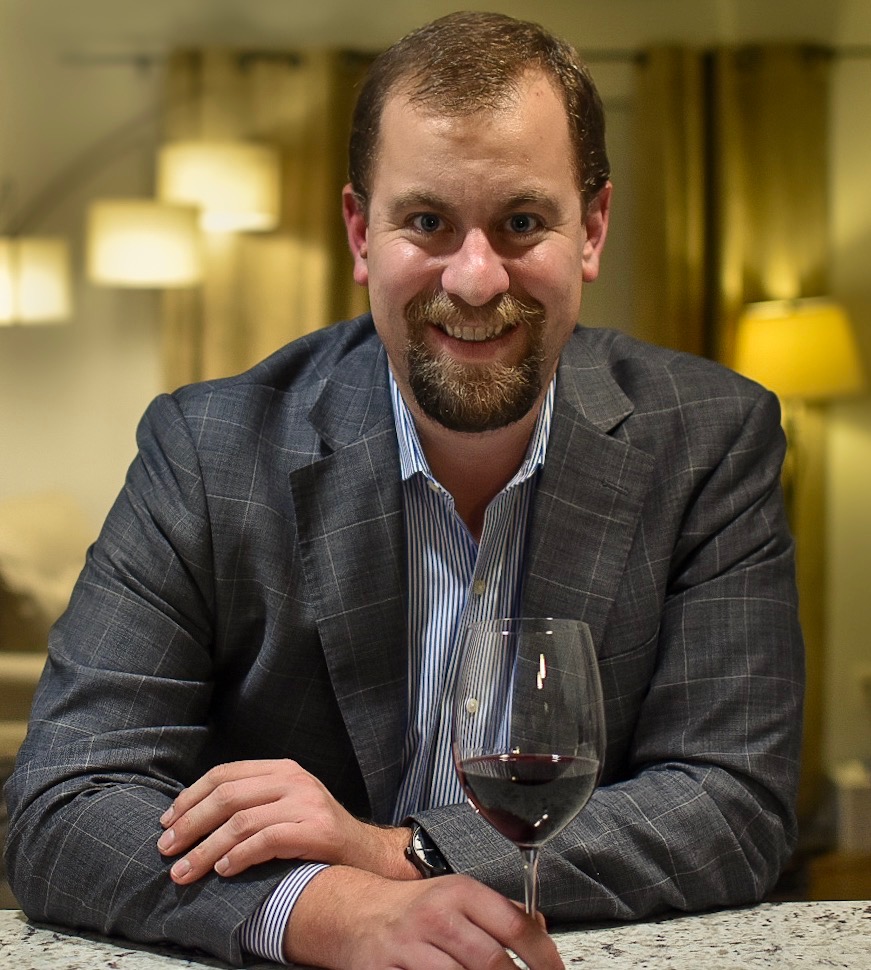 "On the nose, this smells like white grapefruit," says Baltimore sommelier Tim Riley in one of his TikTok videos.
The drink in his hand, which he's swirling in a wine glass, also smells like "under-ripe green peach, lemon peel, a little bit of passionfruit, white tea, gummy bears, and Sprite."
Nope, that's not wine he's tasting. It's the energy drink Monster Ultra Zero, and Riley is reviewing it for his TikTok account, @bigsommenergy, where he reviews and awards points to energy drinks in a fine wine format. The account, which he started about two months ago, has nearly 90,000 followers. This particular video? 1.9 million views.
Some might remember Riley as the former somm and beverage director for The Bagby Restaurant Group—which closed some of its restaurants a few years ago and sold two to Atlas Restaurant Group (including Fleet Street Kitchen, which is now Tagliata.)
After attending Cornell University and the Culinary Institute of America, Riley became, by his count, one of three sommeliers in Baltimore to have earned the prestigious Advanced Sommelier certificate.
And he brings these impressive credentials—in a light-hearted, poking-fun way—to his 60-second videos reviewing energy drinks, which one can easily find at any gas station or convenience store.
"On the palate, this is light- to medium-bodied with medium-plus acidity and just a hint of apple skin-like bitterness," Riley says in episode 52, reviewing Celcius Sparkling Fuji Apple Pear. "This is flat-out delicious."
Others aren't. One of his lowest-rated drinks (see his episode list and rankings here) is Monster's Reign Melon Mania. "Honestly this doesn't smell very good," he says in episode three. "It really doesn't smell like something that came from planet earth."
Riley says many of his followers are in their late teens or early 20s (a common demographic for TikTok), and he enjoys introducing some of them to sommelier vernacular.
"It might be their first interaction with this type of language," he tells us. "I answer the question of what is light, medium, and full-bodied at least a dozen times a day."
We recently caught up with Riley about the inspiration behind Big Somm Energy, what makes a high-quality energy drink, and some of his personal favorite sips.
What drew you to becoming a sommelier?
I just always liked wine. It was one of the first things I encountered while working in restaurants. Soon after leaving Cornell, I started working with wine, and by 2006, I was working in Boston as a sommelier. I've been doing it ever since.
So why start this TikTok series? What was the inspiration?
My wife is into fitness, and she was buying different energy drinks. We were sitting on the couch one day, and I guess this is just how my mind works—I started sommelier-ing them, for lack of a better term. I started smelling them and talking about how they tasted, because many of these flavors are so strange.
I drink energy drinks like anybody else—I didn't have a passion for them or anything like that—but my wife thought it was hilarious listening to me describe these and said, "You should start a TikTok channel." I don't think I even really knew exactly what TikTok was, even as recently as three months ago. But it was completely my wife's idea.
It's supposed to be lightly satirical and poking fun at wine a little bit. I had no idea anyone would ever really watch. I thought maybe, "Oh, we'll get a couple hundred views." Now I have one video that—and I'm not bragging, I'm just really blown away by it—has 1.9 million views.
Can you tell us a bit about your process of making these videos? I noticed that you usually take requests from your followers.
Someone gave me the advice that it's all about syncing your process with the algorithm of what TikTok wants. And one thing it wants is user engagement. At first, I didn't have any requests because nobody was really watching. And then at a certain point I had a request on every video. Now I have a spreadsheet to keep track of them, with about 290 requests. It's fun, too, because people really do feel passionate about these drinks, which, again, was something I had no idea of.
The process is pretty simple. I taste the drink and treat it as much like wine as I can. I just try and describe the drink as best as I possibly can. [For a high-quality energy drink,] it's sort of like wine—I'm looking for complexity of flavor and a balance of flavors.
Why do you think Big Somm Energy is catching on so well with TikTok users?
I think the accessibility of energy drinks is part of it. They're at every Royal Farms, gas station, and super market. They're ubiquitous in life these days. And then for people who have some understanding of what a sommelier is, it's usually connected to being fancy or the person who looks down their nose at you because you didn't order the right bottle of wine. And that's not true—it's a stereotype many of us have been trying to get past for years. But it's out there. So contrasting that against something you can buy at a gas station, I think provides an ironic element.
What's been the most eye-opening or surprising part of this whole experience for you?
The response and the growth of the account. And just the enthusiasm people have, not just for the drinks but for the reviews. People are really passionate about this and drink of lot of these brands. This is a huge business, and it's very diversified. Before this, I could probably only name Monster, Red Bull, and Rockstar. There's probably 40 or 50 brands you can find in stores. A lot of celebrities have brands. The Rock has one—I get that request a lot [laughs].
What's your favorite energy drink you've tasted so far?
The one I ranked highest was called Mango Loco from Monster. I gave that 96 points. This sounds so nerdy, but I really do try and judge them objectively based on overall quality and not my personal preference. My favorites are probably the Celsius drinks, on a personal level.