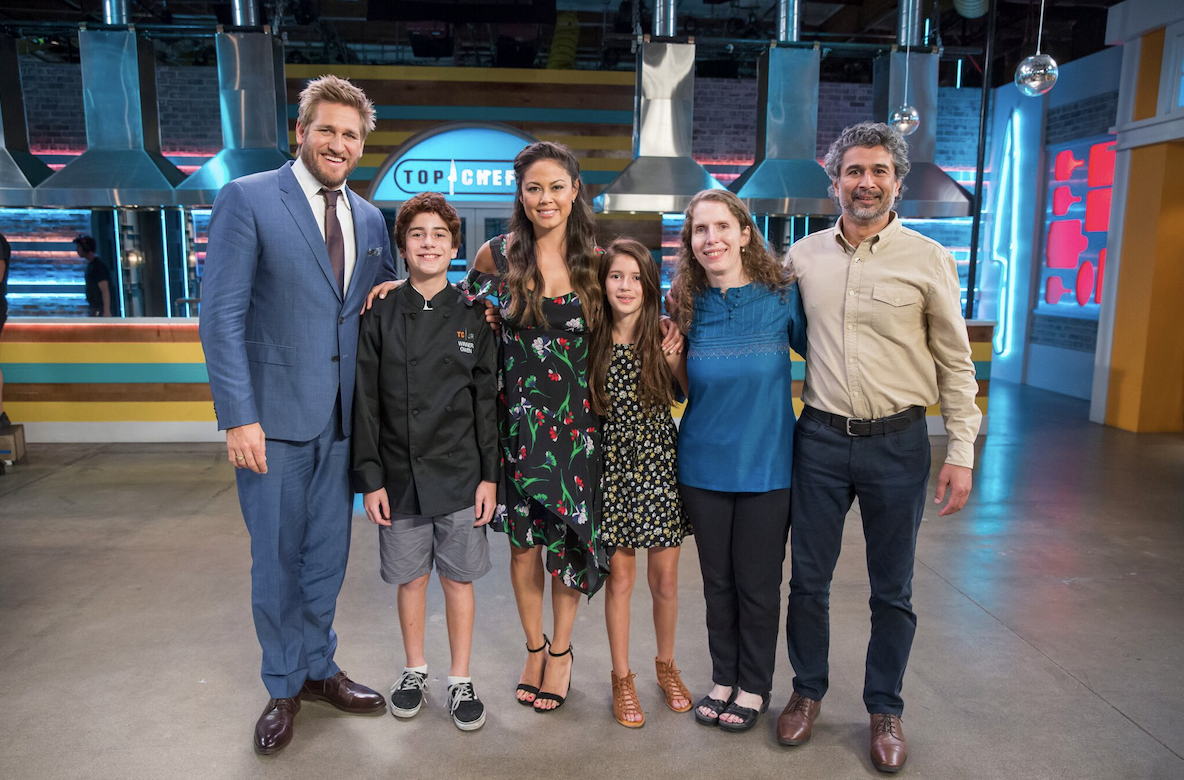 Courtesy of NBC Universal
The list of Charm City chefs who have made it big on national television (think Duff Goldman, Bryan Voltaggio, and Jason Hisley) now includes 14-year-old Owen Pereira. The Mt. Washington teen took home the top prize on the finale of Universal Kids' Top Chef Junior that aired Friday. 
"I have no clue how I did it," Pereira tells us. "It still hasn't sunk in."
Pereira, an eighth-grader at the Baltimore Montessori Public Charter School, stood out among more than 200 young applicants from around the country, and was eventually chosen as one of the top 12 finalists to compete on the first season of Top Chef's teen spinoff.
He continued to impress judges with his classic French techniques throughout the competition, and ultimately went head-to-head with 13-year-old California native Rahanna Bisseret Martinez for the final challenge—in which the two were tasked with creating dishes that represented their past, present, and future as chefs. 
Pereira won over chefs Curtis Stone, Gail Simmons, and Josiah Citrin (one of his top culinary idols) with his turnip soup and parmesan croquette, a duo of pork, and a braised short rib with a caramelized onion puree, pickled onions, mustard seed, and chanterelles. With his family by his side, Pereira was crowned the winner.
"I was surprised," he says, reliving the moment. "I had convinced myself that Rahanna won, just so that I wouldn't be disappointed if I lost."
His mom, Susan Manning, was also admittedly shocked. While she had always believed in her son, she explains that she was surprised at the outcome because he had remained an underdog throughout the show's filming.
"Rahanna had been dominating throughout most of the competition," she says. "Owen was kind of a come-from-behind situation. It was exciting, but also bittersweet because I have a lot of respect for Rahanna and the other contestants. It was just so close, but I was really happy for him and proud of him—I still am."
Though he is happy to be the reigning Top Chef Junior champion (the show's second season will begin filming this summer), Pereira says that he's excited to get back into his own kitchen. He has big plans to launch a pop-up with fellow contestant Henry Wieser in Chicago next month, and hopefully bring it to Baltimore this summer.
"Recently it's been a lot of TV stuff, so I'm ready to finally be able to cook again," he says. "I want to get my pop-ups going and hopefully have my restaurant up and running in the next four or five years."
In the spirit of dreaming big, Pereira hopes to win other accolades like James Beard Awards and Michelin stars. Though he isn't exactly sure how his $50,000 winnings (currently secured in a trust fund) will be utilized in the future, he is certain that the money won't go toward paying college tuition.  
"Culinary school happens way too late," he says. "If I want to start my career, I really don't have the patience to wait until I'm 18."
Manning has the show to thank for her son's focused ambition. Above all, she is happy that Pereira had the opportunity to explore his passion with other young chefs.
"In this day and age, it's hard for teenagers," she says. "They're between childhood and adulthood, and in a lot of cases, they don't know what they want to do. It's all so abstract, but this is concrete for Owen. He's so fortunate to have a real sense of direction."