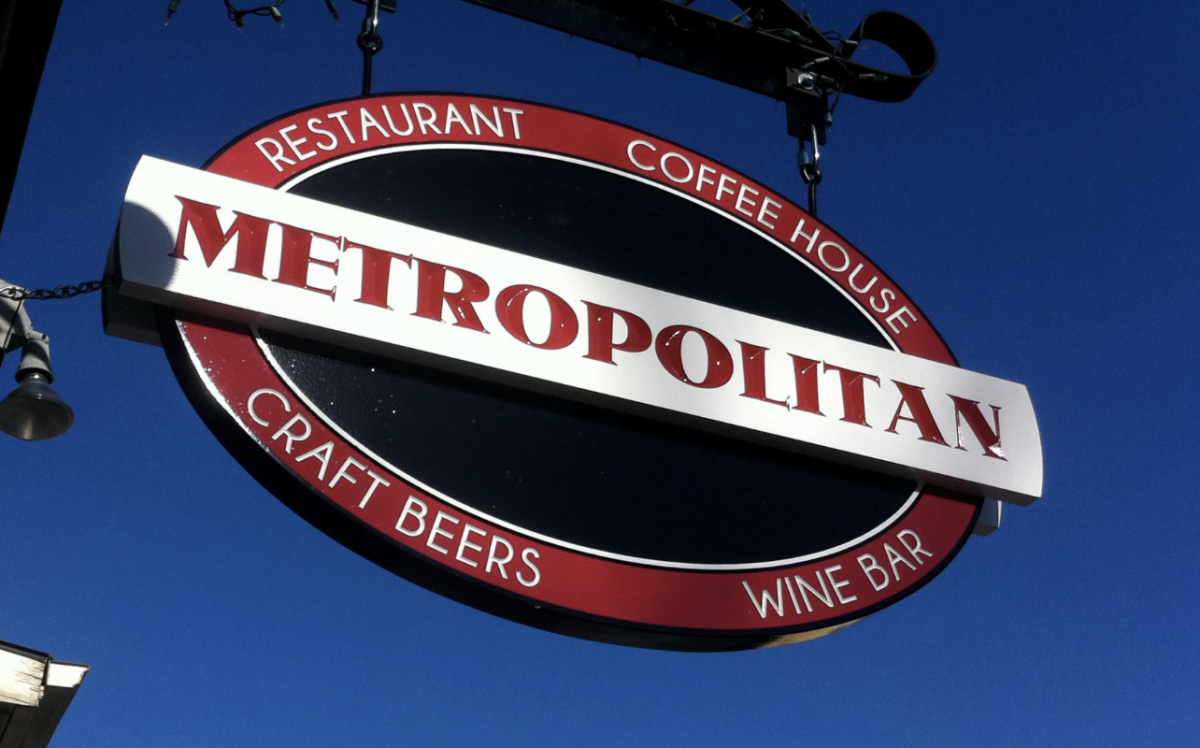 Courtesy of Metropolitan
Though the Federal Hill restaurant world saw plenty of changes in 2017, one recent closure is hitting particularly close to home for neighbors.
Last week, owner Bruce Dorsey took to Facebook to announce that he would be closing his community staple Metropolitan Coffeehouse & Wine Bar after the first of the year.
"We are heartbroken by this decision, but the last few years have been difficult for our business, our city, and our neighborhood," Dorsey, who couldn't immediately be reached for comment, writes in the post. "We choose to remember the last 13 years as beautiful because of you—our friends, customers, and neighbors."
The South Charles street spot has long been a place for neighbors to grab a morning cup of coffee, gather with friends for lunch or dinner, sip rotating drafts of local beer, and learn about worldly wines from as far as Argentina, Portugal, and New Zealand. Many regulars say that, aside from the eats and drinks, the inviting atmosphere is what they will miss the most.
"It was a very comfortable place to go," says Federal Hill Neighborhood Association president Beth Whitmer, who lives only two blocks away from the restaurant. "You always know you're going to see somebody you know in there if you just drop in."
Locals also loved the bar's location—which is walkable from surrounding areas in Northern Federal Hill, though a bit removed from the hustle of Cross Street.
"For people who live in Otterbein and closer to Federal Hill Park, it really felt like a neighborhood spot," says SouthBmore.com founder Kevin Lynch, who has lived in the area for more than 15 years. "It certainly served a lot of needs, whether it was people getting their coffee, lunch, or dinner. There aren't a ton of places that do all of that every day."
Metropolitan is among the many locally owned restaurants that have shuttered their doors throughout the city this year. (A recent report by The Sun lists more than 20 high-profile eateries that have closed in 2017.)
"It's been tough—not just for Metropolitan. I've talked to many small business owners that say it's been tough particularly in the last couple of years," Whitmer says. "The neighborhood doesn't thrive without its businesses. In the city, where businesses, residents, schools, and churches are all integrated, it's really important for all of them to support each other."
Since the announcement, residents have been lamenting the loss online—sharing stories of first dates, anniversary celebrations, upstairs art shows, and the beloved Firkin Thursday tradition in which Dorsey would tap a fresh keg of cask-conditioned ale every week.
"That was my first time ever having Firkin beer," Lynch remembers. "It was a cool experience. Metropolitan was one of the original places in the neighborhood that put a focus on craft beers and European beers. When it came to that, they were always ahead of the game."
For Whitmer, Metropolitan was one of the first restaurants that she visited upon moving to the area four years ago.  
"I just fell in love with it," she says. "Interestingly enough, when I first moved here my friend Charlie Barton gave me a silk screen print of the outside of Metropolitan. So before I had even been there, I had this really neat picture of the place hanging in my kitchen."
Friends and neighbors will be able to say their goodbyes at a closing party on New Year's Eve, offering all-you-can-drink beer, wine, and spirits, as well as a bottomless spread of some of Metropolitan's most popular dishes. A limited number of tickets are available for purchase at the bar for $100.
"It was a place that was always there for you," Lynch says. "And it's clear by the reaction that it will be sorely missed."