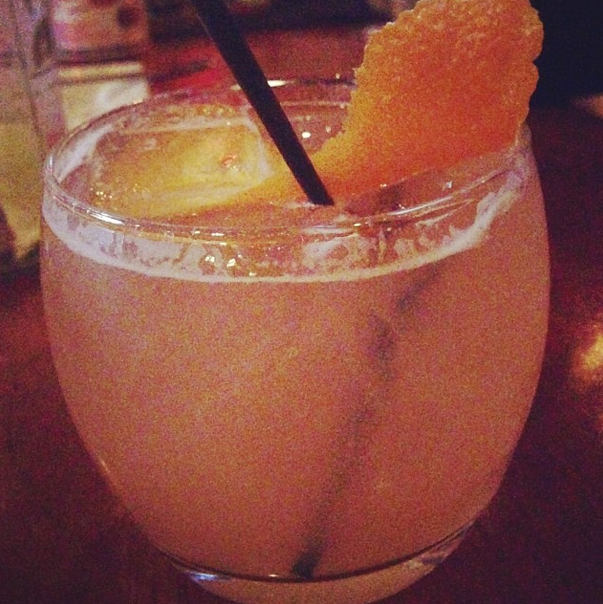 Instagram
This was certainly the year of the craft drink in Baltimore—whether that's a hand-crafted mixed drink, a craft brewery, a barrel-aged cocktail, or a daily rotating recipe. My year-end list will highlight some of my favorite creative drinks from 2013, no matter the season.
Spring: Technically W.C. Harlan opened (quietly) in the winter, but by the time most people got wind of the Remington craft cocktail spot, spring was in the air. This '20s-era-inspired bar makes a spicy, bite-y Old Fashioned with James E. Pepper 1776 Rye and a cinnamon cherry. But, we think the real beauty is in the bar's cocktails du jour, which the first night we visited was the ideal spring sipper: a sweet blend of gin, Belle Paire, crème de cacao, and lemon.
Summer: Hard to imagine now, but there are a ton of refreshing summer drink options—from tropical daiquiris to white sangrias to wheat beers. But we especially appreciated the outside-of-the-box approach that Four Seasons Hotel Baltimore took with its poptails. These alcoholic popsicles, enjoyed by the pool, naturally, came in a variety of flavors: raspberry Beaujolais cheesecake, orange crush dreamsicle, pineapple MaiTai, and watermelon rum punch. Our favorite, though, had to be the white wine, strawberry, and basil frozen treat. Summer in a nutshell.
Fall: People get super excited about fall drinks (pumpkin, anyone?) and there are a ton of good options out there. But we recently sampled the Autumn Spice Margarita, pictured, at Willow in Fells Point (which we also awarded "Best Bar Food" this year) and it was a game-changer. This sweet-spicy cocktail is made with Espolón reposado tequila, honey syrup, fresh lemon, apricot liqueur, and Barkeep Chinese spice bitters garnished with an orange peel. The result is a warm, dynamic cocktail—ideal for the transition into the cooler months.
Winter: This is traditionally the time for anything dark liquor and we'd love to give our first nod to the Pistols for Two at Cunningham's with bourbon, maderia, Eastern Shore peach shrub, honey, lemon, and a sprinkling of nutmeg. But let's not overlook winter beers, which do just as good a job at keeping us warm. Our new favorite is Union Craft Brewery's Miracle Weizenbock, out this week. This dark, unfiltered ale has a malty finish, notes of clove spice, and is named after 34th Street. Enough said.