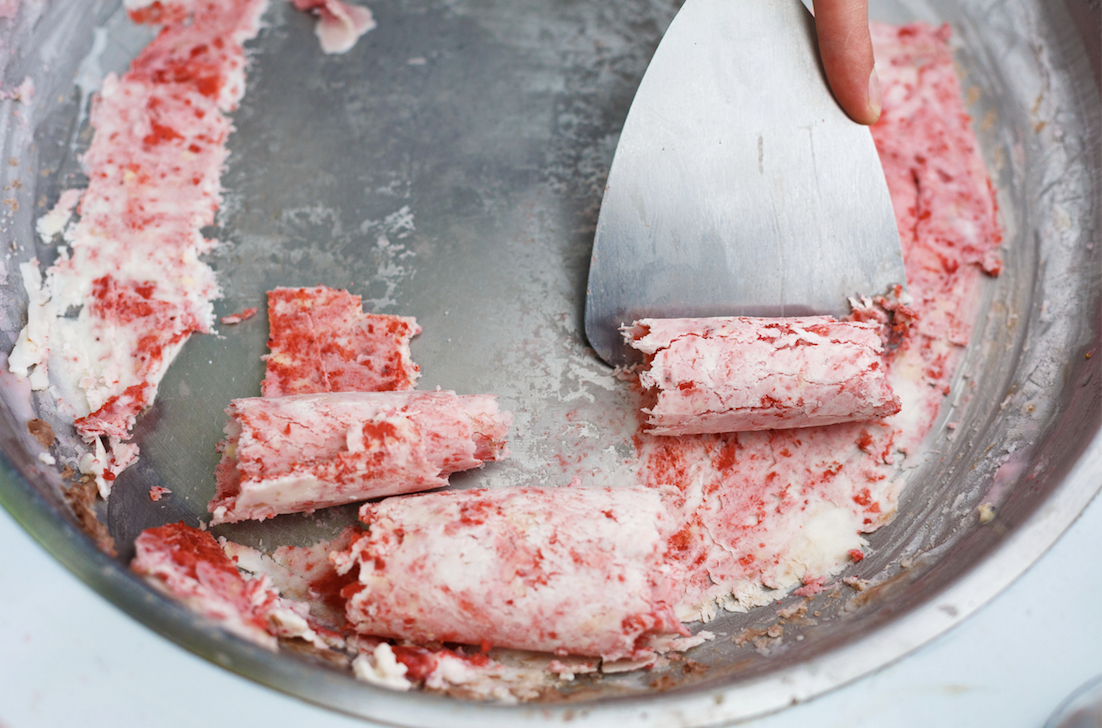 Courtesy of Jason Werner
Just when we thought the local dining scene couldn't get any more on trend—boasting everything from sushi burritos to acai bowls—two Highlandtown locals are planning to unveil a rolled ice cream shop in the neighborhood by the end of next month.
With roots in Asia, the dessert involves freezing liquid anglaise on a cold slab at -25 degrees. The cream is then mixed with customizable flavorings, pressed flat, and scraped into rolls before landing in a cup with DIY toppings. Owner Jason Werner, a 15-year Highlandtown resident, says that he and partner Jessica Reyes were inspired by the process while visiting New York City.
"It's a new approach to an old favorite," says Werner. "Everybody likes ice cream, and we saw this as an opportunity to bring something new to the area that just wasn't here. There's something exciting about being the first on the block."
Roll: Ice Cream Social will operate in the building that formerly housed Bolewicki's Appliance Center on the corner of Eastern Avenue and South Bouldin Street, which Werner recently purchased. He says that the old row home is ideal, not only because of its location in his neighborhood, but also because of its 1950s soda-fountain vibe.
With the help of local designers at Carballo Architecture in Fells Point, the owners have come up with a floorplan that allows for 25 seats, with the possibility of window, bar, and bench seating. Because all of the rolled ice cream will be made to order, Werner mentions the importance of a swift service model. His goal is to have the capability for up to five slabs operating at once.
"It can take some time," he says, adding that each order takes approximately three to five minutes to prepare. "But we want to provide an environment where people want to hang out. It's just as much about eating ice cream as it is about watching it being made."
Aside from the ice cream—which will be sourced with ingreditents from South Mountain Creamery in Middletown and come in classic flavors like vanilla, mint chocolate chip, and coffee—the eatery will also specialize in house-made seltzers, and high-end coffees and espressos sourced by local roasters.
Werner says that the shop also gives the owners an opportunity to explore other dessert trends, like nitrogen flash-frozen ice cream, in the future: "We're always looking around the corner for what the next big thing will be."
In fact, right around the corner Patterson Park shop Bmore Licks is expected to officially debut to the public by the end of this month. The can't-miss building on the corner of Eastern and South Milton avenues boasts colorful ice cream cone and milkshake murals.
Owned by Baltimore locals Kim Proctor and Barbara Maloni, the shop features 30 ice cream flavors (including some dairy-free varieties), soft-serve options, milkshakes, snowballs, and Italian ice. Another highlight will be twists on the traditional waffle cone, like waffle cone tacos, nachos, and chocolate-layered waffle cones filled with espresso or coffee.
The idea for Bmore Licks was largely inspired by the small-town ice cream parlors that Maloni operated with her family growing up in Western Massachusetts, and the duo plans to use some of the family recipes in their new shop.
"Her idea of the food pyramid are the food groups from Elf," Proctor quipped in an email. "We've always wanted to create the feeling of a local business that provides a great product and contributes to the community."
Werner, too, is enthusiastic about becoming a staple in the neighborhood.
"I've lived here for 15 years, but I feel like I've met more people in the past couple weekends hanging out on a ladder on the side of the building," he says with a laugh. "We're excited to stay in the area and help it prosper."