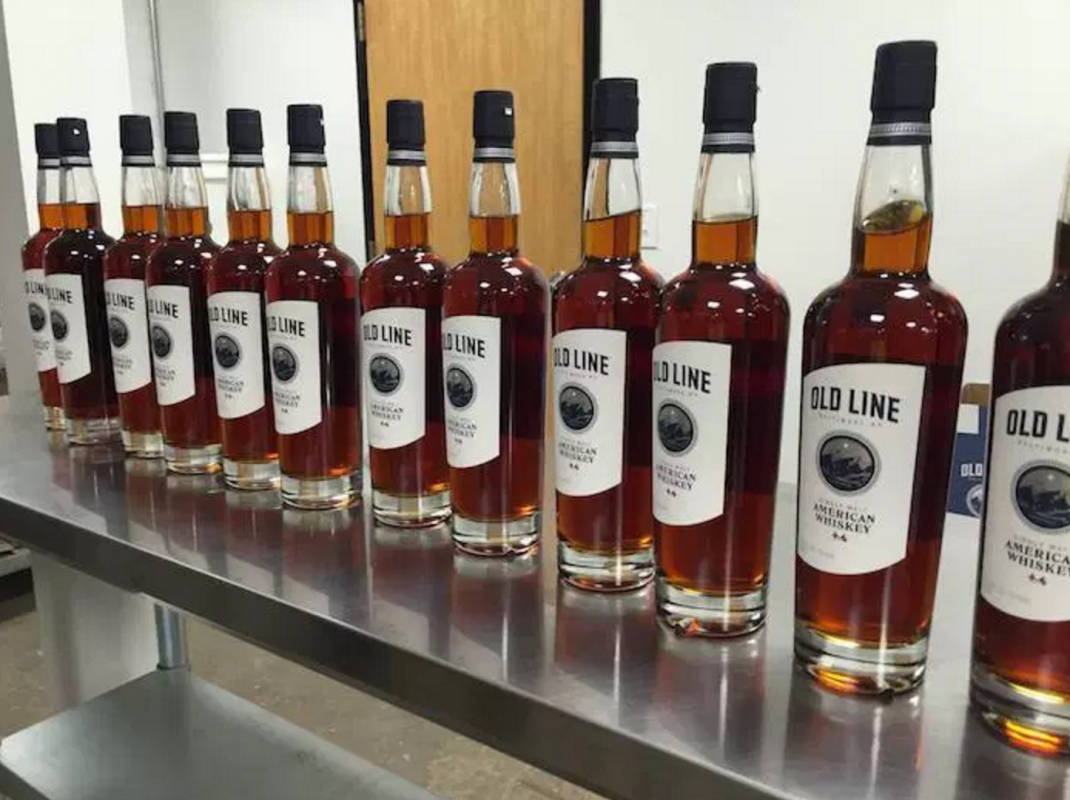 Courtesy of Old Line Spirits
After 10 years of active service, Navy buddies Arch Watkins and Mark McLaughlin ended up living three doors down from each other in Butchers Hill. Both in the corporate world of engineering and finance, last year the friends thought it was time for a change.
"We saw what was happening with craft breweries and a similar movement was picking up with distilleries," McLaughlin said. "The original idea was to build something from scratch in the rye or bourbon category."
However, that plan took a turn when the two attended a distillery conference in Seattle and met Bob Stilnovich of Golden Distillery in Washington state. Stilnovich explained that his business partner Jim Caudill had passed away and he was looking to sell their facility north of the Pugent Sound—and their award-winning recipe for American single malt whiskey. Thus, Old Line Spirits was born.
"One of the things that got our attention was that it was a unique category," McLaughlin said. "It was just sold up to the Puget Sound area and did really well for people willing to make the drive up there."
The two knew that bringing the operation to Baltimore was always the plan, but they just had to find the perfect space. Two weeks ago, they signed a lease for a 25,000-square-foot facility in Highlandtown. Their hope is to be open for tours and tastings by the end of the summer.
"We are keeping Bob's recipe alive because they spent a good deal of time with chemists perfecting it," Watkins explains, adding that it was awarded a gold medal by the 2012 American Distilling Institute. "We are still going to use the same grains from the Pacific Northwest that he did, but we're hoping to find a local source for the malted barley."
What makes the spirit unique is that typical single malts are associated with Scotland and Japan, and they are beholden to strict rules of tradition and regulation. In pretty much all cases, single malts are made in used barrels, but this recipe is produced in new barrels like a bourbon or rye. The result is a less peaty (or smoky) 86-proof single malt that drinks more like a bourbon.
"The new barrels give a sweet, honey, vanilla, and baking spice profile that come from the fresh oak," McLaughlin says. "I'd say it tastes like 75-percent bourbon and 25 scotch."
Currently, the product is available in the Baltimore area in restaurants like Woodberry Kitchen, Bookmakers Cocktail Club, Snake Hill Tavern, and Bartenders Pub. The owners recommend sipping it neat with a bit of water or ice. Once the Highlandtown facility opens up, they plan to use a 3,000-foot courtyard for events, a 1,500-square-foot room for tastings, and to offer tours two days a week.
As for the name, a clear homage to Maryland, McLaughlin explains it was one of those no-brainer moments.
"It hit us like a ton of bricks when we thought of it 18 months ago," he says. "Not only is it our state's nickname, but it just sounds like a whiskey."