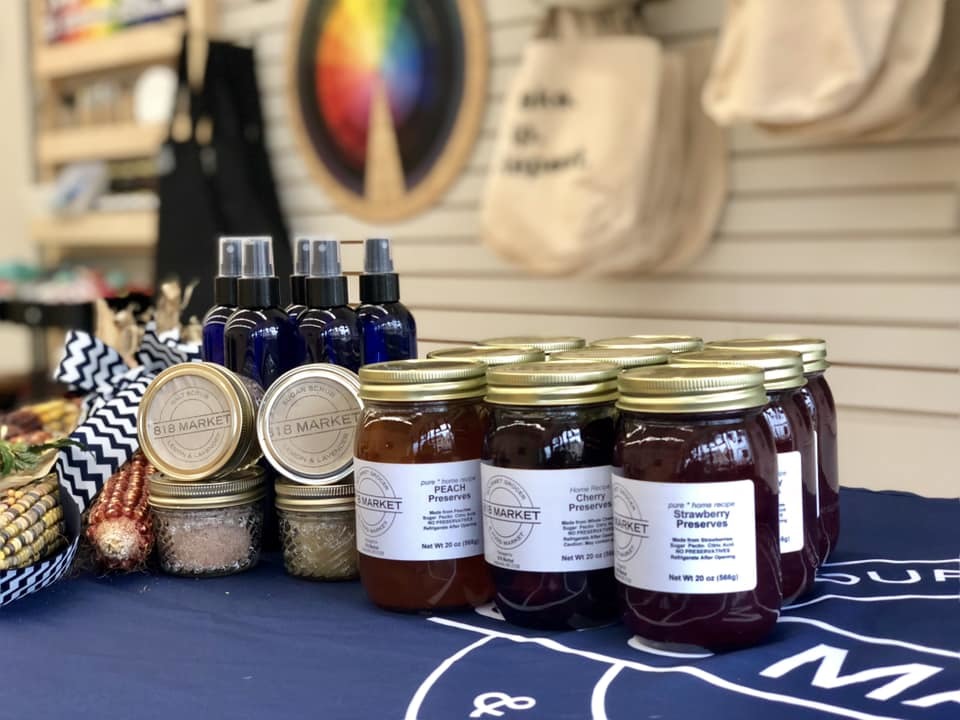 Courtesy of 818 Market
COMING SOON
818 Market: This Catonsville grocery store is shaping up to be one of the neighborhood's most anticipated openings of 2019. The hybrid concept on Frederick Road will not only feature locally sourced coffee, cheese, flowers, deli meats, and produce in its retail store, but it will also operate its own restaurant upstairs with dishes by executive chef Matt Milani—who previously owned The Rumor Mill in Ellicott City. The opening is still a few months away, but, in the meantime, 818 owners Patrick Baldwin and Dan Zakai are continuing to offer various catering and pop-up services to engage with the community. 818 Frederick Rd., Catonsville
Conrad's Seafood Expanding to Abingdon: Harford County locals will no longer need to make the drive to Perry Hall to crack crabs at this seafood staple. Brothers Chris and Anthony Conrad have announced plans to expand the family business north with a new location in Abingdon. Expected to debut this spring, the restaurant will take over the former home of OC Brewing Co. in the Boulevard at Box Hill Shopping Center. Diners can expect Conrad's signature Eastern Shore favorites (everything from crab cakes to oysters to steamed gulf shrimp) alongside West Coast-inspired burgers and sushi—a nod to Chris' time spent in California. 3414 Merchant Blvd., Abingdon
OPEN
Indigma: Nearly two years after an electrical fire forced Indigma to close, the Indian staple has finally reopened its doors in Mt. Vernon. Now operating in the former home of Tavern on the Hill on Cathedral Street, the new iteration features a bistro feel with a slightly smaller menu and full bar highlighting beer, wine, and exotic martinis. Husband-and-wife owners Tony and Ann Chemmanoor are looking forward to serving old favorites, including the acorn squash curry, alongside modernized dishes like grilled bison and crab-stuffed naan breadsticks. The restaurant is now open for dinner service—but the owners are open to reintroducing Indigma's fan-favorite lunch buffet in the coming weeks. "To me, it feels like a homecoming," Tony tells us. "The whole dining room sitting, laughing, drinking, and having a good time, you can't replace that feeling with anything else." 900 Cathedral St. 443-449-6483
CH-CH CHANGES
Grind House Juice Bar: Locals looking to kick off the New Year with refreshing juices and smoothies at Grind House in Charles Village will have to look elsewhere for the time being. The healthful spot recently closed temporarily for renovations. "After six-and-a-half years, it's time for a reboot," the shop's owners recently posted to Instagram. "We'll return in the spring refreshed and revitalized to better serve our community." The post goes on to thank regulars for all of their support. Come spring, Grind House will be back up and running featuring its vegan eats, fresh-pressed juices, and smoothies in varieties including "Berry Blast" and "Mean Green" with spinach and mango. 2431 St. Paul St. 410-366-2441
NEWS
Sagamore Pendry Debuts Champagne Vending Machine: To ring in the new year with proper bougie style, the Sagamore Pendry Hotel will debut its very own Möet & Chandon champagne vending machine on December 31—one of only 12 in the country. The brut and rosé dispenser includes 320 Champagne minis and will be located in the Pendry's open-air courtyard. The machine only accepts golden tokens, which are available for purchase at the hotel for $25. To celebrate its arrival, the Pendry has also added three golden bottles that are redeemable for special amenities at the hotel. 1715 Thames St.
SHUT
Brew House No. 16: The days are officially numbered for this Mt. Vernon brewpub. After being on the market for more than a year, the spot will close its doors for good on December 30. "It's a long story with a story ending: we're closing," the owners recently told the Baltimore Business Journal. The restaurant and small-batch brewery debuted inside the historic fire house on the corner of Calvert and Read Streets in 2014, and quickly became known for its burgers and beers. To celebrate its run, Brew House will be offering $4 drafts to all patrons throughout the end of the year. 831 N. Calvert St.
Greetings & Readings: Next month will be the last for shoppers to sample the Maryland-themed treats, candies, and gourmet chocolates at this 49-year-old mainstay in the Hunt Valley Towne Centre. The family-owned gift and bookstore, which was founded in Loch Raven by matriarch Phyllis Baum, is offering 25-50 percent off all merchandise throughout its official closing on Sunday, January 20.
The owners recently announced that, after exploring many avenues, they came to the realization their shop is no longer sustainable in the current retail environment. "We have worked with brokers to secure a possible buyer or merger, but that did not yield any interest," president Steven Baum said in a statement. "Our family has continued to put personal money into this business—but there comes a point where you need to make the hard, but inevitable, decision to close the doors."
A message posted to the store's Facebook page reiterates how much the owners appreciate the community's support throughout the years. "We are most grateful for the opportunity to serve you with the important events in your lives," the post reads. "We will miss the thousands of friends and employees who have made this dream possible." 118-AA Shawan Rd., Cockeysville. 410-771-3022