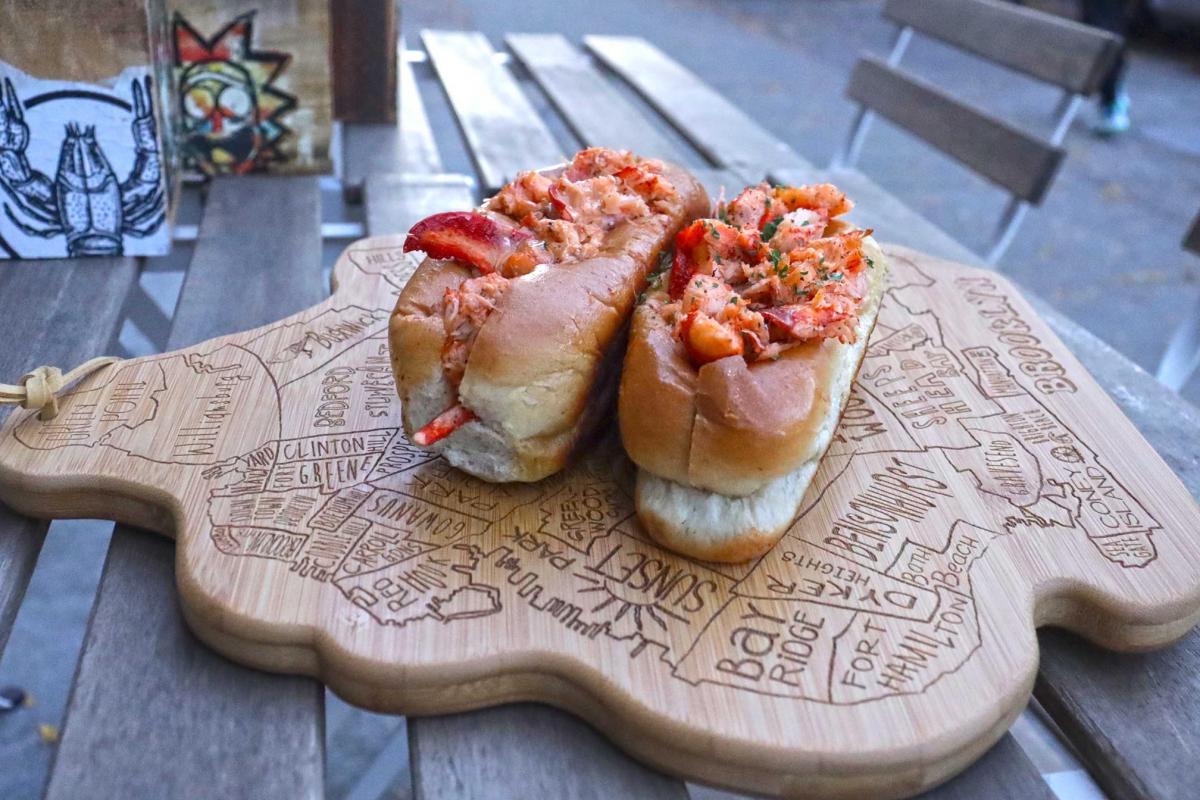 A New York-based lobster roll chain is coming to Upper Fells Point. —Courtesy of BK Lobster
COMING SOON
BK Lobster: Baltimore might be known as a crab-loving town, but surely there's room for more lobster. New York-based franchise BK Lobster will open this spring from local real estate investor Geri Ford, who also runs Baltimore's Brooklyn Billies Real Estate Club. BK Lobster will occupy a space at 2226 Eastern Avenue in Upper Fells Point, less than a block from Patterson Park. So why lobster instead of our crustacean calling card? "We wanted to offer something different," Ford tells us. "I've always been a fan of lobster rolls. I've been traveling back and forth from Martha's Vineyard since I was kid. When a friend of mine, [Rodney Bonds], started this concept to do a franchise in lobster rolls, it was a no-brainer."
Ford was previously using the Eastern Avenue space as an Airbnb and a place to host local artists. "This is just another aspect of artistry, which is culinary," she says. "I thought it would be a perfect neighborhood staple." Baltimoreans can expect at least seven different lobster roll varieties (similar to how the New York locations offer different styles relating to different boroughs), as well as classic preparations like po' boy-style. Ford said she's aiming for a mid-March soft opening.
OPEN
The Chicken Lab: There's a new concept at Cross Street Market in Federal Hill. According to SouthBmore.com, Korean fried chicken concept The Chicken Lab has taken over the stall recently vacated by Rice Crook. The new stall, from husband-and-wife team Daehee Wi and Hye Jeon, specializes in Korean fried chicken that's breaded and double-fried for extra crispiness, according to SouthBmore.com. The Chicken Lab officially debuted in mid-December, and menu items include chicken rice bowls, fried chicken wings, boneless fried chicken and popular Korean dish gang-jeong.
Darker Than Blue: A beloved soul food restaurant has returned to Baltimore. Darker Than Blue, which closed on Greenmount Avenue in 2013, reopened late 2021 in Mount Vernon at 413 N. Charles Street. "I thought that now would be the best time [to reopen] because the economy needed to kick start," owner/chef Casey Jenkins tells us. "We needed to start opening businesses back up, we needed to start employing people. And it's an industry that I know and love."
At the new (and larger) space, Jenkins is serving up dishes like prime rib, chicken and waffles, salmon cakes, and gumbo. "The food remains the same: large portions at reasonable prices," Jenkins says. "But we've expanded the menu a little bit with a few things that we used to just offer as specials, like our blackened catfish with the Louisiana-style cream sauce. It's now permanently on the menu." Brunch also remains a centerpiece at Darker Than Blue. Baltimoreans can enjoy a buffet that includes curry chicken, plantains, grits, home fries, omelets, waffles and more⁠—with mimosas included for $42.95. Jenkins says reservations are recommended but walk-ins are available. 
NEWS
Flamant to Reopen January 19 as Flamant Bistro: The Annapolis fine dining restaurant from Chef Frederik De Pue, which debuted in 2017, has temporarily closed in order to undergo "renovations and a refresh," according a post on the restaurant's Facebook page. It will reopen January 19 as Flamant Bistro. Diners can expect a new menu that includes weekly paté, a charcuterie board prime for sharing and (in what might be a first for us) escargot donuts. Desserts will include a brown butter brownie and whole baked apples. De Pue told the Baltimore Business Journal that the rebrand is a way to attract more weekday diners and offer an "accessible restaurant for families, and not just for special occasions anymore." In its new chapter, Flamant Bistro will be open Tuesday through Saturday from noon to 2 p.m. and 4:30 p.m. to 9 p.m.
EPICUREAN EVENTS 
1/15: National Bagel Day at THB Bagelry & Deli
For National Bagel Day on Saturday, January 15, free bagels and cream cheese are on the menu at all six THB Bagelry & Deli locations. Guests will receive their free treat with any purchase made through the myTHB app that day. A portion of all sales from National Bagel Day will be donated to the Mt. Washington Pediatric Hospital, which celebrates its centennial this year. Starting at 11 a.m. on National Bagel Day, THB will also give away free branded tumblers to customers, while supplies last, at all locations in Canton, Charles Village, Columbia, Owings Mills, Towson, and Timonium.
SHUT
The Coop: The doors have shuttered at The Coop. The American bistro and live music venue announced on its Facebook page December 24 that "despite all our efforts, passion, and the great joy we had bringing fabulous live music (local and national) to Baltimore County, we just could not make enough money to justify our time and efforts." The Coop, which debuted spring 2021, was rebranded by owner Jonathan Soudry from his cafeteria-style café Poulet in Lutherville-Timonium. The Coop's Facebook page also announced that the space will soon be home to a new location of the breakfast chain Eggspectation. Baltimoreans can still patronize Poulet's Greenspring Station location and Soundry's catering business Rouge Fine Catering.