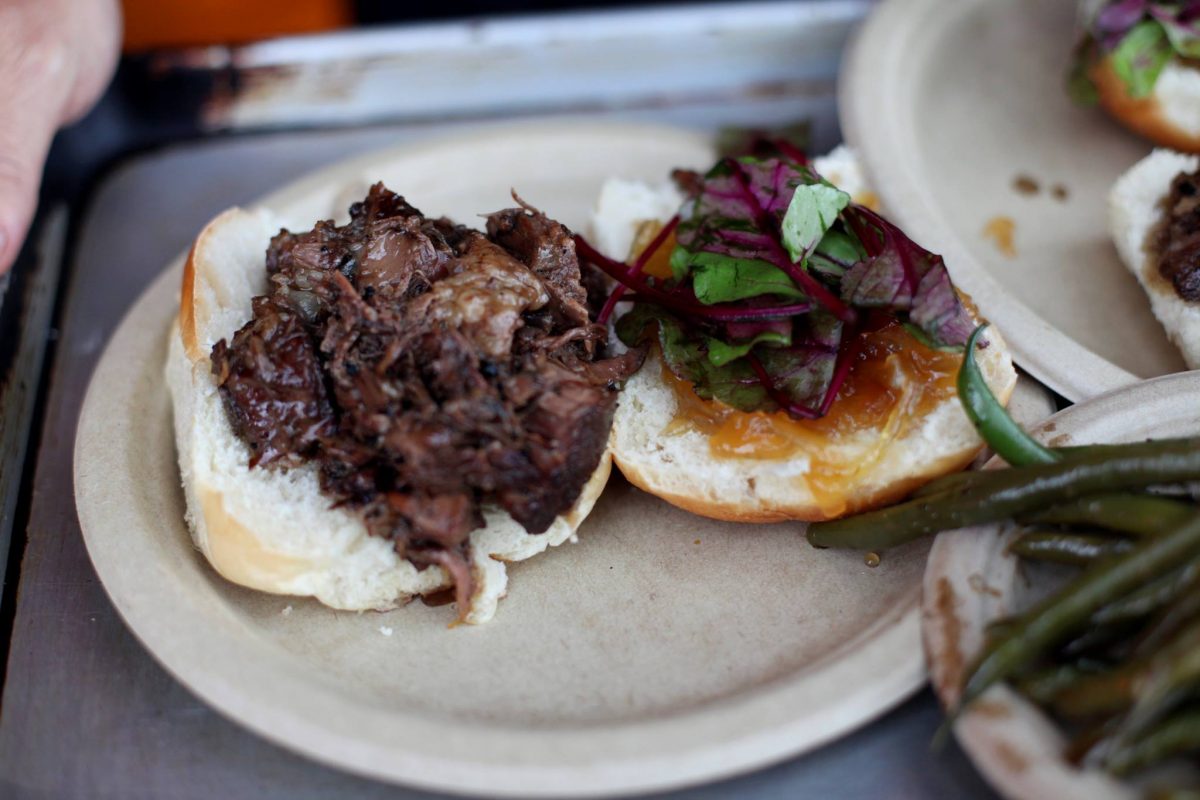 Courtesy of Blacksauce Kitchen
OPEN:
Zoë's Kitchen: Featuring staples like kabobs, hummus, and pita sandwiches, this Texas-based eatery is a one-stop shop for Mediterranean classics. Zoë's Kitchen unveiled a new spot on York Road in Towson earlier this week, marking the chain's third location in Maryland. In addition to Greek-inspired dishes, the menu also lists gourmet soups, grilled Reuben sandwiches, kid-friendly offerings like quesadillas and grilled chicken fingers, and a wide selection of gluten-free options. 6300 York Road, Towson, 410-323-4795
COMING SOON:
Colette: In the midst of getting Bottega back up and running in Station North, owner Adrien Aeschliman has announced plans to open this new French concept just around the corner. Taking over the former Red Parrot Asian Bistro space, Colette will feature a polished interior complete with a granite bar and black wood chair rails. The 80-seat space will emphasize French comfort cuisine with dishes crafted by executive chef Stefano Porcile, whose previous stints include working at local hotspots like Fork & Wrench and Woodberry Kitchen. 1709 N. Charles St.
B-More Kitchen: This yet-to-open incubator will house more than 50 local food startups upon its reveal in Govans this spring. The communal food hub from co-founders Eben Altmann and Jonathan Fishman will feature a 10,000 square-foot commercial kitchen, its own bakery, a wealth of shared cooking supplies, plenty of storage, and an upstairs catering venue. Slated to open in April 2016, the space will allow its members 24/7 access to all of the amenities in order to mass-produce their gourmet goods. 5604 York Road
Blacksauce Kitchen: Known for his claim-to-fame barbecue biscuits, chef Damian Mosley has been making his mark on the local farmers' market scene for years, and soon, his barbecue brainchild will settle in its first brick-and-mortar space. Blacksauce Kitchen will set up shop in the former home of Sterling's Crab and Oyster House in Remington, using the kitchen to continue production for farmers' markets and catering. No word yet on an opening date. 401 W. 29th St.
La Cakerie: Jason Hisley, owner of La Cakerie and a previous Cupcake Wars champion, is bringing his creative confections to Hampden in 2016. La Cakerie currently operates locations in Towson and Mt. Vernon, and this winter it will expand with a new spot on The Avenue. The shop will feature the bakery's signature morning pastries, an assortment of donuts and muffins, coffee and espresso, and, of course, plenty of elegant cupcakes with flavors ranging from red velvet to raspberry limeade. 1027 W. 36th St.
Mother's Grille: This Federal Hill fixture is expanding into Baltimore County this winter with a new location off of Padonia Road. The 195-seat space, which was formerly an Applebee's, will boast a renovated interior with open ceilings, reclaimed wood, and a 65-seat bar. While the restaurant will be a bit more family-inclusive than the Federal Hill flagship, Mother's signature pub menu full of hefty burgers and sandwiches will carry over in the new space. 2450 Broad Ave., Timonium
Yard House: Pending liquor board transfer approval, this California-based restaurant chain plans to move into Harborplace in the coming months. Yard House, which operates more than 20 locations nationwide, hopes to settle in the former home of longtime Light Street Pavilion tenant J. Paul's Restaurant. The pub emphasizes 100 brews on tap and an expansive menu with offerings ranging from sushi to grilled Korean pork belly street tacos. 301 Light St.
SHUT:
Dougherty's Pub: After 33 years in business, this Chase Street pub is closing its doors. Husband and wife owners Bill and Sherry Dougherty are expecting a packed house this weekend, as the bar's last night will be December 19. Known for its handmade copper-top bar, pool tables, and plethora of pub snacks, the haunt will soon see a completely different aesthetic under new ownership. No word yet on the name of the new space, but Sherry confirms that Dougherty's has been sold to a MICA grad who plans to reveal a more modern concept in 2016. 223 W. Chase St., 410-752-4059
Chiaparelli's: This spinoff of the 75-year-old Chiaparelli's flagship in Little Italy closed its doors in Havre de Grace earlier this week. Rumor has it that the space, situated inside the historic Old Chesapeake Hotel, will be revamped into a seafood restaurant in the coming months. Chiaparelli's in Little Italy is still going strong. 400 N. Union Ave., Havre de Grace