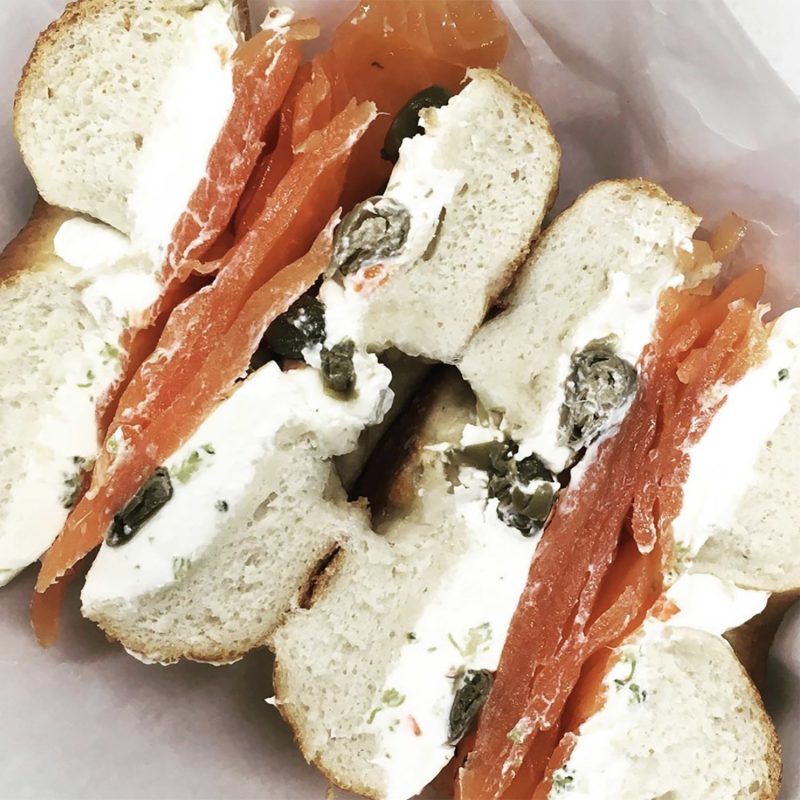 Bottoms Up Bagels
Bottoms Up Bagels: New Jersey natives Michelle Bond and Joan Kanner, who have both lived in Charm City for more than a decade, certainly know a thing or two about a good bagel and schmear. Since 2016, they have been serving their hand-rolled, boiled beauties—in varieties like sesame, poppyseed, salt, pumpernickel and Old Bay—at local farmers' markets and pop-up events. Now, the duo is getting ready to start a new chapter with a brick and mortar coming to the Greenmount corridor in 2020.
"We've always believed that there was interest in a simple, quality made bagel experience," Bond tells us. "Over the last few years we've been able to test that, getting feedback along the way and constantly tweaking. We've tried to be strategic and bring folks along with us as we've grown, and this includes setting up on Greenmount Avenue and being at the forefront of the good things happening there."
Though details about the space haven't been announced yet, it will act as both a production kitchen and a retail shop for locals to get their fix of fresh bagels topped with house-cured gravlax, as well as spreads like veggie, sesame-Sriracha, sugar butter, and house-smoked jalapeño cream cheese.
BAR BULLETIN
Bluebird Cocktail Room Releases Fall/Winter Menu: It should come as no surprise that this literary-inspired Hampden hangout is taking inspiration from Grimms' Fairy Tales for its new seasonal menu. The roster includes 18 clever drinks that are each derived from a different tale. Among them are the "Briar Rose" (housemade grapefruit kombucha infused with tequila and borage flowers), "Rapunzel" (Distillery Lane Ciderworks' rum-finished Celebration Cider), and "Rumplestilskin," which incorporates Ricard pastis and chocolate from Pure Chocolate by Jinji at Belvedere Square. To pair with the drinks, the bar is also releasing new noshes like fried Brussel sprouts with fermented garlic honey and a cheeseburger topped with caramelized onions.
Baltimore Spirits Company Unveils Skeleton Spirit Gin: This Union Collective-based distillery is celebrating the spooky holiday next week by debuting its new Shot Tower Skeleton Spirit Gin—the teams' first expansion of the popular Shot Tower gin line since they began distilling in 2015. At a 45-percent ABV, Baltimore Spirits Company's (BSC) second-ever botanical gin is made with ingredients like juniper, eucalyptus, and aloe vera. "We wouldn't have considered releasing a new gin unless we were sure we had something really special on our hands," BSC co-founder and CEO Max Lents said in a statement. "We wouldn't want to compete with Shot Tower Gin, so it had to be something remarkable and different on the gin spectrum." A dance party at Union on November 1 will celebrate the release, as well as BSC's fourth anniversary. The celebration will feature a full cocktail bar by Sugarvale, eats by Dooby's, a costume contest, and live music spun by DJ Cian Noteman.
Idle Hour Featured by Eater: One of the city's most beloved corner bars—best known for its vinyl nights and walls lined with Chartreuse bottles—received national attention this week when Eater published an excerpt from author Brad Thomas Parsons' book, Last Call, in which the author interviews bartenders across the country about what they would choose as their last drink. Of course, Idle Hour co-owner Brendan Finnerty chose Chartreuse. "Chartreuse slows you down and warms and loosens you up," he told Parsons. "If you spend an entire evening sipping on the Green, you find yourself a little bit lighter and a little bit brighter. You tend to float." Read our review of the South Baltimore staple, here.
EPICUREAN EVENTS
10/24: Chicken and Champagne at Chez Hugo
It might be tough to think about Champagne and fried chicken as one of the world's greatest food combos, but Chez Hugo's annual celebration of the two might just change your mind. Settle in at the French bistro to enjoy a special selection of bubbles by the glass or bottle alongside a feast of fried chicken drizzled with Espelette honey or house hot sauce. There will also be fitting sides such as buttermilk biscuits, twice baked potatoes, collard greens, cole slaw, and caviar if you're feeling bougie.
10/31: Baolloween at Ekiben
Don't be surprised to see a line of colorfully dressed patrons wrapped around the 1600 block of Eastern Avenue on Halloween next week. Ekiben's cleverly named "Baolloween" tradition of serving discounted steamed buns and rice bowls to costumed customers will continue starting at 4:30 p.m. on October 31. Diners who show up in costume will receive $1 buns or $4 rice bowls throughout the afternoon, and the rest of the menu will be available at regular price. The tradition is one of many initiatives that Ekiben has launched to engage with the community, the most recent being a recurring pop-up series featuring visiting chefs like Carlos Raba of Clavel and Johnny Spero of Reverie in Washington, D.C.