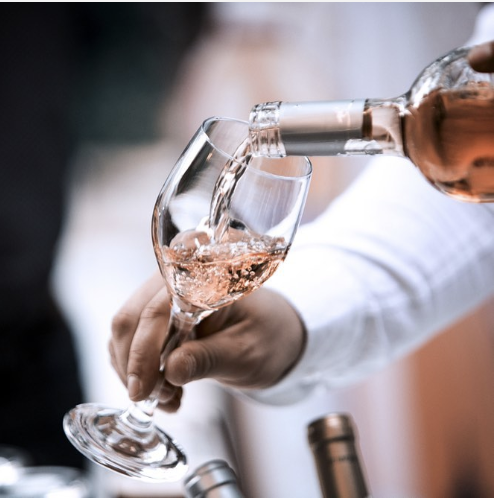 COMING SOON
Checkerspot Brewing: After years of anticipation, a grand opening date for this South Baltimore brewery is finally in sight. Husband-and-wife brewers Rob and Judy Neff (who has her Ph.D in microbiology), and their business partner Steve Marsh—an industry veteran who founded the cask program at Heavy Seas Beer more than a decade ago—will officially open the taproom to the public on Saturday, June 30 at 12 p.m. Named after the state butterfly of Maryland, Checkerspot will feature signature releases including the Juniperus IPA and Two Paws Ale—a pale ale brewed in collaboration with Flying Dog Brewery that is made with 100-percent local malt, galaxy hops, honey, and paw-paw fruits. 175 W. Ostend St.
Blue Dog BBQ Company: Harbor East diners have been feeling the void ever since Dinosaur Bar-B-Que closed up shop in the neighborhood earlier this year. But now, a new destination for fingerlickin' fare is making its way into the area. Set to open in the former home of Heavy Seas Alehouse, which closed suddenly earlier this month, local catering company Blue Dog BBQ will serve its signature whole-hog fare made with a wood-only smoking method. "No gas-assisted smokers allowed!" co-owner Sean Stoll quipped in a statement. The old Heavy Seas space is housed in the historic Tack Factory Building on Bank Street, which Stoll says is "the perfect fit" for his business. "It allows us to create world class BBQ the way it was meant to be made," he adds. Blue Dog is expected to debut next month, and will offer lunch and dinner service six nights per week. 1300 Bank St.
Cheese Galore & More: In other South Baltimore news, this longtime Cross Street Market tenant is moving into a brick-and-mortar home around the corner in Federal Hill later this month. The cheese and sweets shop will soon open in the former HarborQue space on South Charles Street, offering beer, wine, pasta sauces, baguettes, Zeke's Coffee, and all of the essentials for building a bona fide charcuterie board. 1125 S. Charles St.
NEWS
Atlas Restaurant Group Heads to the James Beard House: The national praise keeps on coming for Atlas Restaurant Group, which is heading to New York City to serve a meal at the James Beard House next Tuesday, June 12. The collaborative dining experience—prepared by the team behind Atlas' Harbor East spots Azumi, Ouzo Bay, Tagliata, The Elk Room, Loch Bar, and The Bygone—will bring a taste of Baltimore to the Beard House with a five-course menu and wine pairings that fuse the styles of each restaurant. Featured dishes will include char-broiled Japanese ayu and sawagani crabs, squab tortellini with beets and blueberries, octopus with fava pureé, and spring lamb diablo with English peas.
ROSÉ ALL DAY
6/9: Rosé Tastings at Chez Hugo Bistro

Chez Hugo will be offering pink wine discounts in honor of National Rosé Day this Saturday, but the specials won't stop there. The French bistro is continuing the celebration with a recurring rosé tasting series on Tuesdays throughout the month. Stop by on Tuesday evenings from 5-7 p.m. to pair chef Steve Monnier's French bistro fare with four pours of local rosé. Next week's installment will feature varieties from Bacchus Importers, followed by a tasting with Old Westminster Winery on June 19. Chez Hugo Bistro, 206 E. Redwood St. 5-7 p.m. 443-438-3002
6/11: Rosé Wine Dinner at The Outpost American Tavern

The Outpost in Federal Hill will also be featuring rosé specials throughout the weekend, leading up to this special three-course pairing dinner on Monday, June 11. Reserve your spot to enjoy a welcome cocktail and eats from executive chef Jesse Sandlin, which will all be served alongside pink pairings. The Outpost American Tavern, 1032 Riverside Ave., 6:30 p.m., $50, 443-388-9113
EPICUREAN EVENTS
6/7-10: St. Nicholas Greek Folk Festival
Head to Greektown Square for this four-day fête featuring arts, crafts, Greek wines, live music, dancing under the stars, and, of course, plenty of authentic eats. Get your fix of fire-roasted lamb, souvlaki, spanikopita, gyros, tzatziki, baklava and more at the decades-old community event. 701 S. Ponca St., Times vary, Free.
6/8: Friday Happy Hours at Power Plant Live
Grab your co-workers and head to this downtown entertainment district on Fridays throughout the summer for locally inspired drink deals including Wild Kombucha cocktails, boozy egg custard snowballs, traditional Orange Crushes, and strawberry margaritas with a Domino Sugar rim. Plus, there will be pop-up food trucks, live art installations, life-size board games, steel drum bands, and a live music lineup featuring national acts like Nelly on July 27 and Wyclef Jean on August 17. Power Plant Live, 34 Market Place, Free.
SHUT
Bill Bateman's Towson: Towson University students and alumni were bummed to hear that this longtime on-campus hangout is closing its doors for good on Sunday, June 10. The local chain spot—best known for its crab pretzels, beer specials, and bottomless wings on Monday nights—first announced the closure on its Facebook page earlier this week. "We are so grateful to have been part of the Towson community for the past decade," the post reads. "Our Monday nights will never be the same." In an interview with the Baltimore Business Journal, co-owner Tony Gebbia cited campus construction and increased competition in the "current business environment" as the reasons behind the closure. There's no word yet on what will become of the space. 7800 York Rd, Ste. 2, 410-296-2737