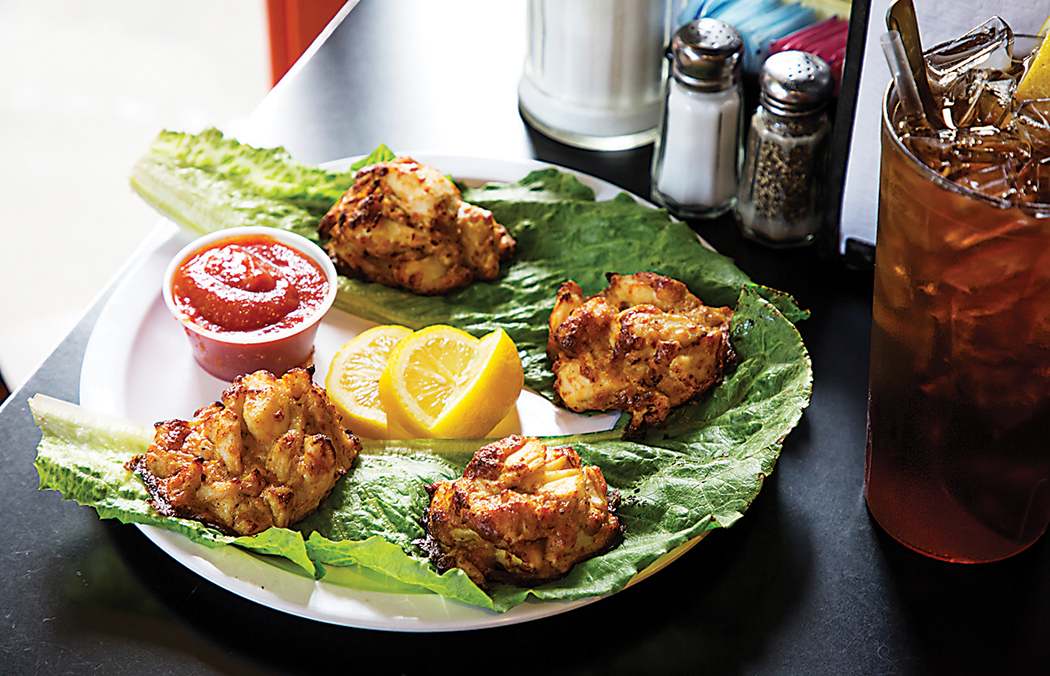 Photography by Scott Suchman
CH-CH CHANGES
Chick and Ruth's Delly: Earlier this week, owner Ted Levitt announced that he had sold this iconic Annapolis eatery, whose bright orange exterior has been a landmark on Main Street since Levitt's parents—the namesake Chick and Ruth—opened the diner more than 50 years ago. The deli has long been a favorite gathering place for locals and politicians to get their fix of breakfast fare, overstuffed sandwiches, and claim-to-fame crab cakes. Regulars will be happy to hear that new owner Keith Jones doesn't plan on changing much about the neighborhood mainstay. "There's an excitement about getting engaged in the work, but also an excitement about getting engaged in the community," Jones told Capital Gazette earlier this week. "It's a phenomenal legacy that they've built, and it's an awesome responsibility to maintain it." 165 Main St., Annapolis, 410-269-6737
Luigi's Italian Deli: In other deli news, this Hampden hotspot recently announced that it would begin offering weekday breakfast effective October 2. The Italian outpost on The Avenue, which changed ownership earlier this year, currently serves its signature hoagies and pasta salads strictly during lunch and dinner service. But starting next month, the spot will open bright and early at 7 a.m. on weekdays with a new morning menu highlighting breakfast sandwiches and piping-hot coffee. 846 W. 36th St., 443-438-4195
OPEN
The Chasseur: Last weekend, revelers flocked to this Canton corner bar for the grand opening of its long-awaited rooftop space. Just in time for football season, the open-air hangout is officially up and running with garage-style doors, multiple flat screens, plenty of barstool seating, and a killer view down to the water. The upstairs menu features its own raw bar and an array of seasonal Crushes in flavors including classic orange and pineapple. 3328 Foster Ave., 410-327-6984
COMING SOON
Bunzzz Sports Bar & Grill: Come spring, shoppers will be able to grab a bite to eat while perusing The Gallery in the Inner Harbor. The brainchild of husband-and-wife owners Bernar and Angela Tallitsch, the sports bar will serve breakfast, lunch, and dinner in the vacant space that formerly housed Brooks Brothers on the first floor. As its name denotes, the spot will focus on burgers with many different bun options ranging from sesame and rye rolls to a sweet cinnamon bun and a Hawaiian-themed bun with Maui onions. The opening will mark the return of dining to the mall, which hasn't seen a sit-down eatery since its food court was converted to office space last year. 201 E. Pratt St., 410-332-4192
Mezcal Mexican Restaurant & Bar: A second location of this Owings Mills favorite will join the likes of MOM's Organic Market and THB Bagels & Deli in Timonium's Yorkridge Shopping Center next month. Expected to open mid-October, the cantina will offer its signature tacos, burritos, tableside guacamole, and massive tequila drinks. (Read more about Mezcal and other top taco spots around town in our upcoming October issue.) 6 W. Ridgely Road, Lutherville-Timonium.
Zeke's Coffee: This Hamilton coffee institution is making moves to larger digs next week, but, luckily, it isn't going far. The cafe and all of its baking operations have migrated to a 4,000-square-foot space just one block north, inside the brand new SoHa Row development at 4719 Harford Road. Slated to open next Wednesday, September 27, the new eatery will boast additional seating and walls hand-painted with Zeke's signature logos. The food offerings will carry over in the new cafe, which will emphasize coffees and cold brews, as well as bagels, pastries, and build-your-own sandwiches. 4719 Harford Road.
NEWS
Ben Lefenfeld to Compete at NYC Wine & Food Festival: Our own Ben Lefenfeld—the chef/owner behind La Cuchara in Woodberry and Minnow in Riverside—is headed to the Big Apple next month for Food Network's New York City Wine & Food Festival. In an Iron Chef-style battle hosted by celebrity chef Alton Brown, Lefenfeld will go head-to-head with nearly 30 other cooks from around the country who will all craft dishes inspired by autumn's bounty. "I'm looking forward to driving a truckload of beautiful Maryland produce up I-95," Lefenfeld said in a press release. The competition on October 14 will award multiple cash prizes to the winning chefs, who will be chosen by both Food Network judges and event attendees.
OrderUp Officially Transitions to Grubhub: You might notice a few changes the next time you try to order takeout. Grubhub recently took over all 27 markets of the Baltimore-based delivery service OrderUp, causing the app to redirect to Grubhub's ordering platforms. Although the interphase is noticeably different, many of the same local restaurants (and a few additional spots) have vowed to continue using the service. The official transition comes as a result of Grubhub acquiring OrderUp from its parent company Groupon in August.
EPICUREAN EVENTS
10/2: Farm to Chef Maryland
Now in its eighth year, this foodie fundraiser at the B&O Railroad Museum continues to unite local chefs and growers to benefit TasteWise Kids—an organization that educates elementary school students about the importance of urban agriculture and healthy eating. Each local chef—this year's participants include Scott Hines of B&O American Brasserie, Jerry Trice of Gunther & Co., and Kevin Cauthorne of Myth & Moonshine—will partner with an area farm to craft a dish based on its seasonal bounty. Members of the Baltimore Bartenders' Guild will also be on hand to judge cocktails made with local spirits and ingredients sourced from the participating farms. 901 W. Pratt St., 7-9:30 p.m., $90-110
10/8: The Smoke Show Mark your calendar for this epic barbecue collaboration between chefs Chad Gauss of The Food Market in Hampden and Josh White of Cockeysville 'cue joint Smoke. The tailgate-style event will feature a menu that fuses the styles of both restaurants, with eats including potato soup with smoked gouda croutons, pastrami sandwiches with beer cheese fondue, smoked carrots, Korean barbecue ribs, and smoked pumpkin s'mores. There will also be a live DJ, photo booth, screens for viewing the Ravens game, and plenty of local libations to wash down all of the eats. Whitehall Mill, 3300 Clipper Mill Road, 3 p.m., $55
SHUT
La Folie Wine Bar & Steak Frites: Just over a year after opening in Canton's O'Donnell Square, this French bistro known for its steak frites and frosé has closed its doors for good. Managing partner Mel Carter recently told the Baltimore Business Journal that he closed the spot in order to focus on his other two neighborhood concepts Blue Hill Tavern and Shiso Tavern. There's no word yet on what will become of the space, which previously operated as Tavern on the Square before transitioning to La Folie last summer. 2903 O'Donnell St.