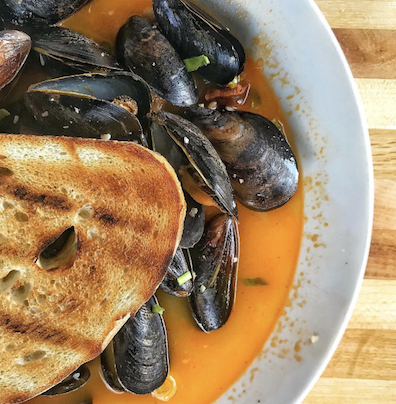 @101_delibar via Instagram
COMING SOON
Döner Brös: Less than a year after launching this Oktoberfest-inspired food truck, owners Alex Politsch and Steven Banks are taking the concept to the next level by opening a brick-and-mortar restaurant in Charles Village this September. Known for its salads, fries, and wraps made with seasoned meat cooked on a vertical rotisserie, Döner Brös will join THB Bagels & Deli, Bird in Hand, and the recently debuted Red Star Bar & Grill in the Nine East 33rd development near the Johns Hopkins University campus. "Johns Hopkins University was always a home run for the food truck so it was only natural for us to open our first store here," Banks said in a statement. "We are excited to add another unique cultural option to the already eclectic and dynamic neighborhood." 9 E. 33rd St.
Bodhi Corner: Adding to the revival efforts on Chestnut Avenue in Hampden (a corner grocery store is expected to open in the former Play Cafe space in September) is this new Thai restaurant from the owners of Khun Nine Thai in Mt. Vernon. Expected to open in the former home of Café Cito later this summer, the spot will feature Thai staples including rice dishes, noodles, curries, and rotating vegan and vegetarian options made with beans, tofu, and seasonal vegetables. 3500 Chestnut Ave.
OPEN
Garden Party: Now, moms and dads have even more reason to love the splash fountain in the center of The Rotunda in Hampden. While watching their little ones run through the water, they can sip wine and enjoy snacks, sandwiches, and salads from this new outdoor dining concept operated by the owners of Avenue Kitchen & Bar. Open in the freestanding shack next to the fountain, Garden Party offers a food menu including tahini hummus, edamame guacamole, meat and cheese boards, mini Cubano sandwiches, and a Mediterranean chopped salad. The wine list features sparkling, red, white, and rosé blends from Europe that are available by the glass or bottle. 711 W. 40th St.
NEWS
101 Deli Bar: There is new blood in the kitchen at 101 Deli Bar in Federal Hill. Chef Brian Mahon, formerly of Wine Market Bistro and The Nickel Taphouse, has revamped the menu to include entrees such as Cajun shrimp and biscuits, PEI mussels, crab cakes with corn salsa, meatballs with ricotta and toast points, and a refreshing watermelon poke bowl topped with a yuzu glaze. Though Mahon has made a few additions, the menu still offers the spot's mix-and-match charcuterie boards, signature cocktails, wines on tap, and boozy milkshakes. 1118 S. Charles St., 443-682-9480
Argosy Cafe: After three years at its current home inside the Munsey Building downtown, this popular breakfast and lunch spot will move into new digs later this month—but it isn't going far. Argosy's last day on North Calvert Street will be Sunday, July 15, and it is slated to reopen in the former home of New America Diner on North Eutaw Street at the end of August. Throughout its short-but-sweet run, New America became a go-to for greasy spoon favorites, community events, and local music showcases. Owner Fiona Sergeant recently told The Sun that running the restaurant took up more time and energy than she expected. Though the diner has now closed, she is working with the Argosy team to help keep the spirit of New America alive. "It's been beautiful," Sergeant posted to Facebook. "You have all been lovely." 429 N. Eutaw St.
EPICUREAN EVENTS
7/6: Champagne & Fried Chicken Night at Chez Hugo
Though it might not seem like the ideal combo, champagne and fried chicken go hand-in-hand in the summer. As Southern Living puts it: "The effervescent acidity works as the ultimate grease cutter, keeping your palate crisp and clean as you chow through the salty deliciousness." Chez Hugo Bistro is playing up the pairing this Friday night with an a la carte menu of fried chicken and sides, as well as discounted bottles of bubbly all evening long. 206 E. Redwood St. 5-9 p.m. 443-438-3002
ONGOING: Crabs and Crushes at Wit On The Water
Earlier this week, Wit & Wisdom inside the Four Seasons Baltimore brought back its annual crab feast menu featuring summer staples like steamed blue crabs, peel-and-eat shrimp, Old Bay fries, and mac and cheese. Offered daily from noon to 10 p.m. on the restaurant's outdoor patio, the menu also highlights buckets of beer, wines by the glass or bottle, and the signature Wit & Wisdom Crush (Tito's vodka, grapefruit or orange juice, Campari, maple syrup, and club soda) to help wash down all of the eats. 200 International Drive. 410-576-5800
SHUT
BAMF Cafe: The Station North community is already feeling the loss of this quirky cafe, which will operate through Artscape weekend and close its doors for good on July 23. "We want to thank the Station North community for its support and friendship," owner Nicholas Springham wrote in a Facebook announcement earlier this week. "It has been a unique experience that we will cherish forever. With heartfelt gratitude, we wish our customers, neighbors, and employees the best in the future." Throughout its three-year run, the sci-fi-themed hangout was known for its comic book club meetings, vegan and vegetarian dishes, and drinks named after popular superheroes. There's no word yet on what will become of the North Charles Street space. 1821 N. Charles St., 667-930-3371