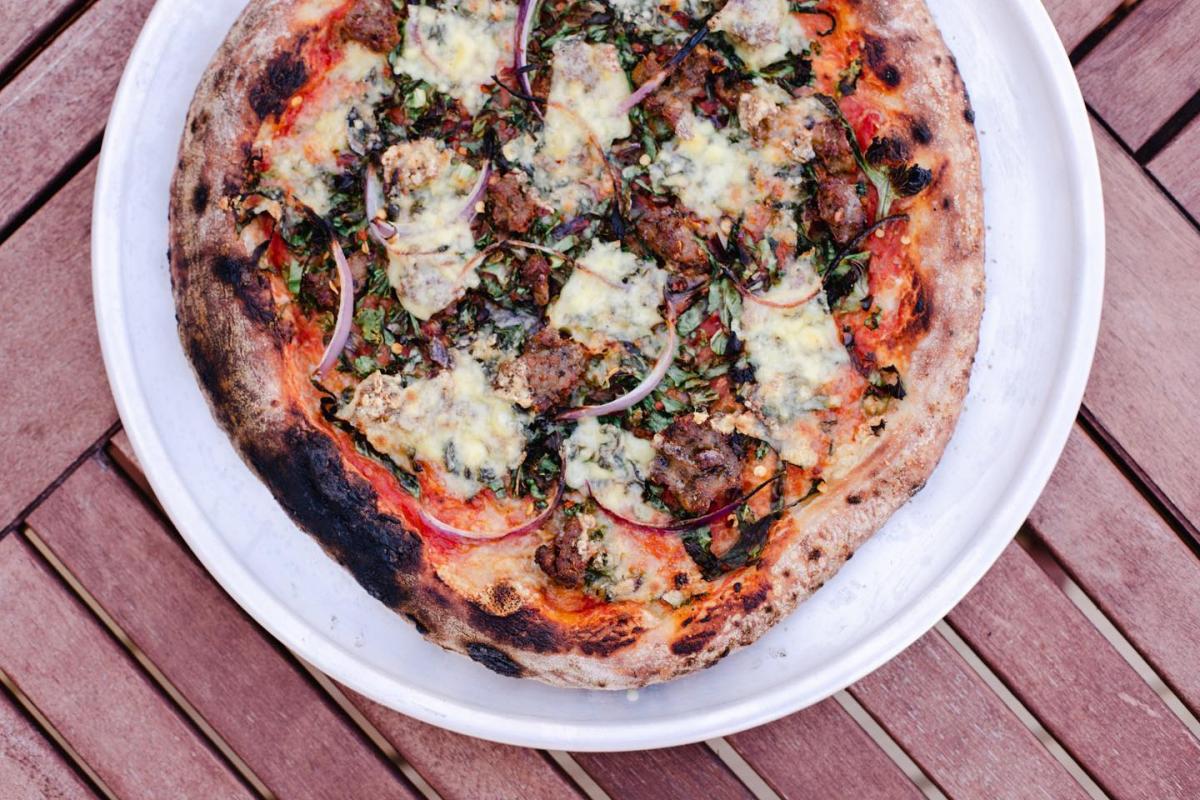 The "Oh Kale Yeah!" pizza at Eat Pizza Together. —Courtesy of Old Westminster Winery
OPEN
Eat Pizza Together: Carroll County's Old Westminster Winery became Maryland's first-ever vineyard to have its own outdoor restaurant last week when it officially unveiled this new pizza concept. In keeping with the team's sustainable approach, Eat Pizza Together offers a wood-fired menu that uses ingredients—everything from cheeses and cured meats to honey and sunflower oil—sourced from within 100 miles of the property. Among the options are a classic margherita, the "Oh Kale Yeah!" (tomato, kale, sausage, and chili flakes), and the "Ramp It Up" with pickled ramps and ricotta. You can also build your own snack board with items like Atwater's cheeses and jams and chickpea hummus from The Food Chick. Make a reservation in advance to enjoy the eats, paired with OWW's bottled (or canned) blends, while taking in the bucolic views.  
Miss Shirley's: Ever have a hankering for stuffed French toast before an early-morning flight? This hometown hotspot now has you covered. The cafe chain recently expanded to include a new location in the Southwest Airlines Concourse A expansion of BWI Thurgood Marshall Airport. Swing by between 7 a.m. and 5 p.m. (hours are sometimes extended based on flight schedules) to enjoy the familiar breakfast and lunch staples before heading out of town. 
Sports & Social Maryland: Just in time for baseball season, Live Casino and Hotel has debuted this sports fan headquarters that features 40 screens, a 100-foot media wall, and social games like bowling and foosball. The menu stays on theme with offerings such as sweet and spicy wings, Buffalo chicken quesadillas, classic nachos, an All-American cheeseburger, and an extensive beer list. 
COMING SOON
Fresh Express by Rosina Gourmet: Students and workers on the Johns Hopkins Medical Campus will be happy to hear that this local cafe—with existing outposts in Canton and Fells Point—is opening an express location on the ground floor of the School of Nursing at 525 N. Wolfe Street. Slated to cut the ribbon this spring, Fresh Express by Rosina Gourmet will fuel students with an array of breakfast sandwiches, as well as salads, deli sandwiches (turkey, pesto, and brie on a French baguette, anyone?), and a selection of grab-and-go options. 
NEWS
Red Emma's: After a 17-year run that has taken Red Emma's from Mt. Vernon to Station North and back to Mt. Vernon again, the worker-owned cooperative recently announced that it has found a permanent home in Waverly. With the help of many community partners, the beloved bookstore-cafe and community hub has purchased the building at 415 E. 32nd Street, as well as the storefront at 3128 Greenmount Avenue. The plan is to renovate both spaces to create one "multi-level community coffeehouse, bookstore, and social center," according to an announcement. 
"Many of us live in Waverly/Abell, and we are so excited to join the diverse community of businesses that are already here, like Urban Reads, Normals, Peabody Heights, My Mama's Vegan, Pete's Grille, and Local Color Flowers," the message posted to Red Emma's website reads, "and to work together to reimagine a Greenmount Avenue commercial district that is community-focused and meeting the needs of the neighborhoods that border it." The current Red Emma's space on Cathedral Street will remain open while the construction process gets underway. Stay tuned for updates. 
Friends and Family Unveils "Pick-Me-Up" Window: In other uplifting news, in honor of Global Pay It Forward Day earlier this week, Friends and Family in Fells Point revealed a new walk-up window that offers free coffee and a baked good to anyone in need—no questions asked. "The concept of this initiative is simple and we believe it is needed now more than ever," co-owner Ginny Lawhorn said in a statement. "This is our way of saying, 'If you need a pick-me-up, we're here for you.'" 
The aptly named "Pick-Me-Up" window continues the plant-based eatery's commitment to service, as well as the building's history of hospitality. (The 17th-century spot on the corner of Aliceanna and South Broadway once operated as a bar and boarding house with rooms for rent upstairs.) The window's hours will reflect operational hours at the restaurant—which also opened its outdoor patio this week—and the team has no plans to end the program anytime soon. "As long as Baltimore needs us, we will be here," Lawhorn said. 
EPICUREAN EVENTS
5/3: Mera Kitchen Collective x Our Time Kitchen Dinner Pop-Up
The teams behind these community-minded kitchens are coming together for a special pop-up at Mera's shared space in Station North on Monday, May 3. Submit your pre-order now to enjoy dishes such as traditional musakhan (roasted eggplant or chicken rolled into a thin flatbread), mezze platters with falafel (choose from Our Time chef Kiah Gibian's version or Mera chef Iman Alshehab's recipe), jerk chicken with rice and mango salad, and banana pudding for dessert. The best part? Proceeds from the collaborative menu will support the renovation of Our Time's newly purchased building in Old Goucher—which will provide prep space for womxn-owned food startups with an accessible, by-the-hour rental program. 
5/6: Busboys and Poets Community Preview
As the new location of this Washington, D.C.-based bookstore-cafe gears up for a grand opening in Charles Village next month, the team is hoping to get to know neighbors with this preview event on May 6 from 4-7 p.m. Mask up for the outdoor gathering, which will feature free food samples, a mini pop-up bookstore, self-guided tours of the interior, and performances by the city's own slam poetry champions Slammageddon Baltimore.