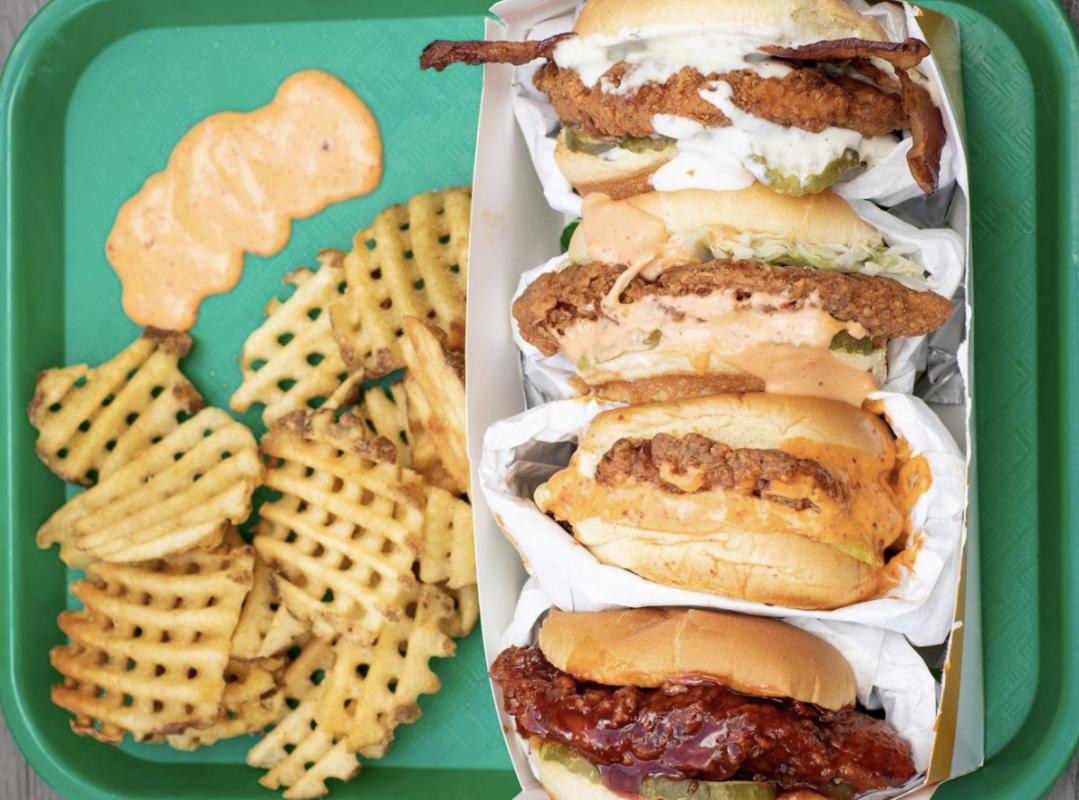 Courtesy of Fuku via Instagram
OPEN
Fuku: If you're a crispy chicken connoisseur, you're going to want to get your hands on one of the massive sandos from this famed NYC concept by celebrity chef David Chang. Thanks to a partnership with NBRHD Kitchens, Fuku has set up a ghost kitchen in the Inner Harbor that now offers Baltimore delivery via Doordash, Grubhub, Postmates, and Uber Eats. (To celebrate the launch, Fuku is waiving the delivery fee through Feb. 28 if you order using Uber Eats.) First-timers are encouraged to try the classic "Spicy Fried Chicken Sando" that stacks habanero-brined chicken breast, spicy mayo, and pickles between a Martin's potato roll. Other options include sweet-and-spicy sandwiches, chicken fingers, waffle fries, and lots of requisite dipping sauces. 
Mona's Super Noodle: Now open in the space that previously housed Nori and Corner Charcuterie Bar on The Avenue in Hampden, this new concept highlights Southeast Asian recipes. The namesake noodle dishes are plentiful—with options ranging from traditional pad Thai and spicy drunken noodles to pho with lots of different proteins—and you can also look out for summer rolls with peanut sauce, garlic chicken with sauteed cabbage, and a traditional mango sticky rice for dessert. Online ordering is available for pickup or delivery via Grubhub, Uber Eats, and Doordash. 
Neo Pizza and Taphouse: This one-stop-shop for wood-fired pizzas and self-serve beer has officially debuted at Mount Vernon Marketplace. The Maryland chain—which also operates locations in Bel Air, Annapolis, and Columbia—features signature flavor combinations (the "Fuego" highlights marinated chicken, chorizo, jalapeño pesto, and chipotle aioli), as well as the option to build your own pie with tons of customizable crusts, proteins, and veggies. Neo joins veteran vendors including The Local Oyster and Pinch Dumplings—and newbies like Cheezy Mikes—in the communal food hall. 
DEBUTING THIS WEEKEND 
Alma Cocina Latina: We couldn't be happier that Venezuelan hotspot Alma Cocina Latina has settled into its new home in Station North. And now, the restaurant is preparing to debut the new digs for in-person dining on Friday, Feb. 5. In accordance with Baltimore City guidelines, the restaurant will be open at 25 percent capacity with all of the necessary filtration systems in place. In celebration of the new chapter, executive chef David Zamudio and his team have tweaked the menu to include some new additions. Dishes to look out for include cheesy Tequeño Pops wrapped in crispy dough, royal sea bass ceviche with sweet potato and torched avocado, Wagyu prime rib with roasted potatoes, lentil fritter-stuffed arepas, and coconut flan ice cream. 
CH-CH CHANGES
Bramble Baking Co.: You've likely seen Allie Smith's picture-perfect cakes and pastries at the 32nd Street Farmers Market. And soon, fans will be able to pick up her sweets regularly at the bakery's first brick-and-mortar storefront on Harford Road in Hamilton-Lauraville. Smith recently signed a lease to take over the space that formerly housed Batch Bake Shop and Hamilton Bakery—which includes all of the necessary space and equipment to increase Bramble's output. The move is made possible by nearly 250 contributors who donated more than $16,000 to a GoFundMe that was set up just over a week ago. 
Diablo Doughnuts: Owners Michael and Emily Roslan went live on Instagram earlier this week to announce that they have moved out of their Federal Hill shop in the wake of issues with the building's landlord and upstairs tenant. Thankfully, they have found a new South Baltimore home in the Brooklyn building that also serves as a homebase for The Smoking Swine and Dizzy Cow Pizzeria. Planning a quick transition, the owners are hoping to launch online ordering on Feb. 8 and have pickups available at Blue Moon Too on Light Street beginning Feb. 12. Since first opening in Fells Point in 2015, the shop has been a local go-to for its innovative flavors including classics like the "Blueberry Basil" and Fruity Pebbles-crusted "Unicorn Farts" doughnuts. In their announcement, the owners thanked the community for its continued support and shared plans to organize more pop-ups, and roll out food truck service, in the months to come. 
NEWS
Lexington Market Launches Final Round of Vendor Applications: In advance of unveiling the redeveloped Lexington Market in early 2022, the team at Seawall Development is hard at work curating a fresh vendor lineup. The goal is for the iconic market's 50 stalls to be a mix of old and new, with both familiar faces and little-known businesses that showcase the breadth of the city's food scene. The second and final round of vendor applications officially launched last week, and Transform Lexington's selection committee—which is committed to representing Black-owned, women-owned, and city resident-owned businesses—is looking for 20-30 more merchants to round out the offerings. Specifically, they are searching for concepts that specialize in vegetarian and vegan dishes, fresh produce, creole and soul food, snacks and candies, baked goods, butchered meats, Jewish and Italian deli fare, Asian cuisine, barbecue and pit beef, tacos, and Latin American cuisine. Know a vendor that fits the bill? Applications can be submitted online through March 19.
The Wine Collective Releases Vermú Rosé: The vintners at The Wine Collective in Hampden added a new offering into the mix this week with the release of their Vermú Rosé—making them one of the few dozen winemakers in the country to manufacture craft vermouth. At 16.5 percent ABV, the aperitif wine infuses natural botanicals including juniper berries, clove, chamomile, Spanish oranges, and star anise. "Vermú is an old drink for a new generation," general director and managing partner Enrique Pallares said in a statement. "Decades ago, vermouth may have been that bizzare bottle that sits in the liquor cabinet deteriorating for years, but today it captures a way of life, enlivens our taste buds, and provokes our imaginations." Sample for yourself by ordering a bottle online. 
EPICUREAN EVENTS
TO 2/7: Order Wings in Federal Hill to Support Baltimore and Buffalo Charities
After Lamar Jackson was injured in the playoff game against the Buffalo Bills a few weeks back—and the class-act Bills Mafia subsequently started a fundraiser for Jackson's favorite charity, Blessings in a Backpack—a generous South Baltimore neighbor was inspired to launch their own community initiative to support both Buffalo and Baltimore. Through Super Bowl Sunday, the neighbor will donate $1 for every order of wings sold at Sobo Cafe, Don't Know Tavern, Delia Foley's, and AJ's on Hanover to both Blessings in a Backpack and The Children's Hospital of Buffalo Foundation. No Super Bowl spread is complete without wings, so be sure to stop by one of the participating spots this weekend to enjoy them while contributing to a great cause. 
ONGOING: Hotel Revival Hosts Virtual Black History Month Conversations
In honor of Black History Month, Mt. Vernon's Hotel Revival has curated a series of virtual conversations with local Black business owners to discuss their trajectories, successes, challenges, and what lies ahead. The hotel's Director of Culture and Impact Jason Bass kicked things off earlier this week by hosting the first installment with Aaron Joseph of Charm City's own Cane Collective and Matt Aubrey of Tennessee's Uncle Nearest whiskey distillery—which was started in 1856 by a former slave who became the state's premier master distiller. Tune in to Hotel Revival's Facebook page throughout the month to catch more talks with guests including Keyia Yalcin of Fishnet, William Walker of A Tribe Called Run, Kim Ellis of Breaking Bread, Bianca Willis of LTL, and Donae Burston of La Fête Rosé.