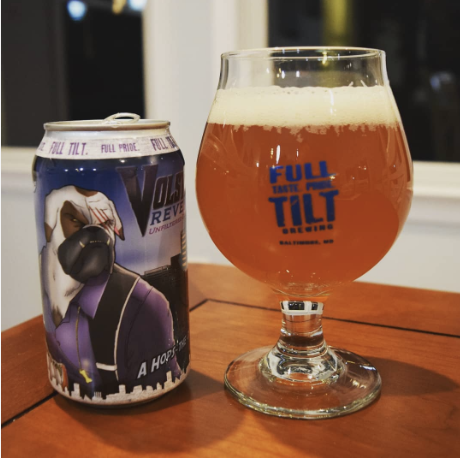 @fulltiltbrewing via Instagram
BREWERY BULLETIN
Full Tilt Brewing: After nearly six years of contract brewing out of Peabody Heights, Full Tilt owners (and cousins) Nick Fertig and Dan Baumiller are moving out on their own. Back in 2016, the duo announced that they would be opening a brewpub in an old police station in Towson. Those plans eventually fell through, but now, the owners have managed to secure a space just a few miles away. This fall, Full Tilt will debut a standalone brewery and taproom as part of the B-More Kitchen project in Govans. The new space will give the team the opportunity to experiment with new releases, while also allowing them to bring back some of the brewery's most popular seasonals including the Patterson Pumpkin ale and Berger Cookie chocolate stout. Equipped with garage roll-up doors, an outdoor patio, and a clear view of the 15-barrel brewing system, the taproom will include both bar and table seating for nearly 110 guests. It will also boast arcade games, shuffleboard, corn hole, and a designated space for live entertainment. 5609 Hess Ave.
Growler USA: Featuring everything from a MOM's Organic Market to a hybrid restaurant-and-movie theatre, The Rotunda in Hampden is full of foodie attractions. And just when we thought the mixed-use development had it all—The Local Fry, MOD Pizza, and Cinnaholic are all on their way this spring—the shopping center is welcoming its own craft beer bar. Growler USA is expected to debut in the 2800-square-foot space sandwiched between MOD Pizza and CinéBistro in the coming months. The chain's first Maryland location will highlight 100 American-made craft beers on tap (with many local options, of course), as well as a food menu featuring burgers, sandwiches, and wings. 711 W. 40th St.
Peabody Heights Creating Second Trash Wheel Beer: In other beer news, Peabody Heights and Waterfront Partnership are teaming up yet again to release a new beer in honor of the Inner Harbor's second trash collector, Professor Trash Wheel. The two organizations partnered to debut the Lost Python Ale in celebration of Mr. Trash Wheel last year, and now, they're launching a new beer called "Professor Trash Wheel Blinded Me Wit Science"—a Belgian witbier brewed with citrus and Cascade hops. The brew's name was inspired by musician (and Hopkins professor) Thomas Dolby's 1982 hit "She Blinded Me With Science." "As a lover of science and Baltimore's Inner Harbor, it's a privilege to lend the name of my song to this cause," Dolby said in a statement. The brew will officially launch to the public at a special Earth Day event at Peabody Heights on Saturday, April 21 from 7-10:30 p.m. A portion of its taproom and liquor store sales will be donated to Waterfront Partnership's Healthy Harbor campaign.
COMING SOON
Tooth N Nail Cafe: We expect this new Mt. Vernon cafe to evoke some serious Central Perk vibes. Owner Adam Wilder says that the spot will serve as a tribute to the old coffee houses of the '90s. "It will function not just as a place to fuel up, but also as a focal point for the community of artists, students, residents, and visitors to the Mt. Vernon area," Wilder recently posted to Facebook. "We're going to feature local talent while providing a cozy atmosphere to study, lose yourself in a book, or chat with friends." In keeping with the local theme, the 30-seat cafe will serve Zeke's coffee, as well as a selection of juices and pastries when it cuts the ribbon next month. 7 W. Preston St.
IHOP: Come fall, locals and tourists alike will be able to fill up on fluffy flapjacks and generously portioned breakfast samplers in the Inner Harbor. A new International House of Pancakes (IHOP) restaurant is preparing to make its debut at 600 East Pratt St., the 5,000-square-foot space that previously housed Panera Bread for nearly a decade. Though IHOP operates a handful of locations in surrounding counties, this will mark the chain's first Baltimore City eatery. 600 E. Pratt St.
EPICUREAN EVENTS
3/26: Brewer's Dinner Series Kickoff at Rye Street Tavern

Rye Street Tavern in Port Covington is launching a beer-fueled dinner series next week. The inaugural installment will be held in one of the restaurant's private loft spaces, and feature four courses paired with Monument City beers including the popular 51 Rye and Woodstove Imperial Stout. The special menu will highlight dishes like sweet tea-brined porchetta, country ham with spring peas, and diver sea scallop crudo with green chili and pomegranate. 13 Rye St., 443-662-8000, 7 p.m. $65
3/27: Counter Culture Tuesdays at Gunther & Co.
Chef Jerry Trice recently launched this weekly tasting experience at his spot Gunther & Co. in Brewers Hill. Every Tuesday, 16 guests will be seated at the restaurant's counter facing the open kitchen—giving them the opportunity to interact with the chef while their five-course meals are being prepared. "Counter Culture will stay true to our values yet allow me to have a little more fun with our guests," said Trice, in a statement. "We want guests to come in, ride the ride—no seat belts—and have a truly awesome night." 3650 Toone St., $75, 5-9:30 p.m., 443-869-6874
TO 3/28: Bottoms Up Bagels Pop-Up in Highlandtown
This beloved bagel pop-up is currently stationed in Highlandtown. Stop by the storefront on Eastern Avenue next to Matthew's Pizza on Sundays and Wednesdays through March 28 to load up on hand-rolled bagels schmeared with signature spreads and topped with house-cured lox. 3133 Eastern Ave.
SHUT
Aggio: Chef Bryan Voltaggio's modern Italian concept in Power Plant Live has closed its doors for good. Voltaggio, a former Top Chef alum, opened the spot four years ago, and it has since become a destination for colorful pastas and forward-thinking takes on classic Boot Country dishes. Aggio was the last remaining Baltimore concept for the Frederick-born chef (he closed his comfort food spot Family Meal on Pier 5 in 2016), who operates other eateries in Frederick, Washington, D.C., and Ashburn, Virginia. 614 Water St.