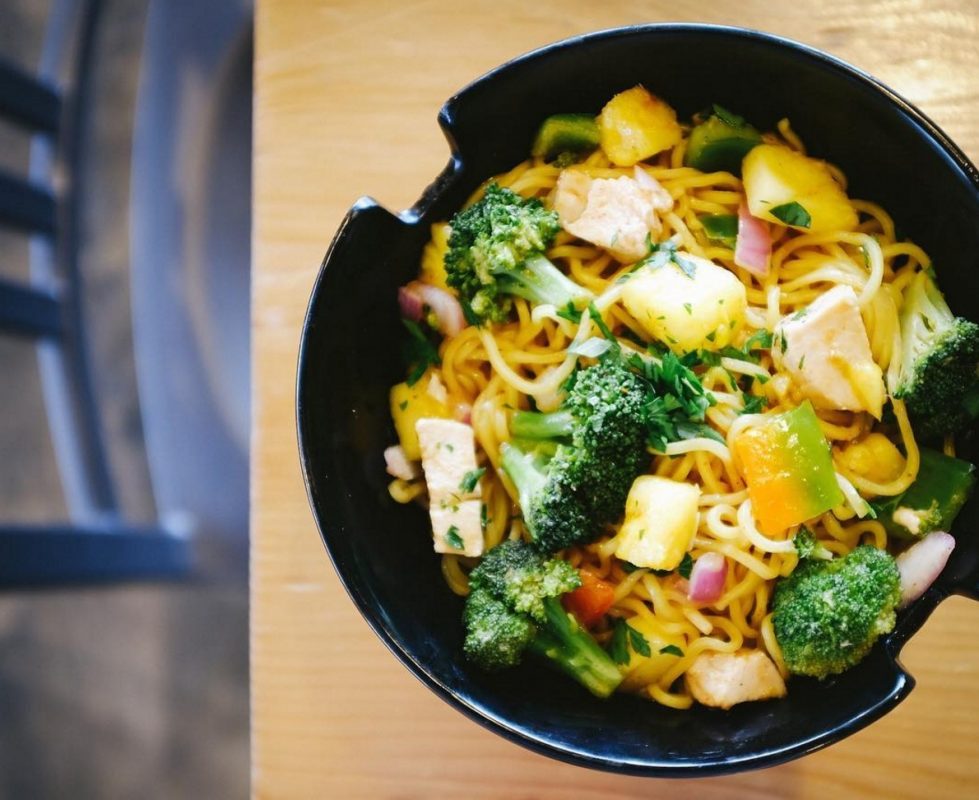 Courtesy of @honegrow via Instagram
OPEN
La Food Marketa: In a swift, four-month turnaround, chef Chad Gauss managed to transform a vacated Italian restaurant in Pikesville's Quarry Lake at Greenspring into this highly anticipated South American spot. Gauss, owner and executive chef of The Food Market in Hampden, showcases his "Spanglish" takes on the classics with dishes including Peruvian chicken fajitas, barbecue empanadas, a "Gringo" pizza topped with ground beef, and veal meatloaf with mesquite rice and roasted salsa verde. The spinoff—which features custom banquettes, intricate light fixtures, and colorful artwork that serves as a nod to South American culture—premiered last week. 2620 Quarry Lake Drive, Pikesville, 410-415-0606
COMING SOON
Honeygrow: This Philadelphia-based DIY salad and stir-fry chain is making major moves to Charm City in the coming months. Not only will the restaurant debut a location in Charles Village this fall, but it has also snagged a portion of the retail space inside the Exelon Building at the new Harbor Point development, which will open later in 2016. (Other retail tenants setting up shop inside the Exelon building include West Elm, which opened this week, and Ceremony Coffee Roasters, which will debut in January.) Honeygrow, known for its customizable offerings that diners order via touch-screen, specializes in health-conscious dishes like red coconut curry noodles, roasted wheat berry salads, and fresh fruit bowls topped with honey and housemade whipped cream. If you can't wait for Honeygrow to cut the ribbon at the new locations, the brand is hosting a free pop-up at Union Craft Brewing this weekend. Multiple locations including 3212 St. Paul Street
The Greenmount Coffee Lab: The worker-owned cooperative behind Red Emma's Bookstore is launching this new café inside Open Works—a new 34,000-square-foot incubator for local makers and artists. Slated to open in November, Greenmount Coffee Lab will offer a menu listing locally sourced salads and snacks, as well as coffee drinks roasted onsite. The new facility will also provide the collective with the means to further expand its wholesale coffee business, Thread Coffee. In addition to the new cafe, Open Works will offer a textile studio, wood shop, and 150 micro-studios upon opening in Station North later this month. 1400 Greenmount Ave.
Steak N' Shake: Known for its namesake "steakburgers" and hand-dipped milkshakes, this all-American eatery joined the pack of pre-security dining destinations at BWI last week. Located near the checkpoint on Concourse C, the new Steak N' Shake will be open 24 hours and offer classics such as buttermilk pancakes, foot-long hot dogs, and a variety of burgers. 7050 Friendship Road, Linthicum, 410-595-5355
White Envelope: This new startup from Venezuelan chef Federico Tischler will bring a bit of Latin American flair to Remington's food incubator R. House when it premieres later this year. Tischler most recently worked under Caracas-born restaurateur Irena Stein at Canton's Alma Cocina Latina, and plans to use White Envelope to showcase his unique twist on authentic arepas. The chef's list of forward-thinking fillings includes caramel braised beef, roasted pork leg, tomato-orange shrimp and squid, and citrus white-chocolate mayonnaise.The 50,000-sqaure-foot food hall will also house nine other micro-restaurants including breakfast spot Ground & Griddled, fried chicken-focused BRD, and Korean barbecue purveyor BeBim. 301 W. 29th St.
Wicked Sisters: Charlie Gjerde's latest concept, named after his wife, Lori, and her sister, Carrie Podles (both co-owners) is on track to open in the former McCabe's space on Falls Road by mid-October. Though the building was severely damaged in a fire a few years back, Gjerde recently told us that it has been completely revamped, now boasting a brand new interior and a game room with shuffleboard and flat-screen TVs. Under the helm of executive chef Jason Horwitz, the menu will highlight an array of soups and salads alongside heartier lunch and dinner entrees. Wicked Sisters is one of a few new spots, including Five and Dime Ale House and Dylan's Oyster Cellar, preparing to join the Hampden dining scene this season. Stay tuned for updates. 3845 Falls Road, 410-467-1000
CH-CHANGES
Johnny's: On the heels of announcing that Pazo will soon transition into a brand new Argentinian concept named Bar Vasquez, Foreman Wolf Restaurant Group recently recruited a new executive chef to whip up the West Coast-inspired fare at Johnny's in Roland Park. Ryan Shaffner, a Culinary Institute of America grad who started his career as a line cook at Charleston and most recently served as the sous chef at Pazo, started in the new role earlier this month. 4800 Roland Ave., 410-773-0777
McGarvey's Saloon & Oyster Bar: After more than four decades, this popular hangout for Annapolis Naval Academy members recently changed hands. Though founder Mike Ashford, who has decided to retire, sold the bar last week, regulars will be happy to hear that the new owners plan to make no drastic changes. 8 Market Space, Annapolis, 410-263-5700