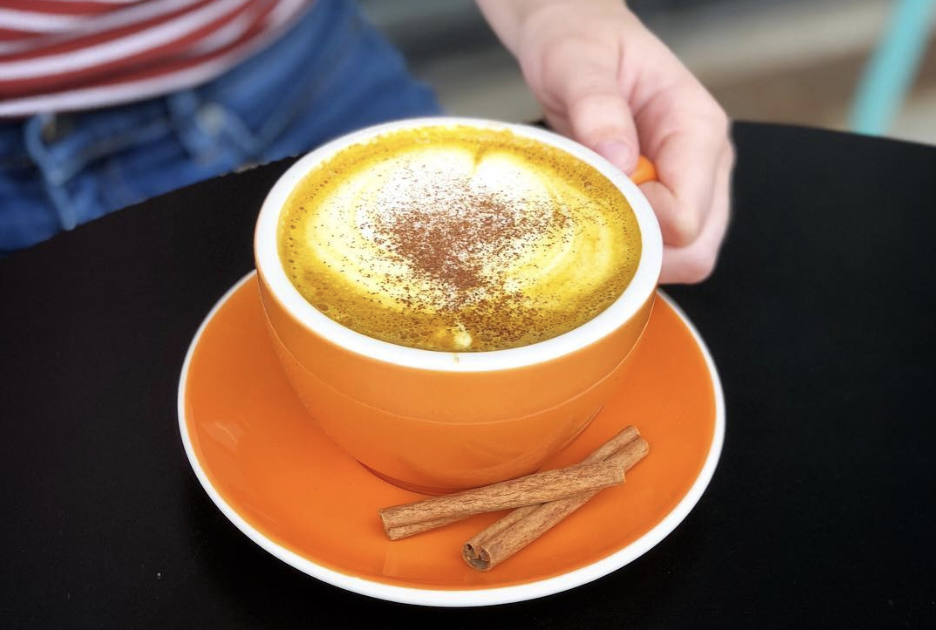 @orderchaoscoffee via Instagram
OPEN
L'Eau de Vie: Plant-based diners will be happy to hear that this vegan brasserie is now officially open for business in Fells Point. Set in the first floor space that previously housed Agora Bar & Grill at the Inn at The Black Olive, the restaurant boasts pops of teal, strung lights, and a marble-top bar where guests can order colorful cocktails like apple sangria or the "Island Russian" with rum and coconut cream. L'Eau de Vie—which translates to "water of life" in French—offers meatless dishes including frites with garlic aioli, grilled tofu over quinoa, a seitan sausage reuben, and cashew cheese gougeres. 803 S. Caroline St. 443-759-8758
NEWS
The Dizz: It's the end of an era for this iconic corner bar in Remington, which has gone through multiple iterations since 1934. (Regulars fondly remember it operating as Dizzy Issie's through the early 2000s.) Now, current owners Darlene and Thomas Basta are retiring and putting the bar on the market. According to an online listing, the 98-seat building, including its fixtures, equipment, and seven-day liquor license, are for sale for $875,000. The two-floor bar is best known for its classic diner fare, handwritten menus, and vintage decor. 300 W. 30th St. 443-869-5864
BEER BULLETIN
Wet City: During Artscape in 2016, brothers PJ and Josh Sullivan introduced the community to Wet City—their Mt. Vernon craft beer bar that has since become known for its signature Scandinavian-inspired wall murals, next-level pub fare, and taps full of experimental brews. Though the owners always wanted to brew their own beer, it took a few years for that dream to come to fruition. Now, the microbrewery is finally functioning and Wet City is releasing its debut beer, Hello, to the public. The flaked hazy IPA, which has a 6.3-percent ABV and features Kveik yeast from Norway, is brewed with a blend of Mosaic, El Dorado, Denali, and Citra hops that give it a tropical flavor. Hello is being brewed exclusively at Wet City and will be available for tap and growler fills at the bar starting Thursday, September 27. 223 W. Chase St. 443-873-6699
Monument City Brewing: Beer lovers should be on the lookout for a new release from Monument City in Highlandtown this weekend. The purple-hued Chrysalis was brewed in collaboration with veteran organic food producer Hex Ferments. Inspired by Hex's butterfly-lime kombucha, the 3.5-percent gose is brewed with lime and butterfly pea flower, which gives the beer its purple color and tart, refreshing flavor. Cans will be released at Monument City's taproom this Saturday, September 29 from 12-5 p.m. 1 N. Haven St. 443-529-8131
EPICUREAN EVENTS
9/28: 32nd Annual Maritime Magic
More than 80 restaurants will gather at the Frederick Douglass-Isaac Maritime Park in Fells Point for The Living Classrooms' annual fundraiser to benefit its education and job-training programs for city youth. Sample eats and drinks from Copper Kitchen, Ouzo Bay, The Brewer's Art, Sobo Cafe, Vida Taco Bar, Rye Street Tavern, Duck Duck Goose, Old Line Spirits, Key Brewing, Belle Isle Spirits, and more while jamming to 10-piece funk band Aztec Sun and reggae legends The Wailers. 1417 Thames St. 7-11 p.m. $120-130
9/29: Parktoberfest
Now in its third year, this street fest on the 500 block of Park Avenue in Mt. Vernon will feature eats from the stalls inside the Mount Vernon Marketplace (including Cultured, The Local Oyster, Cholitas Tacos, and Mi & Yu Noodle Bar), as well as live music and a lengthy list of local craft vendors. Grab a group to enjoy live music by singer-songwriter Shelby Blondell, gypsy-jazz band Ultrafaux, and rockers Yo No Say while perusing the handmade wares of nearly 30 local crafters. 520 Park Ave. 11 a.m.-10 p.m. Free.
9/29: National Coffee Day at Order & Chaos
Get your weekend caffeine fix at this South Baltimore spot, which is offering a selection of specials in honor of National Coffee Day. Take advantage of a free drip coffee with any purchase all day long, as well as complimentary food tastings and samples of the new fall menu—which includes a turmeric pumpkin latte and an espresso enhanced with caramel corn syrup and marshmallow fluff. Additionally, the party will launch the shop's Creative Cup contest, which asks guests to decorate a blank to-go cup with their own design. The winner will have their artwork featured on the cups for a limited time and receive free drip coffee for a year. 1410 Key Highway. 10-12 p.m.
SHUT (FOR NOW)
Button: The restaurant accompanying Scott Plank's luxe Swim Club in Canton has officially closed for the season. A post to Button's social media pages indicates that the spot will be undergoing renovations for the remainder of 2018, and reopen sometime next year. In its short run this past summer, the dockside destination served up grain bowls, wood-fired pizzas, burgers, and seafood entrees crafted by executive chef Allysa Storms, who recently moved on to oversee the kitchen at yet-to-open AJ's on Hanover in Federal Hill. 2723 Lighthouse Point. 410-387-4377