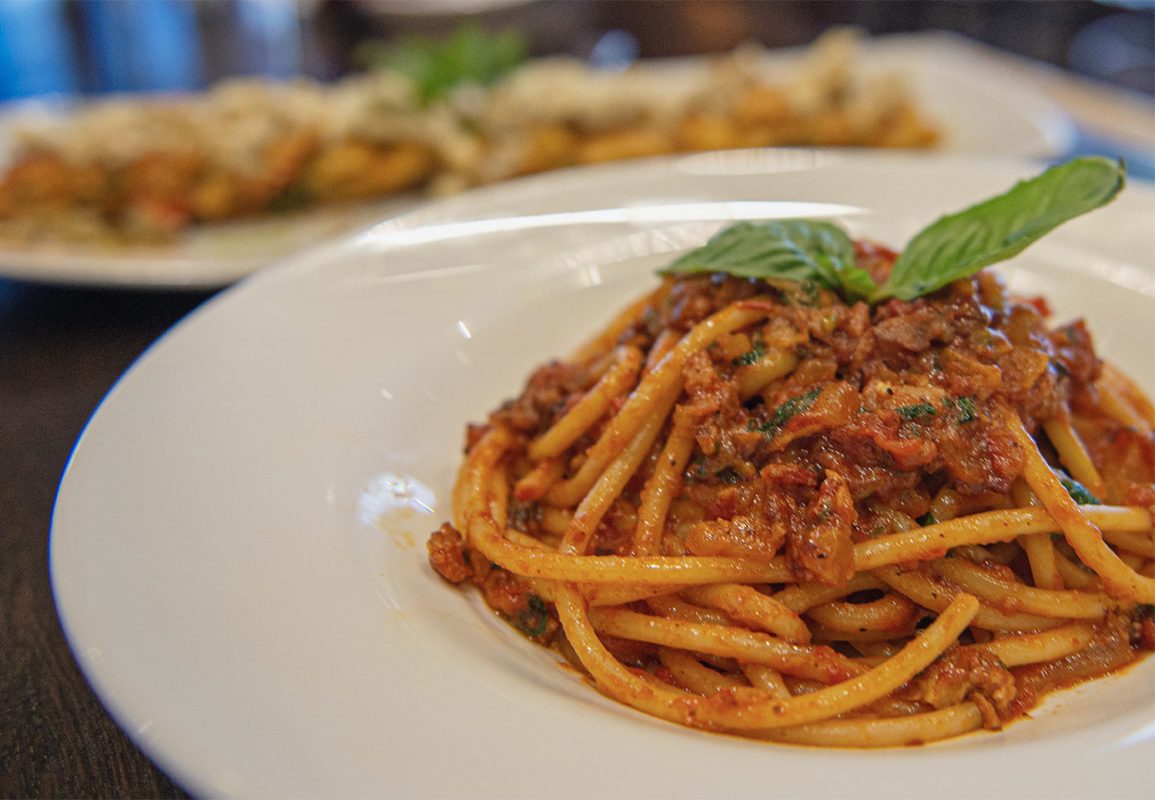 Courtesy of Limoncello
COMING SOON
Limoncello: Prepare to get a taste of the Amalfi Coast by way of Locust Point when this long-awaited Italian spot officially opens on October 26. Joining Amber and Jazz + Soju on the bottom floor of the Anthem House apartment complex, Limoncello—which operates a flagship in St. Michaels—will offer its menu of Italian seafood dishes and prime cuts of meat paired with extensive cocktail and wine lists. Chef/owners Gennaro DiBenedetto and Francesco Schiano di Cola will also whip up signature pastas such as the Linguine al Nero di Seppia (squid ink pasta, red wine-braised octopus, and arugula), Paccheri Medusa (lump crab meat, sea urchin, cherry tomatoes, and spicy bread crumbs), and the Bucatini alla Amatriciana—which tops hollow noodles with tomato ragù, guanciale, onions, and pecorino romano cheese. The 120-seat spot features a large bar, banquette seating, and a seasonal outdoor patio perfect for sipping the restaurant's namesake limoncello.
The Rathskeller: The Howard County dining scene continues its expansion with the addition of this German-inspired basement bar opening on Main Street in Elkridge on October 19. Set in a former quilt shop that dates back to the 18th-century, The Rathskeller will live up to its name by providing a lively community gathering place for locals to enjoy eats and drinks from consulting chef Brian Cieslak (the chef de cuisine at Preserve in Annapolis) and bartender Rob Vogel, formerly of The Elk Room in Harbor East. Their menu puts its own spin on German classics with options spiced chicken schnitzel, sausages with sauerkraut and curry ketchup, rainbow trout with dressed greens, and a ham steak with warm bacon onion dressing. Vogel will pour local drafts from the likes of Diamondback and Burley Oak Brewing, and also offer signature cocktails like the "Golden Pear," which mixes tequila with Goldschläger, pear nectar, honey, and lemon.
Renovated by owner John O'Connor—a structural engineer whose wife will run a coffee shop called Screamin' Agnes on the first floor—the 44-seat space will feature repurposed materials from the historic building. Touches include a barrel-vaulted ceiling, stained glass windows, and banquettes made by a local carpenter. Adding to the historic charm, there will be a 30-seat outdoor patio overlooking a small building that is rumored to have been used by a local judge as the town's "drunk tank" jail on weekends.
The Curious Oyster: The team behind Federal Hill hotspots Wayward Smokehouse, Banditos Bar + Kitchen, and 101 Baltimore is getting ready to reveal its latest concept on The Avenue in White Marsh later this month. (Private soft-opening events are planned for this weekend, and a grand opening celebration is expected to be announced soon after.) As its name signifies, the destination will focus on regionally farmed oysters alongside seafood dishes like colossal crab cakes and shrimp toast "sandos." Meat lovers will be happy to hear that the owners are also opening a second Wayward Smokehouse location just next door to the new shucking spot.
Cava: Speaking of White Marsh, the area will soon welcome a new location of this Greek-inspired fast-casual eatery—which is slated to open in the Nottingham Commons shopping center later this year. The DIY spot allows diners to customize their salads and grain bowls with add-ons such as falafel, harissa honey chicken, grilled meatballs, pickled onions, cabbage slaw, and the brand's spicy Crazy Feta spread.
OPEN
Chatime: For city dwellers, authentic bubble tea can be hard to come by. (QQ Boba recently closed on the Avenue in Hampden, and Bambao isn't slated to open in Harbor East until later this month.) But this global tea franchise has a proven track record with more than 1,000 shops operating everywhere from Taiwan to Australia. The second Chatime location in Maryland has officially opened its doors in the space between Lucky Fortune and Knockout Fitness on Light Street in Federal Hill. Of course, the shop's focus is boba—the trendy Taiwanese milk tea enhanced with flavored jellies and chewy tapioca balls—but it also offers fruit smoothies, fresh-brewed coffees, and lattes topped with a savory mousse. Current specials include a pumpkin-spice tea and a pink strawberry yogurt smoothie honoring Breast Cancer Awareness Month.
SHUT (FOR THE SEASON)
Raw & Refined: After its inaugural summer season at the Lighthouse Point Marina in Canton (read a full review in our October issue on newsstands now), this seafood-centric spot will be open for private events only until the warm weather resumes in April 2020. "We are thrilled with the success R&R enjoyed this summer and want to be really intentional about how we not only maintain our momentum, but build upon it," said owner and operator Dominic Lascola, in a press release. "We're diving into planning and preparing for our next outdoor season while remaining the coolest little event space in the city until we ramp back up in the spring." For now, the R&R culinary team will be headquartered at sister property El Bufalo Tequila Bar & Kitchen on Canton Square, where they will be customizing menus for private parties at R&R throughout the fall and winter.