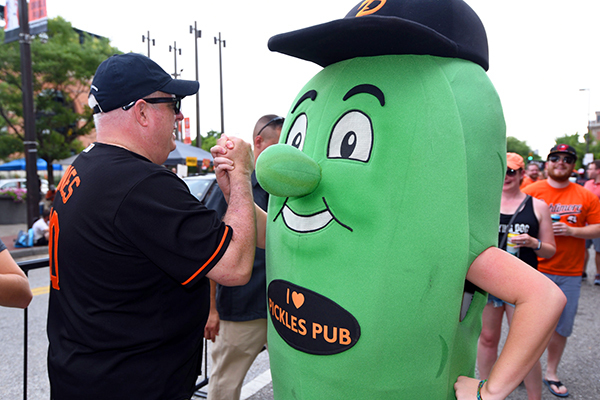 Flickr / Creative Commons
OPEN
Pickles Pub: One of Baltimore's best baseball bars is expanding and it's kind of a "big dill." Making even more home-baked goods, The Big Green Doughnut Machine is popping up next to Pickles Pub with pastries perfect for the Camden Yards crowd. The townhouse next door, currently used as the pub's storage, will house the holey treats. There will be a separate entrance and one connecting it to the main pub, making the deliciousness all more easily accessible. Additionally, the bar also announced that it will be opening a second location in Dundalk later this summer, the first of many new franchised locations to come.
Manor Hill Tavern: Nearly a month after the flooding of Old Ellicott City, Manor Hill Tavern reopened this past weekend. Located just off of Main Street, the restaurant sustained minimal damage and has been offering support to devastated neighbors, like bringing them cold water and free lunches. Now the mid-19th century building is bringing back grilled-up classics.
NEWS
Alonso's Changing Owners: For 85 years, Alonso's has been serving up specialty burgers unlike any fast casual competitors. With dressings from peanut butter to pesto, their 20 plus options make for unique perfection. And now owner Steve Summers is ready to retire after purchasing the place in 2009. Binod Uprety, the owner of neighboring Namaste Baltimore Indian Cuisine, will be taking the reins running the historic restaurant, and isn't planning any significant changes.
Tagliata Named Top Restaurant: There's nothing to whine about whenever taste-testing at Tagliata. Bringing Baltimore's largest wine list, it's no surprise the Italian staple was selected by Wine Enthusiast magazine as a top restaurant for wine in the U.S. Its upscale ambiance is always top notch for charm city, with live music and private dining.
Seacret's Named Top Beach Bar: Thinking of drinks like "Jamaican Iced Tea," "Bahama Mama," or "Island Time," brings us right back to spring break. But at this Ocean City waterfront beach bar spring break is all summer long. Daily Meal rated the Jamaican-inspired joint as one of the top 25 beach bars in the country, with bars, stages, and a nightclub all in one.
EVENTS
LatinoFest
6/22 and 6/23: The 38th annual arts and culture event is back this Friday and Saturday, celebrating Latino heritage in support of EBLO, a nonprofit benefitting educational opportunities for hispanic students. Peruse through Patterson Park for music, dancing, games and food. Cuisine will be offering tastes from the Caribbean to the Americas.
UTZ Cheese Ball Cookoff/Fundraiser
6/24: Omelettes can get experimental with meats, veggies, and cheeses. But have you ever thought to make yours with cheeseballs? Baltimore Taphouse is challenging Baltimoreans to get creative with their own cheese ball-infused dishes, which will be judged by local chefs and food talents. Proceeds from the fundraiser will be donated in support of the Oskar Blues Can'd Aid Foundation Bike Build Program.
Month-Long Island Room
TO 7/29: If it's going to be a hot and humid Baltimore July, we might as well drink like we're in the islands. Beginning on Friday, June 29, Pen & Quill will be offering tropical food, drinks, and music for an entire month. The Baltimore Whiskey Company and Lyon Distilling are partnering to provide popular cocktails to cool down in the summer heat. The tropical pop-up is designed to be a local "getaway," with leisurely events like month-long limbo.
SHUT
Alewife Baltimore: It was the final closing time for Alewife after Saturday's last call. The beloved bar announced its ending unexpectedly in a Facebook post over the weekend, thanking Baltimore for "being home for eight years." Their home was known for happening happy hours during the week and an exclusive mug club, which customers could join after tasting 150 different beers chosen by the restaurant. For many, these mugs will become a special keepsake after cheersing good-bye to Alewife.