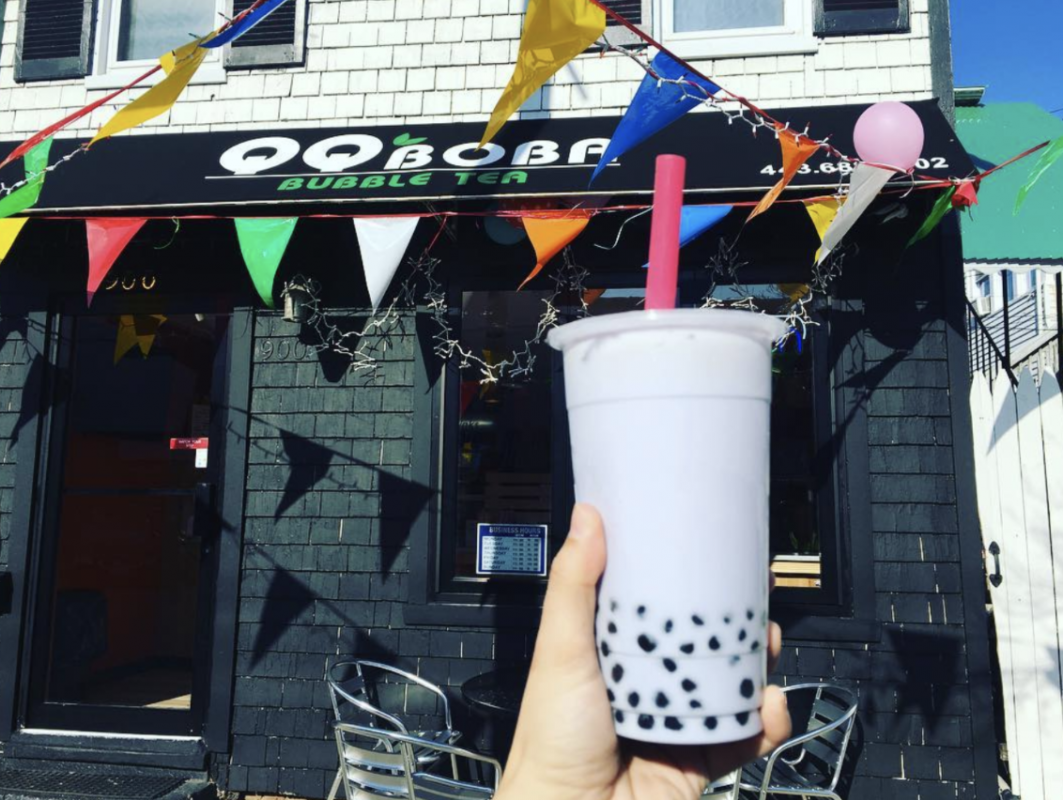 @bmoreexplorative via Instagram
OPEN
QQ Boba: Don't be surprised if you happen to see an influx of bubble tea photos flooding your Instagram feeds. Earlier this week, QQ Boba joined the scene on The Avenue in Hampden, offering smoothies, juices, and a wide array of boba—the trendy Taiwanese milk teas often enhanced with flavored jellies and chewy tapioca balls. Taking over the former home of Polenta Cafe, the spot specializes in bubble tea favorites like passionfruit green tea and the lavender-hued taro milk tea. The shop is open from 11 a.m.-9 p.m. on weekdays and Sundays, and 11 a.m.-10 p.m. on Fridays and Saturdays. 900 W. 36th St., 443-682-3502
Gordon Ramsay Steak: Famously fiery celebrity chef Gordon Ramsay came to town earlier this week to unveil Gordon Ramsay Steak, his new restaurant inside Horseshoe Casino Baltimore. Ramsay's first East Coast dining destination features various cuts of meat and seafood dishes, as well as fare like beef wellington and sticky toffee pudding that serves as a nod to the chef's British roots. The interior also furthers the U.K. vibe, with plush furniture and a huge Union Jack flag on the ceiling above the dining room. (Read more about Ramsay's restaurant and his thoughts on Baltimore.) 1525 Russell St., 443-931-4386
NEWS
Colossal Blue: If you're on the hunt for ultra-local gifts to send to foodie friends this season, this new startup might be your best bet. Recently launched by lifelong Marylanders George and Catherine Nichols, Colossal Blue ships traditional crab cakes, crab balls, and crab soups nationwide. All of the cakes are hand-made using the family's decades-old recipe, then packaged with black ice in a polystyrene box to maintain an ideal temperature for next-day shipping.
POP-UP PLANS:
TO 12/3: Big Bean Theory at R. House
Big Bean Theory, the celebrated soup stall at the Mount Vernon Marketplace, is setting up shop at a new communal food hall this week. Throughout the weekend, swing by R. House to sample chef Eula McDowell's specialties including hot soups, fish sandwiches, macaroni and cheese, and black bean burgers. 301 W. 29th St., 443-347-3570
12/3: Haenyo at Village Square Cafe
The dudes behind this Korean-fusion pop-up are certainly keeping busy. On the heels of takeovers at spots like R. House in Remington and Cafe Andamiro in Mt. Vernon, Collin Morstein and Irvin Seo are heading to Cross Keys this weekend. The pop-up at Village Square Cafe will have a fall harvest theme, featuring dishes like japchae (sweet potato noodles and vegetables), songpyeon (sweet rice cake), doenjang-jiggae (bean curd soup), and Korean-style meatballs made with beef from Liberty Delight Farms in Reisterstown. 66 Village Square, 5-10 p.m., $8-18, 410-433-2233
EPICUREAN EVENTS
11/30: Pig Roast + Tiki Party at Alma Cocina Latina
If you're already missing the summer heat, Canton's Alma Cocina Latina has got you covered. At this all-out tiki bash, sip on refreshing punches from Denizen Rum, feast on a 17-hour smoked Rortega Farms pig, and tap your feet to live music by flamenco guitarist Michael Perez. All while snacking on traditional Venezuelan favorites like arepas, cachapas (corn cakes), pickled onions, and cilantro mojo. 2400 Boston St., 6:30 p.m., $40, 667-212-4273
12/6: Second Annual Truffle Feast at Gnocco
This Highlandtown dining destination is hosting a special dinner to celebrate the peak of truffle season. Chef Brian Lavin's six-course menu featuring wine pairings from Northern Italy (think cortese and prosecco brut) will include dishes such as savory pumpkin sformato (similar to a soufflé) with caramelized onions and crispy leeks, fontina tortellini with brown butter and hazelnuts, and seared sea scallops with a sea urchin crema. 3734 Fleet St., $179, 7 p.m., 443-449-6540
SHUT
Tooloulou: Locals lost a go-to for pizza and po'boys earlier this week, after Cajun eatery Touloulou shuttered its doors in Belvedere Square. Owners Shawn and Megan Lagergren took to Facebook to announce the news, stating that the decision was a difficult one: "Blood, sweat, tears, and so much sacrifice have gone into our business," the post reads. "Sometimes, it's not enough. We are deeply, deeply hurting with this loss and the closing of Tooloulou. Thank you for coming in and making memories with us." There's no word yet on what will become of the spot, which was best known for its shrimp and grits, fried oysters, kale salads, and classic beignets. 529 E. Belvedere Ave.