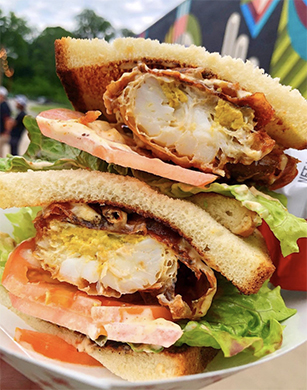 Courtesy of @onairfran via Instagram
COMING SOON
Rituals: Since it was announced that the Windup Space was closing last month, the arts community has been taking its time to mourn the loss of the inclusive haven in Station North. But the tears were wiped away this week with the news that veteran bartender Émile Joseph Weeks has stepped in to take over the venue. Though its name will change to Rituals, the bar will remain a DIY performance space designed to bring the community together.
In a recent interview with Baltimore Fishbowl, Weeks—whose resume includes stints behind the bar at Pen & Quill, Parts & Labor, and Ida B's Table—mentioned interior upgrades and a refreshed cocktail program featuring classic Manhattans, Old Fashioneds, martinis, and boilermakers. Other than that, the ethos of the space will carry on the legacy that former proprietor Russell De Ocampo established throughout the past decade. "I am honored and humbled to be able to continue creating more memories and serving the local DIY and arts community," Weeks posted to Facebook. He is planning to give locals a sneak peek of Rituals during Pride weekend and Artscape, and expects to be open full time in September. 12 W. North Ave.
Burgerim: Rounding out the roster of retail tenants at Anthem House in Locust Point will be this gourmet burger chain. Setting up shop in the vacant space on the corner of Lawrence Street and Fort Avenue, the eatery will specialize in worldly options like Spanish beef, Hawaiian salmon, Greek lamb, and Mediterranean falafel burgers. The menu also lists milkshakes, onion rings, crispy chicken strips, and signature scalloped fries. When it debuts in early 2020, Burgerim will join Amber, Jazz + Soju, and yet-to open tenants Pure Raw Juice and Limoncello in the mixed-use development. 900 E. Fort Ave.
OPEN
Panda BBQ: In only about a month since opening on the corner of Preston and Morton streets in Mt. Vernon, this Chinese barbecue restaurant has already gained a reputation for its specialty skewers, sizzling hot pots, and massive orders of spicy Ma La crawfish—one of China's most popular summer dishes. The restaurant also features traditional dumplings, scallion pancakes, and fried rice—but the skewers (in varieties ranging from beef and lamb to goat kidney and king mushrooms) seem to be the stars of the show. If you can't make it to Mt. Vernon, the spot also offers delivery via GrubHub. 7 W. Preston St. 310-894-3736
Hanover & Hughes Collective: A new coffee shop joined the scene in South Baltimore this week. Located behind the Vision coworking complex in Federal Hill, Hanover & Hughes doubles as a private events venue and shares its space with an attached barber shop. Step inside the garage-style doors to check out the modern design featuring a thriving green wall, stark pops of white, stained wood, and lounge seating. The drink menu uses Ceremony Coffee for its espresso, Americano, lattes, cold brews, and pour-overs. 12 W. Montgomery St. 301-442-7800
The Verandah: The staggered openings continue to roll out at Broadway Market in Fells Point, and the latest addition is this stall highlighting Indian street food. The satellite location of the Hampden-based restaurant is now officially open, serving up classics like tikka masala, chicken curry tacos, and portobello mushroom wraps. Opening just in time for summer, The Verandah also offers refreshing sips like mango lassi and ginger-mint lemonade. 1640 Aliceanna St.
EPICUREAN EVENTS
TO 6/16: Big Softy at R. House
The rotating pop-up stall at R. House has been hosting some popular purveyors lately. On the heels of a weeklong residency from college chef Jesse Wu of Jade last month, the space has now transformed into a temporary home for Big Softy—the soft-shell sandwich shop from Craig Falk of The Lunchbox Lady. Falk says this time he's "pushing the envelope" with new soft-shell varieties (think Buffalo and Nashville hot flavors), po-boys, shrimp salad sandwiches, and uni and crab toast on brioche with radish flowers. Fans of The Lunchbox Lady can also be on the lookout for the catering company's signature citrus chicken salad. 301 W. 29th St.
6/8: Crawltimore Donut Bike Crawl
There's no better way to celebrate National Doughnut Day (even if it's technically one day late) than with this annual bike crawl. The eight-mile glide through the city starts off bright and early at Roosevelt Park, and stops at multiple different shops along the way. Riders will sample sweets at places like Full Circle Artisan Palace in Hampden, Diablo Doughnuts in Federal Hill, and Terra Cafe in Charles Village—which sells Blondie's Doughnuts. A portion of proceeds from the $25 registration fee will be donated to research at Johns Hopkins' Wilmer Eye Institute. Roosevelt Park, 1221 W. 36th St. 8:30 a.m. $25