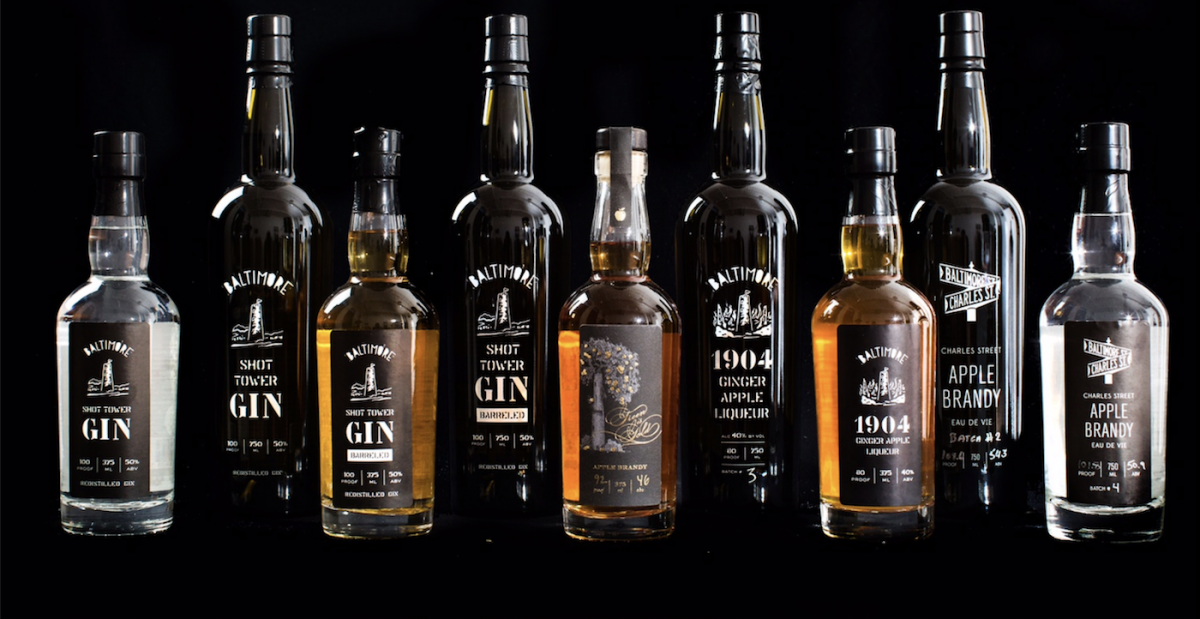 Photography by Justin Tsucalas
OPEN
Roggenart: Mt. Washington locals are raving about this new cafe on Falls Road, which prides itself on fresh-baked baguettes, rolls, pastries, and pretzels. The shop opened late last month, rolling out a menu that spotlights sandwiches (think everything from ham and cheese to smoked salmon tartines), charcuterie platters, and classic pastries including a traditional pain au chocolat. Roggenart—a German term meaning "the art of rye"—also serves cold-pressed juices, smoothies, and an array of coffees and teas. 5722 Falls Road, 443-835-4443
COMING SOON
Baltimore Whiskey Company at Union Collective: In a witty video announcement released on social media earlier this week, Remington's Baltimore Whiskey Company (BWC) publicized its plans to move into Union Craft Brewing's new Medfield makerspace Union Collective in 2018. The distillery—which has become known for its lauded Shot Tower gin and Charles Street apple brandy—will transition into a 10,000-square-foot space with a second still, expanded fermentation equipment, and a larger tasting area. The expansion comes at an exciting time for BWC, as it prepares to unveil a new barrel-aged rye whiskey that will be the first on the market distilled in Baltimore in more than 50 years. 1700 W. 41st St.
The Bygone: A few months back, Atlas Restaurant Group announced that it would be opening a rooftop concept at the Four Seasons Baltimore. New details have recently surfaced about the bar, which will be named The Bygone and is slated to open this winter. Aside from 360-degree views of the city skyline, the 10,000-square-foot restaurant will highlight 325 seats, three outdoor terraces, a dining room, and a full bar and lounge with a mezzanine-level whiskey library and suspended catwalk leading to a DJ booth.
As its name signifies, the spot will project a Gatsby-era vibe with plenty of plush banquettes and custom woodwork. "Our goal has always been to operate first-class restaurant concepts in Baltimore and to be the driving force behind the culinary revolution going on in our city," said Atlas owner Alex Smith, in a statement provided to Baltimore. "The Bygone will be a showcase to the entire country that Baltimore is ready to become a top culinary destination." 200 International Circle.  
Sunset Raw Juice Bar: Acai bowls continue to be all the rage, and this new Foundry Row spot will soon bring the trendy treat to Owings Mills. The brainchild of former Ravens wide receiver—and Owings Mills native—Gerrard Sheppard, Sunset Raw Juice Bar debuts to the public on July 1, featuring cold-pressed juices, protein shakes and snacks, wellness shots, and acai bowls topped with bananas, berries, nuts, and granola. 10160 Reisterstown Road, 410-929-2013
Plantbar: Speaking of juice bars, this Belvedere Square staple was an early pioneer of the trend locally. Come fall, Plantbar will unveil a second location inside the Exelon Building at Harbor Point—peddling its pressed-to-order juices alongside an array of wellness elixirs, smoothie bowls, and paleo, vegan, and gluten-free snacks. "We've had a crush on Harbor Point for a while," said Plantbar founder Daniela Troia, in a statement. "We really feel the community speaks our language." 1308 Point St.
Rye Street Tavern: This new restaurant on the Sagamore Spirit Distillery campus in Port Covington will join the scene in September. The tavern will mark the second local concept from New York-based all-star chef Andrew Carmellini, who debuted the Rec Pier Chop House inside the Sagamore Pendry Hotel in March. Unlike the Italian-inspired chop house, Rye Street Tavern will focus on American fare with southern and Mid-Atlantic influences. 301 E. Cromwell St.
NEWS
Boathouse Canton: In an emotional message posted to Facebook earlier this week, the management team behind this beloved Canton waterfront establishment announced that more than 30 of its employees had quit unexpectedly after they were informed that the Immigration Division of Homeland Security instituted a review of the restaurant's immigration records. "Based on our government's current practices of targeting the Hispanic Community, properly documented, and those potentially less than properly documented, are all fearful of being separated from their families, many with small children," said co-owner Gene Singleton, in the statement. "Many went home to pack up and leave. This was a sad, emotional, tragic event. It has been confirmed that the Boathouse's policies and records are in compliance."
In the days since, Boathouse has established a fund to raise money for the displaced families during their transition. The restaurant will be offering a limited menu (think favorites like crab cakes, wings, chopped salads, and seafood mac and cheese) until further notice as it continues to rebuild its staff. 2809 Boston St., 410-773-9795
EPICUREAN EVENTS
La Tavola Fundraiser for The Baltimore Station: This Little Italy stalwart is celebrating the Fourth of July a few days early with a patriotic fundraiser to benefit local veterans on Thursday, June 29. A portion of all proceeds from lunch, dinner, and extended happy hour service from 5-9 p.m. (featuring $5 beer, wine, sangria, and small plates) will be donated to The Baltimore Station—a residential treatment program in Federal Hill that supports veterans who are struggling with poverty, addiction, and homelessness. La Tavola, 248 Albemarle St., 410-685-1859
Haenyo: Chase Street Chillin: Local industry veterans Collin Morstein and Irvin Seo debuted this new Korean street food pop-up a few weeks ago at Holy Crepe Cafe in Canton. Next month, Haenyo is back at it with another one-night-only dinner on July 10 from 4-9 p.m., this time at Mt. Vernon's Cafe Andamiro. Inspired by the cafe's owner Keumran Yun, the locally sourced menu for Haenyo's second event will feature two traditional Korean chilled soups, as well as gimbap (Korean sushi rolls) and bossam—pork lettuce wraps with fermented condiments. 241 W. Chase St.
Makan Makan Malaysian: R. House's designated pop-up stall has been taking diners' palates on a trip around the world lately, featuring local purveyors that specialize in everything from Korean to Jamaican cuisine. This week, the communal food hall welcomed a Malaysian-inspired concept from the team behind Ejji Ramen in Belvedere Square. Running until July 2, the pop-up will serve spins on classic Malay favorites including chicken satay, flatbread with curried lentils, and traditional gado-gado—a delicacy that tops mixed vegetables with a savory peanut sauce. 301 W. 29th St.
CH-CH CHANGES
The Corner Pantry: To coincide with the start of summer, British born chef Neill Howell is switching things up at his dining destination in Mt. Washington. This week, The Corner Pantry debuted a menu of lighter fare including a flatbread topped with roasted ham, lobster fritters with saffron and garlic aioli, and a tuna ceviche with lime, jalapeño, cilantro, avocado, and pickled watermelon rind. The spot's breakfast and lunch offerings have also been updated with dishes like a muesli with overnight oats, and a caramel-drizzled French toast made with gluten-free brioche. 6080 Falls Road, 667-308-2331
CineBistro: Matinee movie lovers can now enjoy lunch offerings at this hybrid cinema and restaurant at The Rotunda in Hampden. CineBistro's new mid-day menu will be offered from 11:30 a.m. to 2 p.m. on weekdays, featuring items such as steak sandwiches, classic Caesar salads, and Old Bay-seasoned wings. 727 W. 40th St., 667-219-2430
Fork & Wrench: Co-owners Andy Gruver and Jason Sanchez recently appointed Corey Laub as executive chef of this fan-favorite New American spot in Canton. Laub—a Columbia native who most recently managed the kitchen at Chicago gastropub Novo—has already enhanced the Fork & Wrench menu with new creations including cucumber-tequila gazpacho, seared scallops with cashew pureé, and corn risotto with scallion, roasted tomato, and queso fresco. With Laub under the helm, Fork & Wrench plans to rotate its menu on a monthly basis. 2322 Boston St., 443-759-9360
SHUT
Cilantro Owings Mills: Falafel fans took to social media earlier this week to lament the loss of this Middle Eastern mecca in Owings Mills, which closed its doors on June 26. Fortunately, Cilantro's brand new Light Street location downtown is officially open and going strong. "With the unexpected, immense support at our downtown Baltimore branch, we have realized that city and foot-traffic locations are most suitable for our brand," reads a message that management posted to Cilantro's Facebook page earlier this week. Aside from focusing on the city location, the owners hope to expand with an additional D.C. shop in the coming months. 30 Light St., 410-244-7020