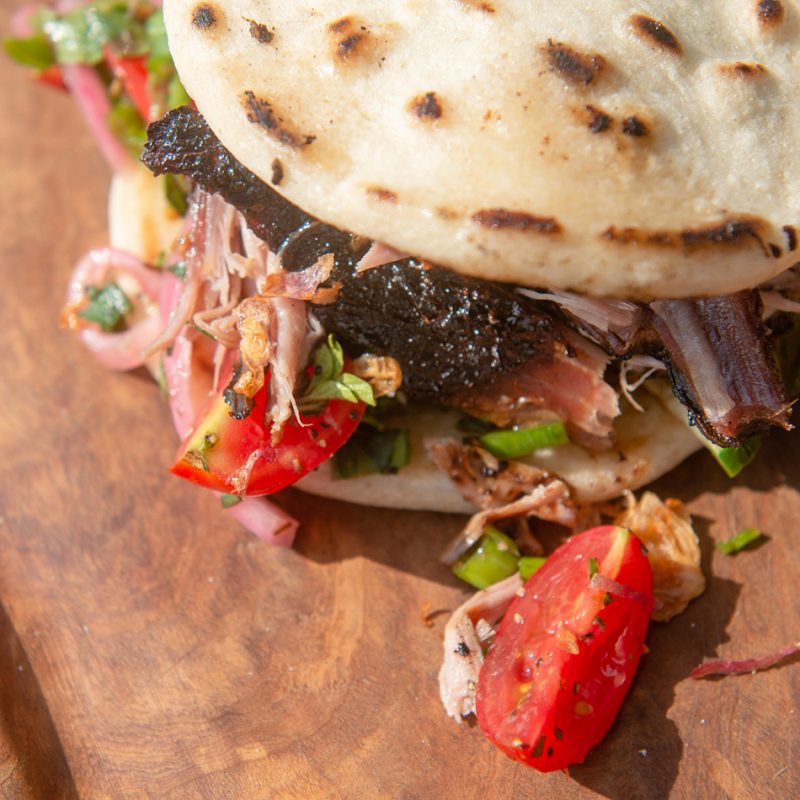 South Point
OPEN
South Point: Take full advantage of the end of the summer at this new outdoor hangout that officially debuted in Port Covington last week. The recreation space offers waterfront wellness classes, group games like jumbo Jenga and Connect Four, old-school arcade games in a mobile shipping containter, and, of course, a lineup of drinks and eats crafted by former Bluegrass Tavern chef Patrick Morrow. Focusing on South American barbecue cuisine, the menu lists dishes such as fire-roasted jerk chicken wings, smoked mozzarella on crispy bread, hot smoked salmon in a salsa-verde vinaigrette, and roasted mushrooms and cauliflower with cashews. The weekend pop-up will be open on Thursdays, Fridays, and Saturdays, from 5-11 p.m. through October. 101 W. Cromwell St.
Dahlak: Longtime Upper Fells Point locals most likely remember Arcos, the well-known Mexican restaurant that shuttered its doors at 129 S. Broadway back in 2014. Now, the space has shed its tacos and tequila in favor of Eritrean fare—a close cousin of Ethiopian cuisine. New owners Solomon and Yonathan Weldekirstos opened Dahlak earlier this summer, serving up authentic Eritrean dishes such as awaze tibs (tender lamb with tomato, jalapeno, and garlic sauce) and doro wot, a traditional chicken stew in a red pepper sauce served with boiled eggs. The spot also offers vegetarian platters, pasta dishes, sandwiches, a full bar, and weekly community events ranging from movie nights to live music performances. 129 S. Broadway. 301-512-6217
COMING SOON
Stupid Delicious Desserts: Come September, travelers will be able to grab a treat from this Parkville-based sweets shop while passing BWI Airport. Owner Tanya Davis expects to unveil a new Stupid Delicious kiosk near the food court on Concourse A on September 17. Davis—who can often be spotted pedaling her dessert cart at various farmers' markets around town—will sell the bakeshop's signature toffee, non-dairy chocolate chip, and vegan and gluten-free oatmeal cookies at the new spot. While she is looking forward to adding another local option to the dining destinations at the airport, Davis is also excited to introduce the brand to out-of-towners. "We can ship the cookies anywhere," she says. "So we're loving the idea of expanding our awareness beyond the Baltimore region." 7812 Harford Rd, Parkville. 410-215-6564
Pie Time: Farmers' market fiends have been visiting local baker Max Reim for years—whether he's peddling his handcrafted pies on Saturdays in Waverly or Sundays under the JFX. In the coming months, diners will be able to indulge in Reim's sweet and savory treats any day of the week, as he is planning to open a brick-and-mortar shop on East Baltimore Street in Patterson Park. Reim recently told the Baltimore Business Journal that the menu at the 20-seat cafe will be similar to the pop-up with a few additional sides and salads thrown into the mix. Construction on the shop won't begin until the fall, but, until then, there will be plenty of peach-blueberry, old-fashioned apple, and savory slow-roasted tomato pies at local farmers' markets to hold you over. 3101 E. Baltimore St.
CookHouse: It's been nearly a year since B. Bistro shuttered its doors in Bolton Hill. And now, husband-and-wife team George and Jessica Dailey—who also own On The Hill Cafe in the neighborhood—are planning to breathe new life into the space. Liquor board documents indicate that the new restaurant, which is expected to open by winter, will offer all-day service with dishes such as Belgian waffles, sandwiches, soups, salads, and heartier dinner entrees. Stay tuned for more details. 1501 Bolton St.
NEWS
Charles Village Pub: Get ready, Charles Village. This neighborhood watering hole is on the road to recovery after a tragic grease fire shut it down in May. A sign posted to the front door (which prompted this heartwarming note from regulars) indicates that it won't be long before locals are invited back in for affordable drafts and daily deals on pub grub. "We'd like to thank Charles Village for holding tight while we're in the final stages of the rebuild," reads a recent post to Facebook. "We'll see you in a few weeks." The spot is expected to reopen by the end of the month. 3107 St. Paul St. 410-243-1611
EPICUREAN EVENTS
8/17-26: Vegan Restaurant Week
On the heels of this summer's Baltimore Restaurant Week festivities comes this dairy-free dining promotion that is being embraced by more than 20 eateries throughout the city. Returning for the third time, Vegan Restaurant Week encourages local restaurants to offer meatless menus in order to increase awareness about the accessibility of a plant-based diet. Spots everywhere from Riverside to Hampden will be offering special menus throughout the week, which will close out with the 5th annual Vegan Soulfest at Clifton park on August 25. Multiple locations.
8/19: BarkHappy Baltimore Paws on the Patio
Walk your pooch over to McHenry Row in Locust Point for this afternoon happy hour with drafts provided by World of Beer. Sample local and international brews while mingling with other owners and getting to know some of the dog-friendly services around town. The benefit for the Baltimore Humane Society will feature tons of free swag including chew toys, puppy bandanas and sunglasses, a $50 gift card from Dogtopia in Canton, and free dog massages from Luckie Dog Wellness. 1724 Whetstone Way. 2-4 p.m. $12.
8/24: The Local Oyster Stout Documentary Low Budget Screening Party
In one of the most epic collaborations that Charm City has ever seen, Waverly Brewing Company, The Local Oyster, and True Chesapeake Oyster Co. teamed up to create the Local Oyster Stout—a roasty, dark stout dosed with the shells and meat of real Maryland oysters. The project was such a game-changer, in fact, that filmmakers Jena Richardson and Mark Burchick decided to make a documentary about industrial process of producing the beer. Next Friday, head to Waverly's taproom to catch a screening of the film (which just so happens to feature a cameo by Baltimore digital editor Jess Mayhugh) while slurping 'sters and sipping the namesake farm-to-glass beer. Check out the trailer for the film here. Waverly Brewing Company, 1625 Union Ave. 7-10 p.m. Free. 443-438-5765