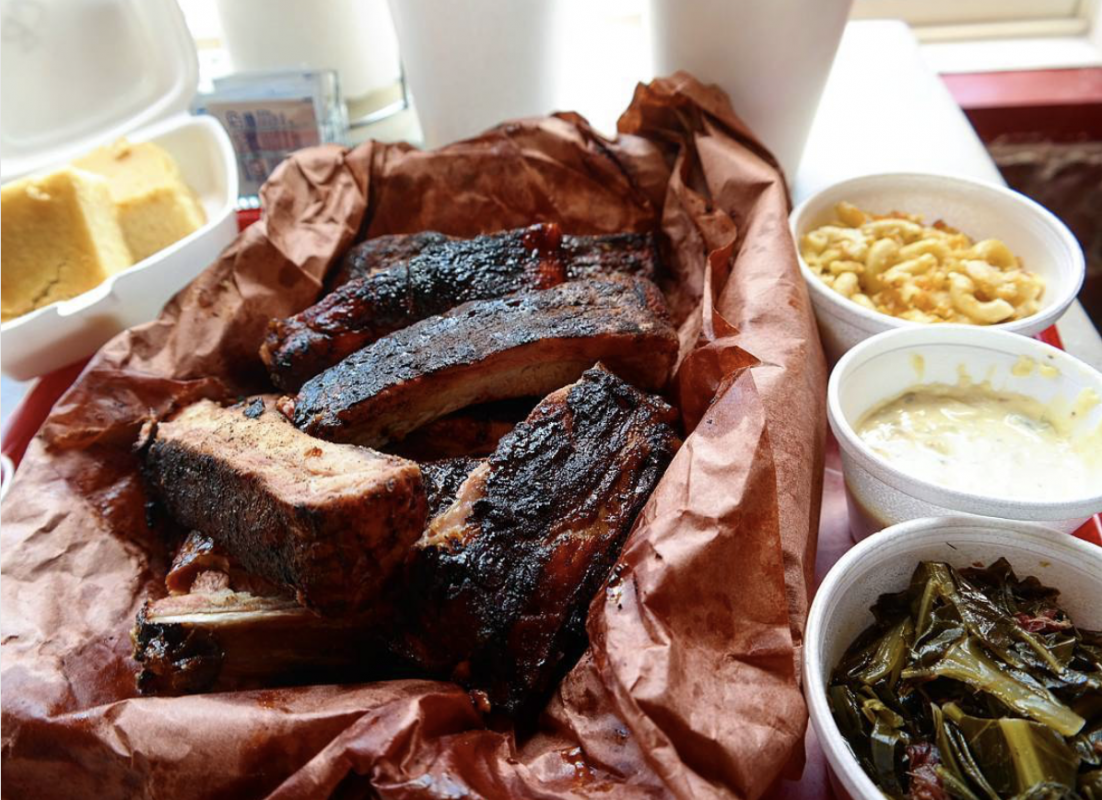 Courtesy of @thebaltimorefoodie via Instagram
OPEN
The BBQ: Father-and-son team Maurice and Marcus Bradford cut the ribbon at this new barbecue joint on Greenmount Avenue last week. The mouthwatering menu lists classics like pulled pork sandwiches, ribs, smoked turkey, macaroni and cheese, and baked beans, as well as unique items like a brisket-wrapped hot dog. The new business is the first to open in the Harwood community since the founding of the Greenmount LINCS initiative supported by Strong City Baltimore, which works to strengthen connections between neighborhoods and is revitalizing the Greenmount Corridor from 29th Street South to Johnston Square. The eatery offers both dine-in and carryout service daily. 2602 Greenmount Ave.
Sandlot: This outdoor oasis at Harbor Point has finally debuted to the public with plenty of luxe lounge furniture, palm trees, and outdoor games to go around. Visit the highly anticipated new concept from the team behind Woodberry Kitchen to dig in to snacks on a stick (think kabobs and corndogs), sip summer-themed cocktails, and release your inner child with hula-hooping and sidewalk chalk. 1000 Wills St.
COMING SOON
The Avenue Kitchen & Bar: Two local restaurateurs have plans to breathe new life into the former Le Garage space on the Avenue in Hampden, which closed its doors in April with little explanation. Former owner Christopher Spann confirmed earlier this week that the spot has since been sold to Patrick Dahlgren, who owns The Rowhouse Grille in Federal Hill. He and Bill Irvin, a former partner in La Folie Steak Frites and Wine Bar in Canton, will soon transform the restaurant into destination for American staples (think crab cakes and New York strip) paired with local beer and wine. The 100-seat spot will also debut a refurbished bar with garage-style doors when it opens in mid-July. 911 W. 36th St.
Flying Dog Tap House: Travelers passing through BWI will soon be able to enjoy this ultra-local beer-and-beef concept while waiting for flights to depart. Frederick's Flying Dog Brewery has teamed up with Monkton-based Roseda Farm beef to launch the new restaurant on Concourse A, which will debut next month. The menu will feature dishes that fuse both brands, including a beef hotdog with Doggie Style Pale Ale beer cheese and sliders with garlic aioli made with Snake Dog IPA. 7050 Friendship Road.
NEWS
Annabel Lee Tavern: Foodies breathed a huge sigh of relief earlier this week when Annabel Lee Tavern owner Kurt X. Bragunier announced that his Edgar Allan Poe-themed spot would be staying open after all. Ongoing financial struggles prompted Bragunier to announce the closure of the spot last month, and, luckily, two regulars stepped in to save the bar soon after. A grand reopening date is slated for next month. Duck-fat fries, here we come. 601 S. Clinton St., 410-522-2929
EPICUREAN EVENTS
6/20: Wine'd Up 
Now in its ninth year, this annual event hosted by Wine Market Bistro in Locust Point returns with a tasting of more than 25 worldly wines paired with an array of hors d'oeuvres. Gather a group of friends to clink glasses while sampling light bites including chickpea-quinoa sliders with curried yogurt, braised short rib crostini, and pickled shrimp with avocado puree. Plus, the restaurant is offering attendees a 20 percent discount on all bottles of wines showcased throughout the evening. 921 E. Fort Ave., $39, 410-244-6166
6/21: Summer Solstice Chef's Table at Dovecote Cafe
On the official first night of summer, gather at this Reservoir Hill staple for a special outdoor meal curated by the eatery's chefs. Sip specialty welcome cocktails while mingling with neighbors before sitting down for a family-style meal featuring dishes off of Dovecote's new summer menu. Plus, the chefs will be on hand to spark conversations about the restaurant's partnerships with local farms and commitment to social justice. 2501 Madison Ave., 6 p.m., 443-961-8677
6/21: Summer Solstice Luau
Another summer solstice celebration will take place at the communal Mount Vernon Marketplace, where all of the vendors are coming together to throw a full-blown luau complete with tiki drinks and tropical tea mocktails from Cultured and Juniper Culinary Apothecary. There will also be a pig roast from Between2Buns, live ukulele music by Bob Friedman (with open mic slots), and, of course, an ugly Hawaiian t-shirt contest. 520 Park Ave., 442-796-7393
6/21-28: Mulberry Madness Month
Throughout the month, The Baltimore Orchard Project is celebrating the return of this annual initiative—which raises awareness about the area's underutilized mulberry trees with various harvest workshops and events. Next week, six local restaurants are supporting the cause by incorporating mulberries into their menus. Swing by Harmony Bakery and Dovecote Cafe for mulberry pastries, grab mulberry waffles at Cafe Jovial in Pigtown, and head to Atwater's for mulberry jam. At the Waverly Farmers' Market on June 24, Blacksauce Kitchen will be serving mulberry jam biscuits and Michele's Granola will peddle a special mulberry granola.
6/24: Beer Stein Competition at The Brass Tap
Make your way to this recently debuted beer bar at The Fitzgerald in Midtown to throw your hat into the ring for this fun contest. The spot's first annual Hofbrau Masskrugstemmen (Bavarian for beer stein hoisting) competition will take place on Saturday, June 24 at 3 p.m. Beer lovers are invited to test their strength for a chance to win a number of prizes, including an all-expenses-paid trip for two to New York City for the hoisting finals in Central Park later this summer. 1205 W. Mt. Royal Ave., 888-901-2337