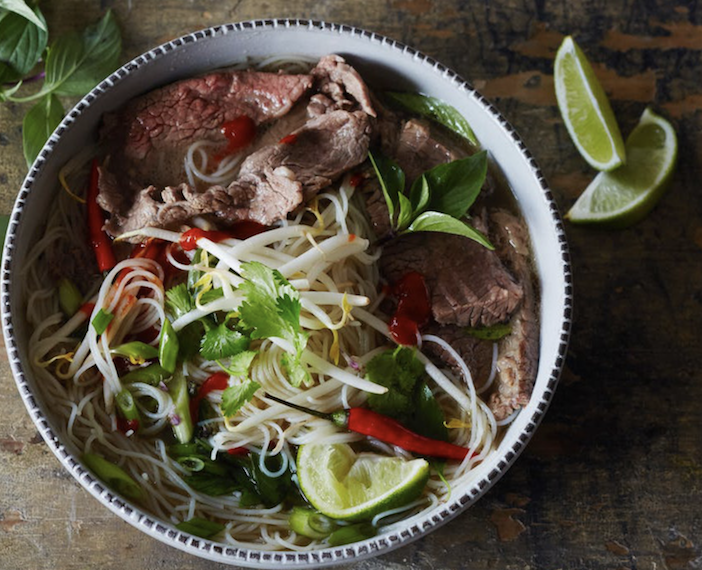 Courtesy of The Red Boat Viet Fusion Restaurant
OPEN
The Red Boat Viet Fusion Restaurant: This Vietnamese-fusion spot is in the midst of a major expansion. The Eutaw Street eatery has plans to open two new locations in College Park and Boca Raton, Florida next year, and it recently debuted a second Charm City cafe in Mt. Vernon. The North Charles Street spot officially opened its doors last week, serving The Red Boat's signature spring rolls, tacos, and banh mi sandwiches. The Mt. Vernon iteration will also feature a full bar, and kimchi fries with DIY toppings like bulgogi beef, lemongrass chicken, fried eggs, and toasted seaweed. 334 N. Charles St., 443-885-9162
Jazz + Soju: Adding to the city's Asian-fusion options is this new Korean restaurant inside the Anthem House apartment complex in Locust Point. Now in soft opening mode, the spot will offer dinner service for the next two weeks and begin to serve lunch when it officially cuts the ribbon later this month. As its name implies, the artsy hangout combines live jazz music with a selection of soju—a Korean iteration of vodka. The food menu showcases traditional twice-fried chicken, as well as bulgogi burger sliders, kimchi fries, and garlic fried rice. 900 E. Fort Ave., 410-244-8600
NEWS
Charles Village Pub: This beloved Charles Village dive—best known for its affordable drinks and relaxed atmosphere—suffered a grease fire earlier this week. Luckily, no one was hurt. But the bar will be closed indefinitely as management oversees cleanup efforts and necessary repairs. In the meantime, neighbors have started a crowdfunding campaign to aid CVP employees while they are out of work. The GoFundMe has seen an overwhelming outpouring of support, raising $3,985 of its $5,000 goal in only two days. Stay tuned for updates. 3107 St. Paul St.
COMING SOON
Ceremony Coffee Opening at Cross Street Market: Ceremony Coffee Roasters has become a local go-to for craft coffees and Instagram-worthy eats since it opened in Mt. Vernon two years ago. The Annapolis-based shop later expanded with a second Baltimore location at Harbor Point, and now, it's planning to unveil a stall at Cross Street Market in Federal Hill—which is currently in the midst of a major overhaul. The market's renovations are being done in phases, and Ceremony will be located in the portion closest to Light Street that is expected to be finished first. Be on the lookout for seasonal java drinks, granola bowls, and breakfast sandwiches when the stall debuts this fall. 1065 S. Charles St.
The Hoof Cafe: Speaking of coffee shops in South Baltimore, this new spot is preparing to open its doors in Locust Point this spring. A partnership between neighborhood locals Rebecca Friedman and Jason Schiavone, the community hub will offer local Pfefferkorn's Coffee, bagels, pastries, oatmeal, and other cafe fare. Friedman recently told SouthBMore.com that she is targeting an opening later this month. 1648 E. Fort Ave. 443-961-1039.
EPICUREAN EVENTS
5/5: Brunchin' for a Benefit at La Food Marketa
Chef Chad Gauss is putting a charitable twist on his Cinco de Mayo celebrations at La Food Marketa in Pikesville this weekend. A portion of all brunch proceeds on Saturday, May 5 will be donated to Alzheimer's Association of Greater Maryland's upcoming Walk to End Alzheimer's. Featured brunch plates include Mexican chocolate pancakes, steak omelettes, and Gauss' take on a classic croque madame with ham, cheese, flour tortillas, and white enchilada sauce. 2620 Quarry Lake Drive, 410-415-0606
5/3-6: Phub's Pop-Up at R. House
R. House is kicking off Asian Pacific American Heritage Month with a pop-up from Phub's—a Hanover-based Vietnamese restaurant that specializes in bowls of pho and banh mi subs. Throughout the weekend, the shop will be serving up dishes like fried spring rolls, barbecue pork sandwiches, vegan pho bowls, and organic salads topped with citrus sesame chicken. 301 W. 29th St., 11:30 a.m.- 9 p.m.
SHUT
Corner Charcuterie Bar: Owner Bernard Dehaene has officially closed this small plates staple on the Avenue in Hampden. He took to Facebook to announce the closure earlier this week. "Due to my deteriorating health, I have decided that today will be my last day opening Corner," he posted Monday. "I need the time to prepare for knee, hip, and back surgery, as well as mind, body, and health." Dehaene—who opened the business in 2011 and expanded it to include the property next door two years later—goes on to thank his customers, describing the experience as "one hell of a rollercoaster ride not to be forgotten." 850 W. 36th St.
Modern Cook Shop: In Fells Point, this all-day eatery will also be shutting its doors this week. "Over the past few months, we've worked hard to roll out pop-up dinner concepts and new seasonal menu offerings each week, and we've seen some traction in patronage," owners Andy Gruver and Jason Sanchez wrote in an announcement on Facebook. "Unfortunately, the clock has run out though. The costs of operating such an ambitious concept from morning to midnight, along with declining visitation to Baltimore and Fells Point has left costs far outweighing revenues." The restaurant's final night of service will be Saturday, May 5. No word yet on what will become of the space, which is equipped Gruver's handmade designs of light woods, industrial shelves, and furniture. 901 S. Wolfe St.