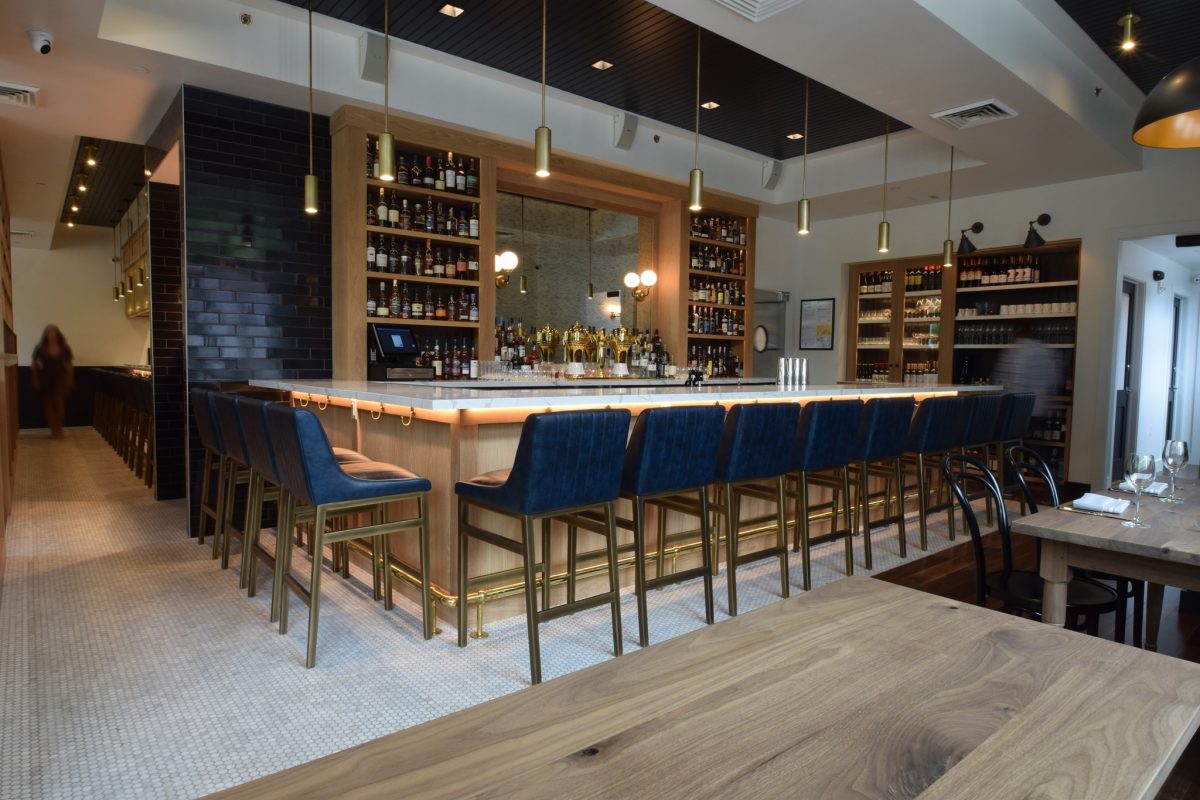 The Tilted Row
OPEN
The Tilted Row: The Bolton Hill dining scene continues to soar with new culinary concepts like Noona's, which opened last winter, and CookHouse, a spinoff of On the Hill cafe slated to debut this fall. Adding to that momentum is The Tilted Row, which is now officially open on the bottom floor of the Jordan apartment complex on McMechen Street. Decorated with warm woods and pops of navy and gold, the bistro is the brainchild of Ziad Maalouf—who owns Cafe Fili in Mt. Vernon. Chef Andrew Thomas, previously of Donna's and The Elephant, serves up dishes like lamb ribs with smoked tzatziki, duck fried rice with kimchi and wild mushrooms, and a sorghum-brined pork chop with roasted asparagus. There are also fine-tuned iterations of Charm City classics like crab deviled eggs with Old Bay mousse and cast iron crab cakes served alongside a colorful succotash. At the bar, Woodberry Kitchen alum Hannah Baker features creative cocktails, 10 beers on tap, and a collection of more than 120 single malts and bourbons.
Honey's Cafe: This new Pigtown hangout is continuing the lively spirit that Cafe Jovial left behind. Honey's replaced the longtime neighborhood favorite on Washington Boulevard earlier this month, serving breakfast and lunch fare in the cozy cafe that offers plenty of natural light. Owner Bri Ash features dishes including red velvet waffles, French toast topped with fried apples, shrimp and grits, and steak and eggs. To pair with the food, a lengthy list of specialty coffee drinks includes dirty chai lattes and black-and-white "Tuxedo" mochas.
NEWS
Mouth Party Caramel at The Spotlight Shop: Locals strolling around the Inner Harbor might have noticed M&T Bank's new Spotlight Shop—a 24-by-20-foot custom boutique that is stationed at 300 East Pratt St. Through September, six small businesses will set up shop inside the retail space to peddle their locally-made products. The rotation started out with The Dollhouse Boutique earlier this month, and through June 25, Mouth Party Caramel will be showing off its custom confections in the space. Other merchants on deck to take over the pop-up this summer include Zeke's Coffee, Cake by Jason, Becket Hitch, and The Charmery.
Ravage Deli Brings Back Breakfast Pop-Up: It's going to be a great weekend for this foodie haven in Perry Hall, which has become known for its mile-high sandwiches and massive orders of duck-fat fries. This Saturday at 4 p.m., the Travel Channel is re-airing an episode of Food Paradise that features Ravage. Then, the deli—which is typically only open for lunch and dinner—is bringing back its occasional breakfast pop-up menu on Sunday from 7:30-10:30 a.m. Rise early to feast on creative morning dishes like BLT Quiche, Belgian waffles topped with Oops All Berries cereal, and a "Maryland Mash-Up Wrap" that bundles steak, scrapple, and crab dip inside an Old Bay tortilla.
Magdalena Launches Sunday Supper: Historically, Magdalena in Mt. Vernon has been closed on Sundays. But recently, executive chef Mark Levy has opened the restaurant on Sunday evenings for a traditional supper service inspired by his native England. As a nod to gatherings with the whole family at his grandmother's home outside of London, he's launched a menu of UK favorites with a fine-dining spin. Among them are fish and chips with pea puree and tartar sauce, English pea ravioli with wild mushrooms, and crispy duck leg confit with house-made tater tots. Diners can order from an a la carte menu, or opt for the three-course prix-fixe for $58.
EPICUREAN EVENTS
6/29: Rye Street Cookout
Nothing says summer like taking in waterfront views from an Adirondack chair. At Rye Street Tavern's recurring community cookout in Port Covington, you can do just that while enjoying live music and classic barbecue bites. The next iteration will feature the soulful sounds of Joi Carter Trio and one-day-only specials like Virginian chicken, seasonal burgers, and a crab boil in a bag. Bring the family (dogs included) and a lawn chair or blanket for the lush lawn.
6/29: Checkerspot One Year Anniversary Party
This South Baltimore brewery is celebrating its first birthday in style with an all-day block party from 12-11 p.m. The festivities will kick off with a ceremonial tapping of the kilderkin at noon, followed by The Racket and Q Randall playing live music outside, and DJ Mikie Love spinning in the taproom all day long. Smoked meats will be provided by the local barbecue experts with Team Loud Que, and, of course, there will be plenty of beers flowing in the first and second-floor taprooms throughout the entire party.
SHUT
Blue Dog BBQ Co.: Unfortunately, it seems that this barbecue joint near Little Italy had cards stacked against it from the start. Just five days before its grand opening last October, the city's Departments of Transportation and Public Works began a large-scale infrastructure improvement overhaul just outside of the space on Central Avenue. The owners have struggled to make up for the loss of foot traffic since then, and last week, they officially closed the restaurant for good. "It saddens us to announce that Blue Dog will be closed indefinitely," reads a sign posted to the front door. "Thanks for your support." Throughout its short run, reviewers raved about Blue Dog's ribs, sausages, chicken, and pulled pork, which were all prepared using a wood smoker in the building's adjacent courtyard.