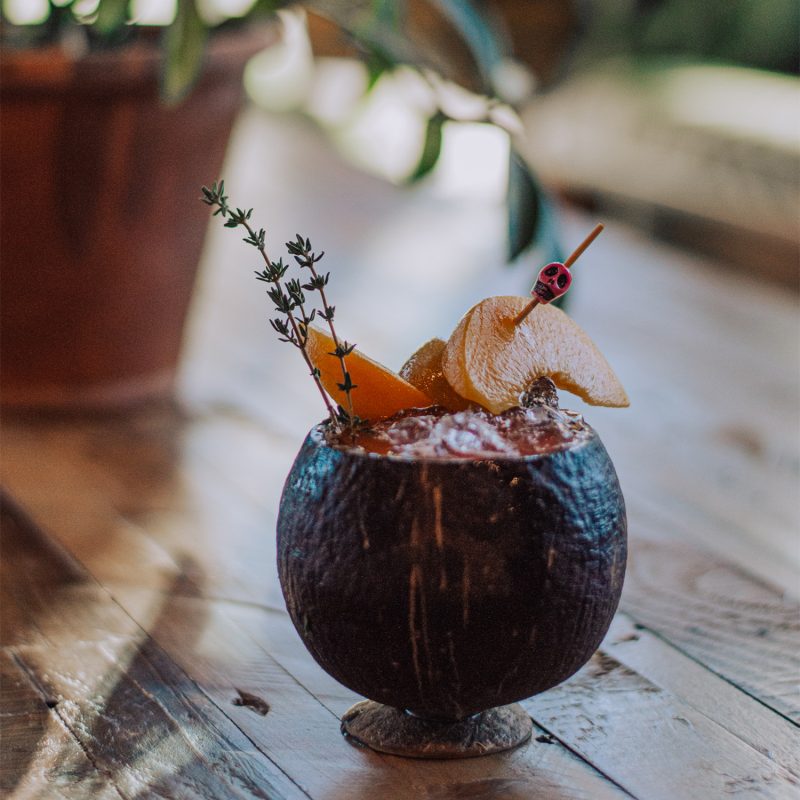 Photography by Grace Clark
COMING SOON
Tiki Bar at Hotel Revival: No matter the season, tiki cocktails are all the rage. And it only seems fitting that the greenery-filled Garden Room on the top floor of Mt. Vernon's Hotel Revival would get in on the trend. Beginning November 8, the space that was formerly used solely for private parties will be open Thursday-Saturday as a destination to take in the panoramic views while sipping herbaceous drinks crafted by bartender Bryan Reinhold. Among the options include the "Mojo's Jojo" (Monkey Shoulder scotch and apricot liqueur), the "Firebird" (Vida mezcal and Blackwell rum), and the "Suffering Willow," which fuses apple brandy with Bluecoat gin. Overseeing the Garden Room program will be Revival's new lead bartender Ian Clark—a local industry veteran who has nearly 20 years of experience managing spots such as Peter's Inn, Penny Black, Nacho Mama's, and Modern Cook Shop.
THB Bagels & Deli Expanding to Owings Mills: On the heels of announcing a forthcoming location in Columbia last month, the owners of THB Neighborhood Bagelry + Deli are expanding their footprint yet again. A sixth location of the beloved breakfast-and-lunch spot will open at Mill Station, the site of the former Owings Mills Mall, this summer. But the growth isn't stopping there—the family-owned business plans to open two additional locations annually through 2025. For now, Owings Mills and Columbia locals can get excited to have the signature New York-style bagels and sandwiches right in their backyard.
OPEN
Uptown Abbey: This cleverly named Abbey Burger Bistro spinoff is now officially up and running in Mt. Washington. After years of operating locations in Federal Hill, Ocean City, and Fells Point, husband-and-wife owners Russ and Marigot Miller—along with business partner Jason Zink of Smaltimore—have expanded yet again, bringing their outside-of-the-box burgers, greasy tots, spiked milkshakes, and pages-long beer list to the former home of The Nickel Taphouse. Featuring fresh bar tops, new flooring, and roll-up style garage doors, the revived corner spot offers the classic Abbey sports-bar vibe along with a few new additions to the menu. Aside from the signature burgers (this month's featured meats include wild boar, camel, and New Zealand red deer), be on the lookout for steamed seafood offerings like Gulf shrimp with Old Bay, PEI mussels in garlic sauce, and little neck clams with butter.
Bambao: Earlier this week, the former Manchurian Rice Co. space in Harbor East made its debut as this Asian-fusion destination for bao buns and bubble tea. Created with feedback from Johns Hopkins Carey Business School students, the mindful concept highlights dishes including Sambal honey fried chicken, bulgogi short rib buns with pickled Asian pear, pork and crab fried rice, and Buddha bowls topped with pearled barley and edamame. Bambao will also offer origami as an activity for diners to enjoy in the zen space—which features dark woods, neutral tones, interior greenery, and a mural by Kelly Walker of ArtStar Paintworks.
Old Line Cocktail and Wine Bar: As this Highlandtown distillery gets ready to release its eight-year-old American single malt whiskey this weekend, the team is also celebrating the launch of its new satellite bar inside Cross Street Market in Federal Hill. Co-founders Arch Watkins and Mark McLaughlin have collaborated with the team at the newly renovated market to dream up the concept for the bar—which will pour local beer and wine, and, of course, focus on cocktails made with Old Line's award-winning whiskies and rums. Just in time for the chilly temperatures, the bar has introduced warming happy hour deals such as $5 rum apple ciders and $1-off wine and beer.
SHUT
The Laughing Pint: Sadly, this year's annual "Misfit Thanksgiving" potluck at The Laughing Pint will be the last. After 13 years, owner Shannon Cassidy is passing the torch to new owners who will introduce another concept, but she says she's leaving the beloved Highlandtown hangout in "wonderful hands." A closing party will be held on Saturday, November 23, followed by the potluck and official last day on Thanksgiving. "I am so thankful for the love and support we have received over the past 13 years," Cassidy announced via Facebook.
Sam's Canterbury Cafe: Last weekend, this Tuscany-Canterbury community spot shuttered its doors for good. "With mixed emotions and heavy hearts, we have made the difficult decision to close the cafe," husband-and-wife owners Michael and Jennifer Myers announced via Facebook. "We thank each and every one of you for supporting the mission as well as making a lifetime of memories at the cafe." The two opened the spot nearly three years ago as a place to provide meaningful employment for their son, Sam, as well as other adults living with Autism Spectrum Disorder (ASD). Not only was the inviting hangout known for its baked goods, coffee drinks, and breakfast sandwiches, but it was also praised for its thoughtful design (minimal patterns and earthy tones) and programming catered toward those living with ASD. Here's hoping we'll see Sam's smiling face elsewhere sometime soon.