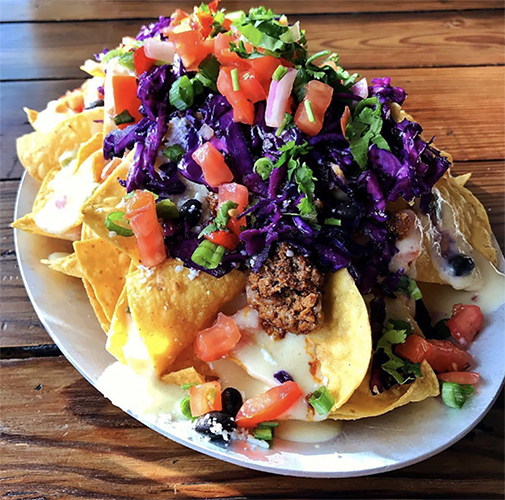 @cravingcurrently via Instagram
OPEN
Vida Taco Bar: Ever since the Central Avenue Bridge opened earlier this month, diners have enjoyed easy access to eateries in Harbor Point—the 27-acre peninsula that sits in between Harbor East and Fells Point. The most recent addition to the mixed-use development is a new location of Annapolis favorite Vida Taco Bar, which officially opened earlier this week. The strictly tacos-and-tequila menu features creative tortillas stuffed with everything from fried avocado and Buffalo cauliflower to glazed pork belly and soft-shell crab. Wash down all of the eats with colorful cocktails including a classic Paloma, watermelon margarita, and a hibiscus sangria. 1401 Point St., 443-835-8474
Dear Globe Coffee: Since it was founded last year, this local roastery has been winning over coffee fiends with its worldly blends sold at Remington Wine Company, Taps Fill Station, and local pop-up markets around town. Last week, owner LieAnne Navarro opened a brick-and-mortar headquarters for the coffee operation on Antique Row in Mt. Vernon. Swing by to sample the strong java drinks alongside muffins and cookies by local bakeshop Taste This Cake. To celebrate the opening, Bottoms Up Bagels will be on site slinging their signature bagels and sandwiches at the shop July 24-27 from 7-10 a.m. 827 N. Howard St., 443-850-5051
LemonTopia: Pucker up for this sweet pop-up that opened inside Cross Street Market earlier this week. Perfect for summer scorchers, the stall offers refreshing lemonades (think flavors like mint, cherry, and peach citrus) and other lemon-flavored treats created by 11-year-old Jamaria Crump. The young entrepreneur will be behind the counter on Tuesdays, Wednesdays, and Thursdays from 11 a.m.-2 p.m. and 4-6 p.m. until school starts back up in the fall. Stop by to indulge in the ultimate summer snack of lemonade paired with cookies, pie bites, cheesecake, and, of course, lemon bars. 1065 S. Charles St.
World of Beer: Adding to the thriving dining scene in Owings Mills—which recently welcomed Stanford Kitchen and will soon see a new Mexican hotspot—is the latest location of this Tampa-based craft beer franchise. World of Beer has officially debuted in the Metro Centre development offering a full food menu and more than 50 brews on tap. Drink your way through the local (think Union, Heavy Seas, Flying Dog, Jailbreak, etc.) and domestic selection while enjoying eats like mac and cheese bites, Margherita flatbreads, and DIY burgers. 10200 Grand Central Ave., Ste. 100, 410-363-1040
COMING SOON
AJ's on Hanover: After a string of neighborhood closures—including Regi's Bistro, Rachel New American Cuisine, and Metropolitan—South Baltimore locals will be happy to hear that the team behind Delia Foley's on South Charles Street has taken over the former Bluegrass Tavern space one block over. Come September, owners Andrew Carter and Jesse Selke will transform the former Lowcountry spot into this community hangout featuring upscale pub grub, moderately priced entrees, oysters, wine, cocktails on tap, and a selection of craft beer. Stay tuned for more details. 1500 S. Hanover St.
NEWS
Chelsea Gregoire Named One of Eater's Young Guns: It's been an exciting week for Chelsea Gregoire. The local service industry veteran—who we name Best Bartender in our current "Best of Baltimore" issue on stands July 27—also received national acclaim from Eater this week. Gregoire earned a coveted spot on the publication's annual "Young Guns" list, which praises food service up-and-comers from cities across the country. Aside from shouting out her work as bar manager at the new Hotel Revival, the piece mentions Gregoire's consulting business, Drinkable Genius, as well as her work to advocate for women and LGBTQ+ professionals. "More than ever, I want to encourage people to take up their space," she told Eater. "I'm excited to do what I do and bring people along with me as I go."
EPICUREAN EVENTS
7/19: KoRYEan Pop-Up at Rye
Throughout the past year, Haenyo has invaded local kitchens including Dylan's Oyster Cellar, Forno, R. House, Cafe Andamiro, and Village Square Cafe to serve its signature Korean-fusion dishes to the masses. Now, the pop-up is celebrating its first birthday in style with a special event at Rye in Fells Point. Head to the bar tonight to sample an a la carte menu of small plates such as yukhoe (beef tartare), shrimp and kimchi mandu, and spicy tteokbokki (stir-fried rice cakes) paired with Korean-inspired cocktails crafted by the Rye team. 1639 Thames St. 6-11 p.m. 443-438-3455
7/19: Gathering for the Gazette
Tonight, Mick O'Sheas in Mt. Vernon is hosting this trivia fundraiser to support victims of the tragic shooting in the Capital Gazette newsroom last month. All trivia proceeds and donations will benefit the Capital Gazette Families Fund—which aids survivors and families of the victims with funeral costs, grief and trauma counseling, and other expenses that might arise as a result of the tragedy. In true Charm City fashion, many local establishments including Mother's Grille, DuClaw Brewing, Alexander's Tavern are helping to support the cause by donating gift cards to be raffled off as prizes at the event. 328 N. Charles St. 6:30-9 p.m. 410-539-7504