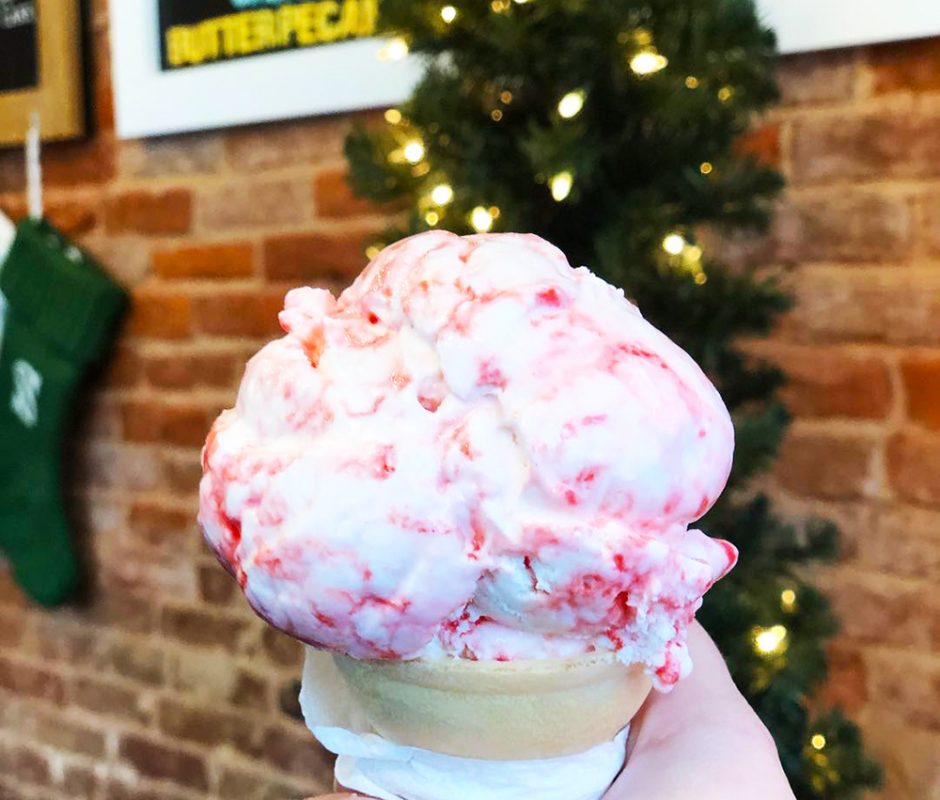 @foodieforlife410 via Instagram
OPEN
Zeke's Coffee: Baltimore County dwellers can now fuel up with homegrown Zeke's Coffee while strolling the aisles of the brand new Green Valley Marketplace in Timonium. The Hamilton-based roastery now operates its own cafe inside the grocery store, offering its signature blends alongside bagels, muffins, pastries, and breakfast sandwiches. In addition to Zeke's, the locally owned grocery chain also offers kombucha on tap, a sushi bar, a full bakery department, and Maryland blue crabs steamed in-store. 15 E. Padonia Rd., Timonium. 410-628-1700
CH-CH CHANGES
Sam's Canterbury Cafe: You might notice a few changes the next time you stop in to see the namesake Sam at this community-focused cafe, whose mission includes providing meaningful employment for individuals with autism. After closing briefly for renovations last month, the inviting spot now features a new kitchen with pass-through access to the dining area, making service more efficient. Additionally, the menu has been refreshed with house made pastries, as well as sandwiches made with breads and bagels from Stone Mill Bakery. Be on the lookout for other new items including a curried chicken salad wrap, folded flatbread with mozzarella and burrata, and avocado toast with arugula and cherry tomatoes. 3811 Canterbury Rd. 443-438-4545
WINTER BREAKS
Bmore Licks: This Patterson Park dessert spot is taking its annual winter hiatus starting Sunday, December 23. Until then, be sure to get your fix of festive flavors including Christmas cookie (sweet sugar cookie base with Christmas sprinkles) and candy cane Oreo, a mixture of peppermint stick ice cream with candy cane pieces and Oreo crumbles. The shop is expected to make its return just in time for the rising temperatures this spring, with plenty of snowballs, donuts, dessert tacos, and drippy double-scoop cones to go around. 2437 Eastern Ave. 410-732-5425
Baltimore Farmers' Market & Bazaar: This weekend will be the last for farmers' market fiends to score local goods beneath the Jones Falls Expressway. The 41st season of the Baltimore Farmers' Market & Bazaar official ends Sunday, but all of the fan-favorite crafters and food purveyors will be back again come April. To celebrate another great season, organizers are giving away free tote bags to the first 50 visitors who stop by the Welcome Tent near Hillen Street. Another plus: the final market offers tons of holiday essentials for last-minute shoppers. Highlights will include wreaths and decorative greenery, craft mead by Charm City Meadworks, and locally sourced meats from Albright Farms. Beneath the Jones Falls Expressway at Holliday and Saratoga streets. 7 a.m.-12 p.m.
SHUT
The Hoof Cafe: Just six months after opening in Locust Point, this neighborhood coffee corner has sadly closed its doors. In a message posted to Facebook earlier this month, co-owner Rebecca Friedman announced that she made the tough decision to close the cafe due to a family emergency. The post goes on to thank all of the neighbors who supported the eatery throughout its short-but-sweet run. "We do believe a coffee shop is needed in Locust Point," it reads. The owners are currently searching for a new team to take over the shop, which became known for its warm lattes, cozy furniture, filling egg sandwiches, and local ice cream scoops sourced from South Mountain Creamery. 1648 E. Fort Ave.
Remington Wine Co.: Remington locals have taken to social media to lament the loss of this go-to wine and spirits shop on West 29th Street, which sold its last bottles earlier this month. In a message posted to Instagram, husband-and-wife owners Mitchell Pressman and Debbie Jones announced that financial circumstances both "beyond our control and of our own making have made it impossible to continue operating."
Two years ago, the owners debuted the store as a continuation of Chesapeake Wine Co. in the Canton Can Company—which they operated for 17 years before deciding to downsize. "Remington is a neighborhood in the midst of big changes, and it has been our pleasure to meet and get to know both old and new members of the community," the post reads. "The support you have given us, as well as the continued support of customers we brought to Remington from our 17 years in Canton, has been terrific." 329 W. 29th St.