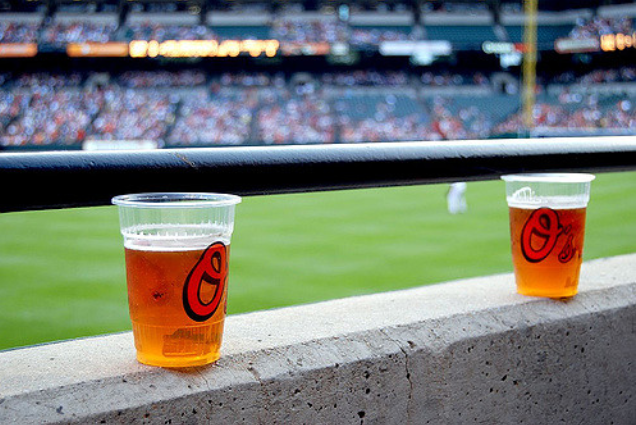 Photo courtesy of Mary Nahorniak via Flickr
We've been patiently awaiting the glory of Opening Day for months, and now, Charm City's favorite unofficial holiday is finally within reach. From outdoor block parties to discounted eats and drinks, the local bar scene is going all out for the Orioles home opener against the Minnesota Twins on April 4. So throw on some shades, crack open a Boh, and rock your orange at these neighborhood spots.
BMore Around Town Opening Day Packages: The tailgating experts at Bmore Around Town have planned two all-inclusive party packages for Opening Day, offering bottomless drink deals, baseball-themed buffets, and tickets to the game. Fans can choose to attend pregame parties at either Nobles Bar & Grill or Stalking Horse, and all packages include tickets to a second game later in the season. Check out additional details here.
B&O American Brasserie: Head to this bar inside the Hotel Monaco to sip local beer paired with discounted pub grub all season long. Starting on Opening Day, B&O will offer $2 Natty Boh cans, $2 orders of fries, and two pit beef sliders for $6 every Monday from 4 p.m. to close. Fans can also look forward to $2 Bohs on any day that the O's play. 2 N. Charles St., 443-692-6172
Brewer's Cask: This Federal Hill beer bar is starting its all-day party early, offering classic breakfast (think pancakes and bacon) and stadium fare starting at 10 a.m. Fans can also look forward to discounted Brewer's Art beers, like 12-oz. Birdhouse cans for $3.50, featured throughout the day. After the game, stick around to hear the acoustic sounds of local rockers GreenStar. 1236 Light St., 410-273-9377
Diamondback Tavern: With a lengthy craft beer selection and a menu full of Maryland-style pub grub, this Ellicott City watering hole is a gameday go-to no matter what local team you're rooting for. In honor of Opening Day, order some crab mac and cheese, challenge a friend to a game of shuffleboard, and enjoy $2.50 domestic bottles, $3.50 Maker's Mark drinks, and $10 domestic buckets. 3733 Old Columbia Pike, Ellicott City, 410-313-8530
Flying Dog at Diamond Tavern: This hotel bar inside The Hilton Baltimore is teaming up with Flying Dog Brewery to host a pre-game block party on its patio starting at 11 a.m. Challenge a friend to a game of corn hole and get down to music spun by DJ Impulse while sipping Flying Dog's signature Bloodline Blood Orange Pale Ale and Numero Uno Agave Cerveza. 401 W. Pratt St., 443-573-8777.
Gameday Firehouse: This old-school fire hall turned full-fledged sports bar is always down to party for Ravens and Orioles events. If you've been experiencing tailgate withdrawal, head to the Ridgely's Delight gathering spot for 50-cent beers from 9-11 a.m., Orange Crush and Bud Light specials, live music from Rod & Real, and tons of smoky barbecue snacks. All proceeds benefit the Baltimore Firefighters Widows & Orphans Fund. 1202 Ridgely St., 410-234-0734
Kooper's Tavern: If you'll be backing the birds from Fells Point, head to this fixture that runs Orioles drink specials all season long. Grab some friends and sip $4 Birdhouse cans, $5 22-oz. Miller Lites, and $5 Orange Crushes at all Kooper's locations on game days. Multiple locations including 1702 Thames St., 410-563-5423
Mad River Bar & Grill: Play hooky and take advantage of the all-inclusive party package offered by this neighborhood sports bar. The $150-deal includes a bottomless pregame starting at 12 p.m., a ticket to the game, and unlimited drinks back at the bar for one hour after the final pitch. Mad River will also highlight plenty of in-house food and drink specials for fans sticking around Federal Hill. 1110 S. Charles St., 410-727-2333
Mahaffey's Pub: Complete with rotating taps, signature cask-conditioned ales, and a large selection of microbrew bottles, this Canton spot is an ideal beer and baseball hangout. The pub will open at 12 p.m., offering a special ballpark menu with $1 hot dogs, $2 sliders, and $3 corn dogs. Pair all of the eats with $5 orange bombs and Mahaffey's famous three beers for $6 deal until 7 p.m. 2706 Dillon St., 410-276-9899
Mother's Grille: You can always count on this local favorite to show off its hometown pride during sporting events. The first Orange Patio party of the season kicks off at 9 a.m., continuing throughout the day with drink specials (think $3 Miller Lites and $6 Orange Crushes), a live broadcast from 98 Rock, and a Skee-Ball tournament. 1113 S. Charles St., 410-244-8686
Nacho Mama's: Squeeze your way up to the bar at this popular Canton taqueria to order a $5 house or Orange Crush margarita on Opening Day.The Elvis-themed will also run specials on wings from 1-7 p.m. If you're in the mood to bar hop, neighboring sister-restaurant Mama's on the Half Shell will also offer $5 Orange Crushes, as well as $1 oysters throughout the game. 2907 & 2901 O'Donnell St., 410-675-0898
Pickles Pub: Bartenders at this Orioles headquarters, known for its beer-battered pickles and crab pretzels, will be on hand bright and early on April 4, cracking open $2 Miller Lite cans from 6-9 a.m. After 9 a.m., all 16-oz. draft beers will cost $5. 520 Washington Blvd, 410-752-1784
Pratt Street Ale House: This multi-level hangout down the street from Camden Yards features its signature British-style house beers from Oliver Brewing Company and big screens around every corner. The pub's annual Opening Day bash will feature multiple outdoor bars and beer tubs on the first floor patio, a live broadcast from 100.7 The Bay, and the finger-pickin' sounds of local musician Rob Fahey. 206 W. Pratt St., 410-244-8900
Shakers Fine Spirits & Wine Lounge: This James Bond-themed cocktail bar, located just a stone's throw away from Camden Yards, is teaming up with Diamondback Brewing, Charm City Meadworks, and Baltimore Whiskey Company to host a block party starting at 10 a.m. Head to the Pigtown spot to sample all of the local booze and dig in to barbecue bites like Italian sausage and pulled pork sandwiches. 737 Carroll St., 410-727-1813
Stalking Horse: This Federal Hill vodka bar famous for its boozy slushies will be running all-day specials such as $2.50 Natty Bohs, $2.50 Bud Lights, and $4 orange bombs. Stick around after the game to enjoy a pizza paired with a pitcher of Natty Boh or Bud Light for $10. 26 E. Cross St., 410-244-6722
Sliders: Given its claim-to-fame location—771 feet away from home plate at Camden Yards, to be exact—this recently renovated staple is your best bet to post up near the stadium on April 4. The pub is opening its doors at 6 a.m., featuring a special slew of a la carte breakfast sandwiches and six fully-stocked outdoor bars. During the game, snack on tots, nachos, and wings while sipping Sliders' signature $12 32-oz. mugs full of Orange or Grapefruit Crush. 504 Washington Blvd., 410-547-8891.