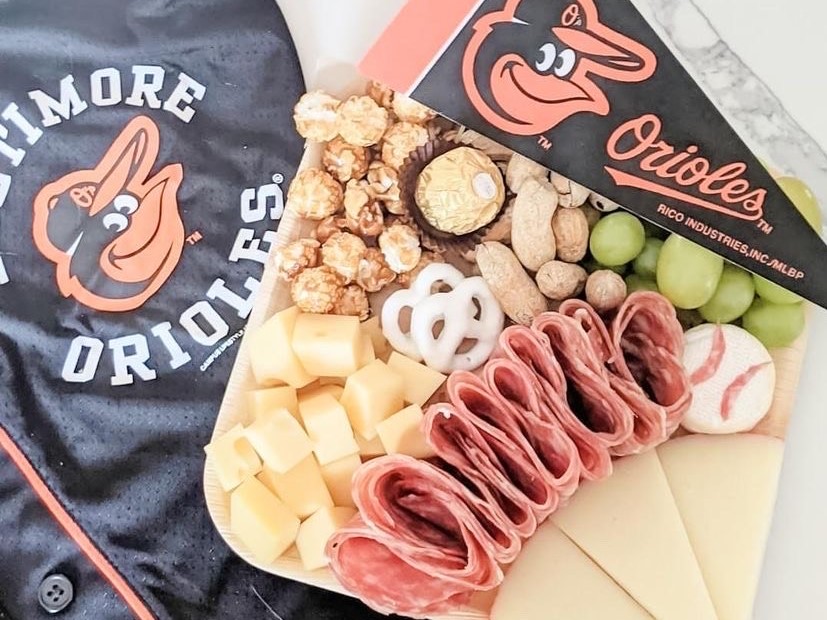 — Courtesy of Bon AppleCheese Charcuterie
The gates of Camden Yards will open on April 11 after a long winter's nap since last season wrapped. Soon enough, "Let's Go O's" will be bouncing off the walls as flocks of orange and black gather to see John Means start off the season for the second year in a row on the pitching mound against the Milwaukee Brewers at 3:05 p.m. Ruffle your feathers, flap your wings, and take a swing at these opening day specials celebrating the birds at local spots around town.
AJs on Hanover: Also their first Monday back open, this South Baltimore hangout is introducing new happy hour specials from 4 to 7 p.m., with tasty bites such as crab dip and truffle fries. In honor of the home opener, expect $15 domestic buckets, $18 White Claw buckets, and $6 Orioles orange bombs.
Barley's Backyard in Fells: Hit a homerun at Barley's with $10 Natty Boh buckets (five cans in one bucket), $5 orange bombs, and $25 Home Plates—think sliders and fried pickles—a game day spin on their Backboard menu item.
Bon AppleCheese Charcuterie: Staying in for the game? Impress your fellow O's fans with $30 Opening Day charcuterie boxes including ballpark favorites like peanuts and Cracker Jacks. They are available until 3 p.m. on the big day and can be ordered on their website to guarantee a box. A limited number will be available for walk-ups.
C&R: At this Uptown country-themed standby in Towson, take advantage of $20 Bud Light Soda buckets, $18 Corona buckets, $15 Bud Light and Miller Lite buckets, $2 O's Bohs cans (16-ounce), and $6 Old Bay pickle shots—trust us: it's an acquired taste. Pair any of these deals with the perfect stadium snack as the pub will be featuring a hot dog special.
CVP: Crushes, buckets, and bombs, oh my! Batter up at CVP for must-have food specials inspired by ballpark classics, the O's plastered on every screen, and enticing specials on crushes, buckets, and bombs.
Dough Boy Fresh Pretzel Co: See the giant inflatable pretzel? You're in the right place. This pretzel pop-up will be at the PALM Baltimore, a music bar in the heart of Federal Hill, for the home opener from 1 to 6 p.m. or find them at Peabody Heights Brewery for the away opener on April 8 against the Tampa Bay Rays. Indulge in their mouth-watering loaded pretzel bites and cheer on the O's.
Jimmy's Famous Seafood: Jimmy's is not only famous for their seafood, but for their over-the-top events like The Famous Orioles TailGOAT on Opening Day. Tickets include a three-hour open bar with the likes of Tito's, Jameson, White Claws, beer, and more. Enjoy eats from Chef Tony's buffet, plus drinking games, souvenir giveaways, a silent auction, photo booth, and more. Taking the TailGOAT stage will be the official DJ of the Baltimore Ravens, DJ Kopec, and The Amish Outlaws. Buses to and from Jimmy's can be added on when purchasing tickets starting at $55.
Mother's Grille Federal Hill: Join Justin, Scott, and Spiegel from the 98 Rock Morning Show live from the Orange Patio starting at 6 a.m. Sip on icy Smirnoff orange crush specials and indulge in a decadent buffet as the O's begin the season on the grille's many TVs.
Peabody Heights Brewery: Check out Peabody's newest additions to their Opening Day Block Party six-pack available for purchase on tap and to-go in their taproom. They are dropping two new aptly named Hazy IPA cans, 30th street and 33rd street, along with their recently reintroduced Eutaw Street. Give these limited edition cans a try at the Opening Day Party on April 8 along with drink specials and beer floats.
Pickles Pub: Look out for rogue home runs at this O's fan-favorite right outside the park walls. Sip on $5 16-oz. Natty Boh and Miller Lite cans and $12 32-oz. thirst-quenching Crushes made with Deep Eddy Vodka and freshly squeezed lemon juice.
Sliders Bar & Grille: Sliders is the bar that is 771 feet from home plate. (Yes, they measured.) Head to this ballpark watering hole for $1 Natty Bohs leading up to opening day. Take advantage of their 32-oz. homemade Crushes with more than 10 flavors served in a souvenir Sliders bucket.
THB Bagelry & Deli: Keeping up with their time-honored tradition of backing the birds, orange-and-black bagels will be perched on the shelves of this local breakfast spot at all locations. They are only offered on Opening Day, so be sure to catch them while you can.
The Reservoir: Head to Towson's newest late-night hangout, previously Lil' Dickies, to raise a glass to the birds. To match the Boh-laden ceiling, sip on $2 National Bohemian draft beers and $5 Orange Crushes.