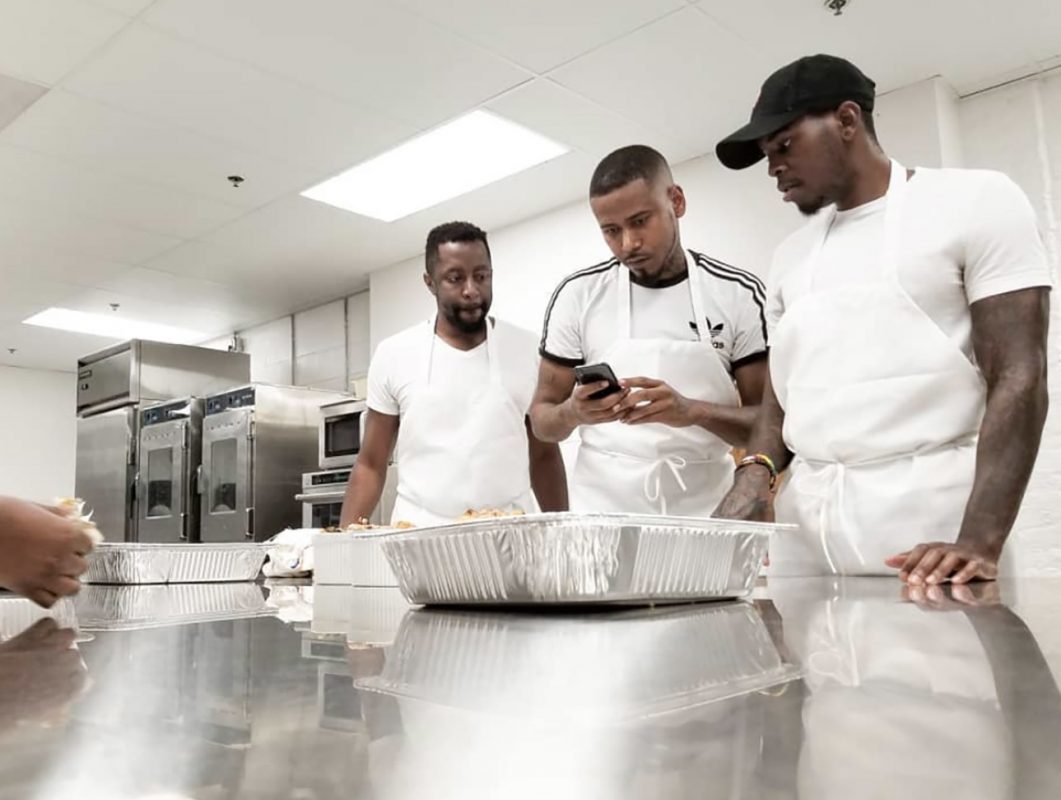 Courtesy of @jaymastermind via Instagram
Anyone who has scrolled through Papi Cuisine's Instagram feed for even a few seconds will notice that private chef and caterer Alex Perez is known for upping the visual appeal of his dishes. (Think gooey mac and cheese, stuffed salmon, and massive crab cakes.) The eat-with-your-eyes approach has attracted more than 140,000 followers to the page. And soon, fans will be able to try Perez's food, without having to order ahead of time, at the new Papi's restaurant opening in Fells Point this fall.
In the meantime, the chef—who preps out of shared commercial space B-more Kitchen in Govans—is preparing to defend his title at the venue's second-annual Battle of the Brands competition on Thursday, August 22. The event pits local purveyors (including Woot Granola, Hiatus Cheesecakes, Secret Sauce Co., and A Friendly Bread) against one another to see whose bites reign supreme in categories like Best Sweet, Best Savory, Best Overall, and People's Choice.
We sat down with Perez to discuss strategy for this year's competition, details about the new restaurant space, how he captures his drool-worthy photos, and constantly growing within the industry.
How did you get your start as a chef?
I come from a family of cooking. I have a lot of family in the Dominican Republic, the Caribbean, and South America. My dad taught me how to cook when I was 10. It was more so traditional Latin-Caribbean dishes, but I noticed at a young age that I had a knack for it. I love to cook because I love to eat.
Does your heritage translate into the food?
Papi Cuisine is a fusion-style cuisine. It's taking Asian or French food and infusing with Latin-Carribbean flair. There's a little Southern flair in there, as well. Papi was born back in 2014, when I decided to do a food prep service where I would offer pickup at my home. When I first told my family and friends I'd be cooking they brushed it off, but then they started to see me grow. I was transitioning into things I'd never cooked before and learning a lot.
How did social media impact the beginning of Papi Cuisine?
I started cooking more in my free time around the time Instagram and social media apps were launched, so I would post a lot of food pictures. What got me started was the buzz and the response I would get from my following. They started telling me that I should sell the food, and a seed was planted in my head from there.
What factors contributed to your following growing over time?
The following that we have now is something that happened the last six to eight months. We maintained like 10,000 followers for about three years, but I recently noticed that the food wasn't getting the attention I wanted it to. I was determined to change that. The pictures and the posts that were gaining traction were the ones that were lively and made it look like you could actually touch the post and dive in and grab the food. I started editing the photos in a particular way to make the food look like it was sitting in front of you.
What led you to B-More Kitchen as a home base?
I was looking for a commercial catering facility that I could rent out to really let customers know I was in a licensed facility so I could run this business with no restrictions. After we made the change to do more catering and private dining, B-More Kitchen made a lot of sense. Once we moved in and got our official catering license, our business grew dramatically.
You won the "People's Choice" Award at B-More Kitchen's Battle of the Brands last year. How are you planning to defend that title this week?
Last year, we did our honey-glazed salmon bites with fresh salmon filet, which are cut into nuggets, seared, glazed, and baked. We also did a smoked gouda mac and cheese, and our "Rasta Pasta" with penne noodles, green and red peppers, jerk shrimp, asparagus, and a cream sauce. It's been a year, so there's a lot of things I've created since then. To defend the title, we're going to come back with those three dishes and one new item. I haven't decided what I want that to be just yet. I really love waking up, freestyling, and just creating. That's where my passion is.
What can you tell us about the brick-and-mortar space opening this fall?
The whole thing about catering and private dining is that it limits the ways for people to try your food, which is why we wanted to do the brick and mortar. I was actually going to wait to open a restaurant for another six months or so. But we found the [former Baltimore Built Bistro] space and I was like, "Wow, I guess that's how the universe works." We're working through everything with BGE and transferring the liquor license, and hoping to be open by mid-September.