Review: Moby Dick House of Kabob
Real-deal kabobs at Moby Dick are memorably delicious.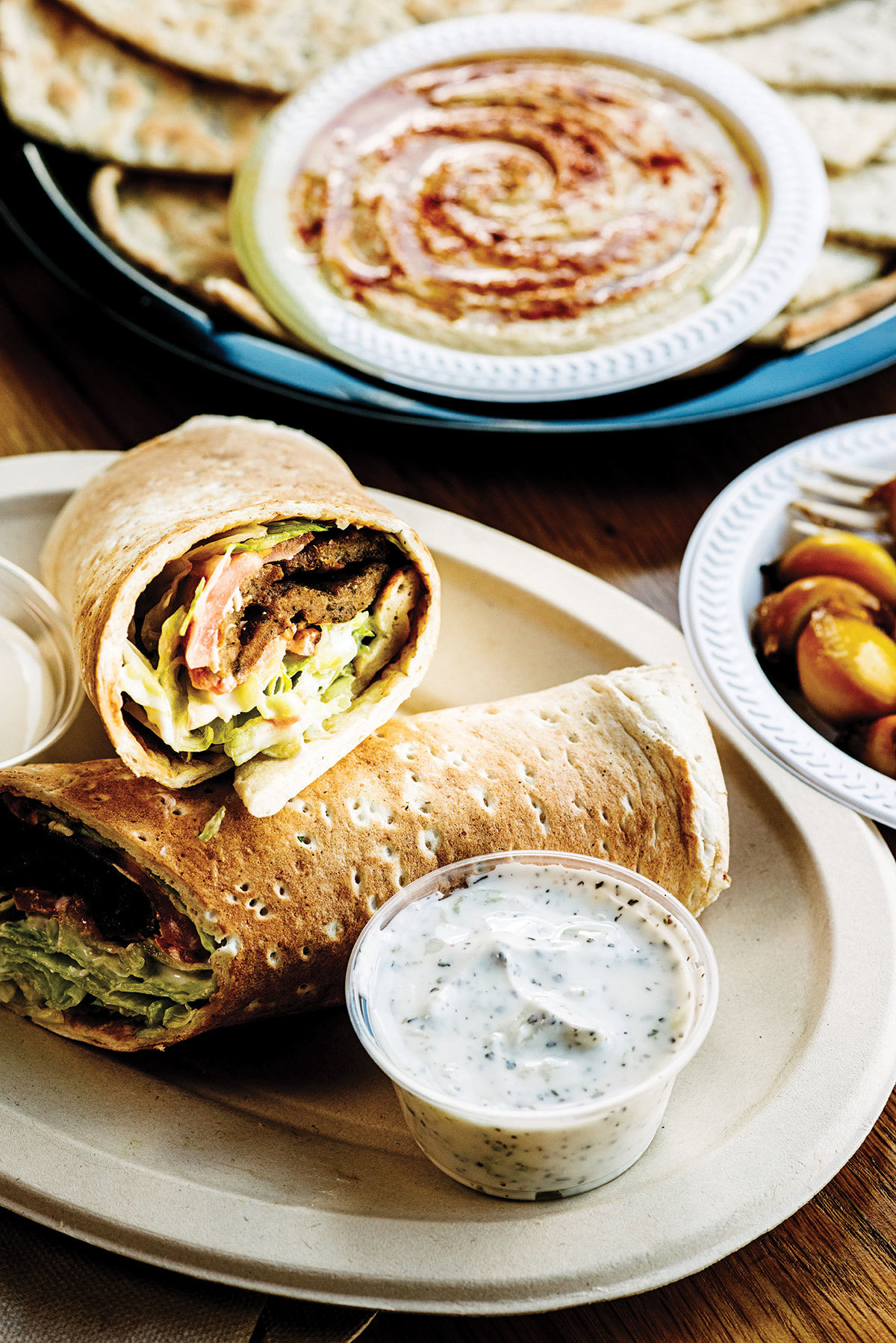 Let's start with the name, Moby Dick. Not every restaurant is named after an epic piece of American literature, and the title's attention-grabbing use is even more interesting when you consider it's for a Persian fast-casual restaurant. The inspiration is of the second order.
The franchise's founder, Iranian immigrant Mike Daryoush, loved a famous restaurant of the same name in his country's capital of Tehran, whose owner was rumored to be a fan of Herman Melville and his classic 1851 novel about a sailor's obsessive revenge quest for the white whale that maimed him.
The restaurant itself—whose tagline is "House of Kabob"—operates as a first-floor tenant at the magnificently renovated Rotunda property at 727 West 40th Street in Hampden. The space is modern and bright, and late last year welcomed Moby Dick's first foray into Baltimore. The Washington, D.C.-headquartered chain has 22 other stores in that area, with another recently opened at Festival at Woodholme in Pikesville.
The first things the uninitiated should know about the place is that Moby Dick is easily approachable, and its signature kabobs are not served on a stick, but they are cooked on them—the authentic Middle Eastern way. (Yes, our summer grilled kabobs served on a skewer are an American invention.)
At Moby's, the meats—beef, chicken, lamb, and fish with plump roasted tomatoes—sit on a recycled plate, designed for plastic knife-and-fork consumption, and come with a choice of rice, salad, or both. For neatniks, the presentation is ideal for an office lunch or casual dinner—no grease or anything too oily, save a perfect small dollop of butter on the rice.
Think Samos, the Greek chain, except Persian and with a much larger menu. (I counted 57 items in all.)
The first time my wife and I visited, our cashier recommended the more-than-satisfying "No. II" combo, which includes chicken and fresh sirloin kabobs, the latter ground with onion, both marinated and slowly grilled. My wife had a salmon and chicken combo, and, after her first bite, immediately said we should return.
There's also a variety of sandwiches, salads, more appetizers such as falafel, self-serve fountain sodas, and Middle-Eastern desserts like baklava. All are generously portioned. Whatever you order, be sure to enjoy the slices of complimentary clay oven-cooked pita bread and try the house-made hummus.
On another outing, I tried the gyro—beef, with crisp lettuce, tomato, onion, and feta cheese crumbles blanketed in a warm pita, and served with a side of creamy yogurt cucumber sauce. It was delectable.
Daryoush, the owner, originally opened a traditional American luncheonette in Bethesda in 1989. But it struggled to turn a profit and offered nothing unique, so he switched approaches to make the food he knew, with the style and Persian-style spices he loved. Almost 30 years and more than 20 stores later, we'd say he made the right choice.
---
›› MOBY DICK HOUSE OF KABOB 727 W. 40th St., 443-438-3692. Mon.-Sat. 11 a.m.-9 p.m., Sun. noon-9 p.m.