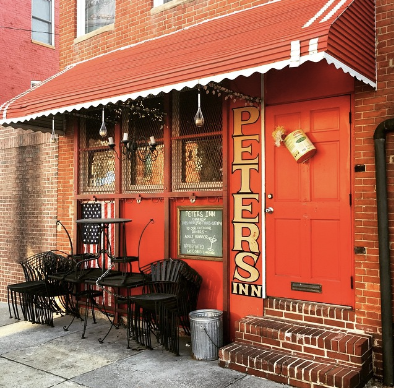 @smokemullet via Instagram
On a windy evening last December, a trash fire ignited outside of Peter's Inn in Fells Point. Luckily, no one was hurt, but when the blaze spread inside the rowhouse restaurant in the early hours of the morning, it destroyed the wood paneling, framed photographs, stocked bar, and kitschy decor that had made the cozy haunt a neighborhood favorite for more than 20 years.
"Nobody knows for sure what happened," says Bud Tiffany, who owns Peter's Inn with his wife, Karin. "But the fire started out front. Somebody walking by may have dropped a cigarette that got blown with the leaves up against the steps going in to the restaurant, and it smoldered for a while."
In the months since, the owners—who live in the apartment above the space—have been working tirelessly to get back on their feet. But roadblocks with insurance, permitting, and reconstruction have delayed the reopening date.
"Once we started tearing certain things up, we saw that there was a little more damage than we anticipated," Bud says. "So that ended up taking more time."
Now, the couple is finally seeing a light at the end of the tunnel. Fellow Fells Point resident, and Peter's Inn regular, Kathleen McEvoy, has established a GoFundMe page to help the owners in their final stage of permitting, inspections, and licensing renewals.
"The first time I ever went to Peter's Inn was on a first date," McEvoy says. "I've worked there twice. I've had birthdays there. I've gathered with the community there. I've constantly seen how generous Bud and Karin have been, not just to me, but to everyone in the community. There are things that insurance just doesn't cover, and as a neighborhood, we can all help them out."
In only two days, the campaign has collected more than one third of its $15,000 goal. Though insurance money covered most of the structural rebuild, the funds raised will help re-stock the bar and kitchen, and assist with fixing issues that arise throughout inspections. If all goes well, the owners anticipate that the final improvements will be finished just in time for the restaurant's 23rd anniversary on September 3.
"It's kind of starting to look like a bar again," Bud says. "We're very hopeful, and looking forward to getting back at it."
Aside from a few minor cosmetic upgrades, the reopened spot will be the same Peter's Inn that the neighborhood has come to know and love—complete with white-linen tablecloths, handwritten menus, and Karin's creative dishes that range from tuna nachos drizzled with wasabi aioli to braised scallops on a bed of black lentils. Of course, there will also be plenty of the signature herby garlic bread and chocolate pot de crème to go around.
The food, says McEvoy, is one of the many highlights that has made dining at the restaurant such a unique experience: "We have so many great restaurants in Baltimore now," she says. "But Karin was there before a lot of these other places sprung up. She was one of the first local chefs to really get creative with cooking. It's not a super fancy place inside, but you always know the food is going to be good."
She also notes the laid-back atmosphere as a perk, mentioning that the restaurant is ideal for dining solo.
"I know I can sit at the end of the bar and always have someone to talk to," she says. "Whether it's a bartender, another regular, or Bud and Karin if they can take a break from the kitchen. It's the kind of place where there's always going to be lively conversation happening."
Though the process has been trying, Bud says that the outpouring of support from neighbors and other Fells Point businesses (he and Karin hosted a pop-up selling their signature BLT sandwiches at Bertha's on Broadway Square a few months back) has been "tremendous."
"It's humbling," he says. "When you're doing the day-to-day tasks of running the business, sometimes you don't realize how many people you've come in contact with over the years. Everyone has been so supportive."