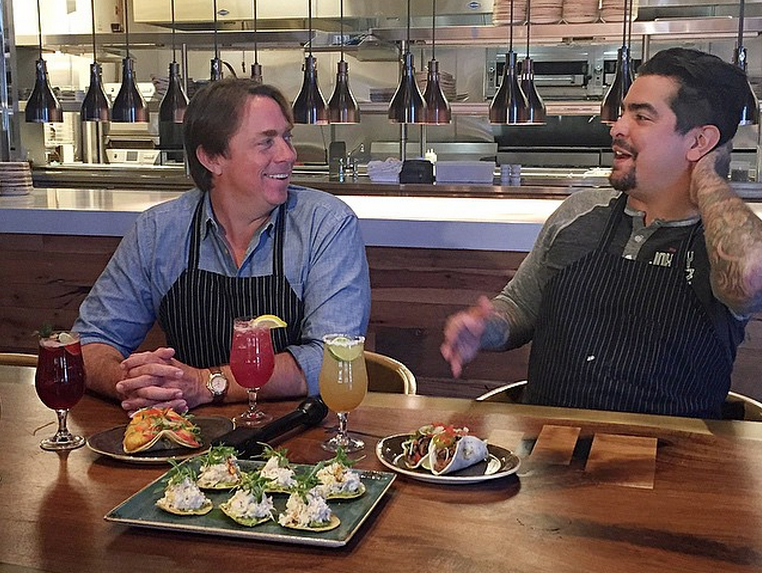 Courtesy of Aarón Sánchez
Both renowned chefs in their own right, New Orleans-based John Besh and Texas native Aarón Sánchez collaborated on Johnny Sánchez, a Mexican restaurant that opened last fall. We as Baltimoreans are lucky to have a location right in our backyard, on the second floor of Horseshoe Casino. On the chefs' most recent visit to Baltimore, we sat down with them to discuss food trends, their love of Baltimore, and some of their favorite types of tequila.
Plus the chefs reveal the restaurant's recipe for its delicious Roasted Jalapeño
Margarita, below.
You both have a ton of solo restaurants. But how is it different collaborating on a project together?
John: I love to learn. And while I'm familiar with Mexican cuisine, this is something out of my wheelhouse.
Aarón: People think it's a Louisiana
and Mexican restaurant, but we just do Mexican cuisine. I brought John to Guadalajara so we could see firsthand how this cuisine is made and what the culture is like.
John: When we're in the kitchen together, we throw ideas around, but Aaron's the man. These are his recipes—I just add my own twist.
How do you guys work together and decide who focuses on what?
Aarón: We have been friends for 15 years. Chef John is one of the top 5 chefs that I admire in the country. But we know each other well, so we can break each other down and keep each other honest.
John: Take his
arroz con pollo. I suggested adding in the puffed rice, which is used in jambalaya. We're fusing modernist cooking with these classic, authentic dishes.
How does it differ to own a restaurant inside a casino?
John: Whenever you open a new restaurant, one of the very first things you think about is location and who your customers are. So the food on the menu takes that into account.
Aarón: For a casino, we might do food that's a bit more accessible—like having a burrito or nachos on the menu. But that being said, we don't want to be any other Mexican restaurant so we use the most quality ingredients and authentic recipes.
This is your first restaurant in Baltimore. What are your thoughts on the city's culinary scene?
John: Spike [Gjerde] and I are good friends and I used to be a cook here a long time ago. But there's been a movement that's taken hold recently. I love the old culture of steamed crabs and oysters. But I also love that Spike's farm-to-table philosophy has really taken hold. It's fun to be a part of that.
Aarón: It's real here. I love the old-school architecture and going to a place that has some realness to it, like Bertha's Mussels down in Fells Point.
I know that the drinks are an important aspect of your menu as well.
Aarón: We wanted the foundation to be artisanal tequila drinks focusing on pairings with the food. Between the food and drink, you should be transported to a different place.
John: With all this talk of tequila we should probably try some. [Walks into the adjacent tequila tasting room]. We just love to workshop and learn in here.
Aarón: This is Clase Azul reposado tequila, one of the top three tequilas in Mexico. The word smooth doesn't even do it justice.
What should we look forward to on the menu next?
Aarón: I remember a couple of years ago at John's property, we made some great crab and lobster enchiladas. As those things come in season, you'll see that on the menu.
John: Look out for things like squash blossoms and tomatoes on the menu, too. Spring is the best time of year for chefs.
What do you guys think is the key to your restaurateur success?
John: Sounds cliché, but great people—hiring people that love to serve and incentivizing your staff to work harder.
Aarón: The word chef really means teacher to me. So accepting that people will make mistakes, but helping them learn from them. Also, menu descriptions are promises. So when you say "crispy" on a menu, you and your staff better deliver.
Just curious, do you guys gamble at all?
John: We have restaurants. We gamble all the time. [Laughs]
---
Recipe: Roasted Jalapeño Margarita

Ingredients:

1 ½ oz. Silver tequila
4-6 slices of roasted jalapeño
Housemade margarita mix: agave nectar, fresh squeezed lime juice, lemon and orange juices and raw sugar simple syrup
Directions:
Shake all ingredients vigorously in cocktail shaker to release the flavor of the roasted jalapeño—do not muddle. Serve in a highball glass on the rocks with a salted rim. Garnish with a lime and a floating slice of roasted jalapeño.